Ash Wednesday is just a couple of days away, and I know many of you are brainstorming those Friday night meatless meals for Lent.  So today I'm sharing with you my 6 go-to meatless meals for Lent or any other time of year.
I even put together a little video, so feel free to "watch" this post instead of reading if that is what works for you!  I'm trying out this Youtube thing and finding it a new and fun challenge.
Before going any further, I want to tell you that these 6 meals pass my tests when it comes to menu planning.
My 4 criteria for meals:
Frugal

In our house, expensive ingredients are saved for special occasions.  We buy shrimp and even filet mignon, but they is reserved for anniversaries and birthdays.  We spend more on our groceries for these occasions and cook our own "fancy" meals at home so, in reality, we save a lot over a restaurant meal for our family of 6.
Each of the following 6 meals cost less than $1.00 per serving. which includes a side each of vegetables and fruit.

Healthy

We all have different ideas of what is "healthy."  I've come to the conclusion that we know so very little about nutrition.  The things I know for sure are that sugar and preservatives are bad, and that we should eat as many fruits and vegetables as we can hold.  As a result, all my meals are cooked completely from scratch and served with a side of vegetables and fruits.

Quick

With Christian's special keto diet as his main form of epilepsy treatment, I have to make 2 different meals each time I prepare breakfast/lunch/dinner.  On top of that, I'm a busy homeschooling mama, and my time is at a premium.  While I love to cook and prepare all our meals from scratch, I don't have time for preparing gourmet meals!  My meal prep has to be as short as possible.

Use what I have on hand (I call this pantry cooking)

If I can give you one tip to save oodles on your grocery budget, it would be to stock your pantry from sales and then cook from your pantry.  While I like to make menu plans, I rarely go to the store to shop for specific ingredients (except for those special occasions mentioned above).  I am able to cook all my meals from my pantry or freezer that has been stocked with sale items, which saves me time and money at the grocery store.
6 Quick Frugal Meatless Meals for Lent
1.Grilled Cheese with Tomato Soup
This meal is so easy, my 10 year old can make it completely independently.  I have a large electric griddle that allows me to quickly crank out PERFECT grilled cheese in record time.  It comes in handy for whipping out over-easy eggs, quesadillas, and pancakes.  I got my first griddle as a hand-me-down, and I loved it so much that I bought a new one when it broke.  If you don't have a big griddle, consider using the oven if you have a larger family.
I put the slices of bread on the griddle and then butter the face-up side (though I don't always use butter with my griddle) before flipping the bread and placing the cheese slice on the warm inside.  This makes the cheese melt perfectly every time.
We often use homemade bread (less than $1.00 a loaf), but  I do keep store bought bread in the freezer for times I don't have homemade bread on hand.  Tomato soup can be made easily by dumping a large can of tomato juice (cost $1.29/can) in a pot to warm on the stove.  Feel free to add milk and seasonings if you like.  This is much cheaper than purchasing small cans of tomato soup (which are often laden with preservatives anyway!).
2.Bean and Cheese Burritos
This is such a easy meal, and I personally think meatless Mexican is the best of all meatless meals!  I rinse my beans and throw them in the crockpot at the beginning of the day.  When we are ready for supper, I drain the beans, add seasonings, cheese, and salsa.  We roll them up in tortillas but the meal is versatile and can be served over rice or chips instead.  They can be topped with more cheese, sour cream, lettuce, avocado, black olives, or whatever else trips your trigger.
I think what I love most about these is how it makes so much with minimal extra effort.  After supper I roll up the remaining bean burritos and throw them in the freezer for Husband's lunches when we don't have leftovers in the fridge.
Find more detailed directions here:  Freezer Friendly Bean Burritos.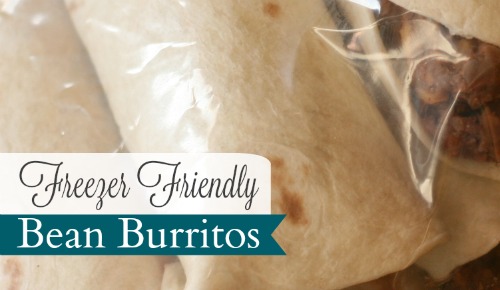 3.Cheese Pizza
My bread machine (picked up at a yard sale) makes pizza dough a cinch.  I throw the ingredients in the pan at lunch time, set the timer, and then the dough is all made when I'm ready to start making pizzas.  Of course, the kids go crazy over cheese pizza.  I make an extra pizza (usually with meat) to have on Saturday when I am busy with projects and don't have a lot of time to cook.
4.Taco Soup
Whole chickens are a frugal home economist's dream come true.  We love, love, love roast chicken.  The next day I boil the carcass to make a delicious homemade chicken stock, throw in some beans, any veggies you have on hand (tomatoes, peppers, onions, etc.), and some homemade Mexican seasoning.  We let everyone top it as they like with a topping buffet of sour cream, salsa, black olives, avocados, and cheese.  Perfect on these cold winter evenings and the leftovers are a delicious and easy lunch!
5.American Pierogi
This is probably the most time intensive recipe of this list, but it can still be made without too much effort.  Mashed potatoes, lasagna noodles (there is no need to precook them), sauteed onions, and lots of cheese.  What isn't there to love.
Read more detailed directions on making American Pierogi here.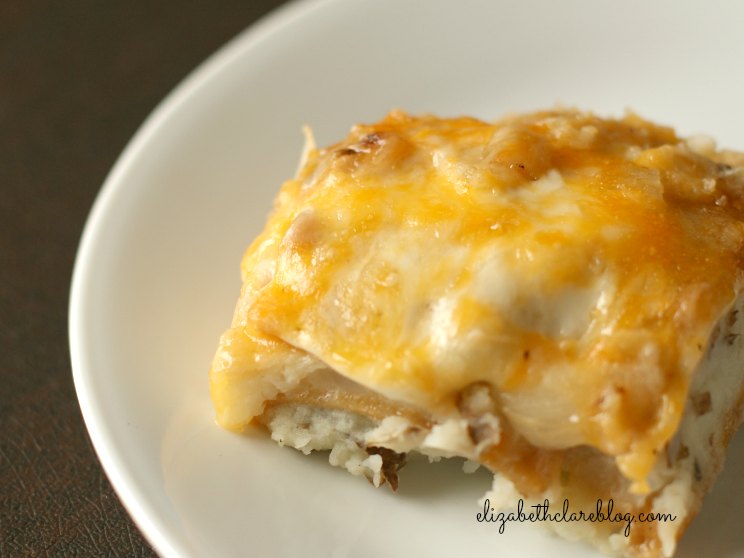 6.Baked Potato Bar
Baked potatoes don't require too much effort, just a little forethought.  Throw them in the oven if you have a lot to make or the microwave if you have a small family.  Make your own cheese sauce with butter, flour, and shredded cheese and then serve a buffet of make-your-own toppings (steamed broccoli, beans, veggies, sour cream, green onions, etc.).
So what are your favorite effortless and meatless meals for Lent?  Leave a comment below.
You may also enjoy:
Grocery Budget for Our Family of 6
Freezer Friendly Breakfast Burritos