This Sunday I actually remembered to take a picture of my "Sunday Best."  Just in case you're wondering from previous posts whether I shop anywhere but thrift stores…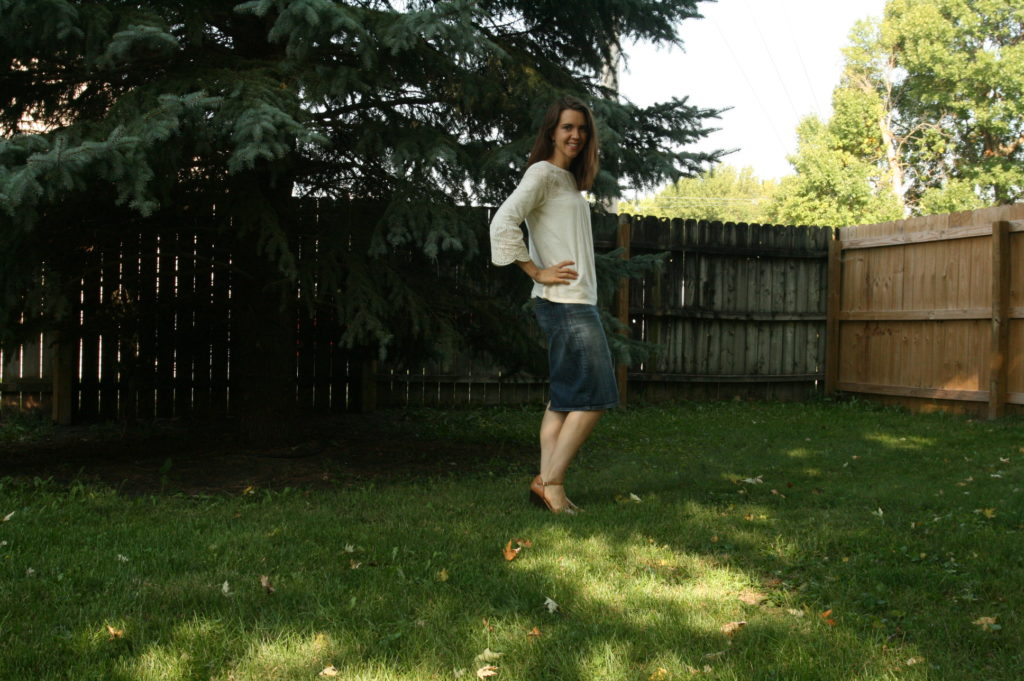 Shirt:  Kohl's Clearance ($5)
Skirt:  Lands End (a staple piece that I've worn lots since I purchased it new 8 or so years ago…$30? Similar)
Shoes:  Zulily (I am not a heel person.  Besides the fact that I always lean toward comfort, Husband is 3/4 of an inch taller than me, so I prefer to be my natural height.  I picked these heels up as something a little bit out of my ordinary.  They are incredibly comfortable and versatile, and I'm about the same height as Husband when I where them.)
(You can enjoy more Sunday Bests over at Rosie's.)
On my nightstand…
In the Bookbasket…
Read Aloud:
Picture Books:
On the Feast Table…
Last week for the Passion of St. John the Baptist, I set the kids loose decorating the feast table.  Of course, they like to try to incorporate EVERYTHING. I ended up quietly putting some of the candles away after they had lost interest to somewhat decrease the clutter.
I purchased this set of flameless candles and they have really helped round out the feast table's appearance.  I was skeptical at first, but from a slight distance they look like the real thing.  Walking by our feast table during the day and seeing the candles burning is a reminder to be still and take a moment to pray.  And I don't have to worry about little hands burning the house down!  The children love "lighting" them in the morning.
If you are wondering how to keep track of feast days, you may want to check out my planner.  They are on clearance and I only have 3 left!  You can find them here.
We certainly wanted to celebrate this feast day since St. John the Baptist is a patron saint for one of our little ones.  With Christian's special Keto diet for his epilepsy, I haven't quite figured out how to celebrate the feast days.  No food and no crafting certainly limits your options for liturgical themed revelry.  Good thing we love to read!
Pray for us, St. John the Baptist.
September Feast Table (with book list)
Update on Christian..
I'm so grateful for everyone's prayers as we fight our battle with epilepsy.  At the end of August we reached the 7 month milestone of seizure freedom.  As I type that, I can hardly believe it!  The Lord is so good and merciful!
After our first full week back at homeschooling, we ended up spending the next week at our 3 month check-up at Mayo.  Christian had another EEG which showed no epileptic discharges and that his brain wave speed is no longer slowed (both very, very good things).
When we came home from the hospital in January Christian was on 3 anti-seizure meds.  Thanks in part to the crazy keto diet they put him on while at Mayo, and in huge part to everyone's prayers, we've been able to get completely off of 2 of the 3.  We are now working on reducing the third medication with the hopes of getting down to half a dose for the time being.  Keep praying for our little man will you?