We've had more time to prepare than usual this year, but Ash Wednesday can still take us by surprise.  You do know it is just a couple of days away, right?
With all the craziness around here lately, I know our Lenten plans need to be easy-peasy.
The Lenten Feast Table
Tomorrow, the kids and I will make a salt-dough crown with toothpicks "thorns" so they can have a visual of their little gifts for Jesus this Lent.  It will be the perfect addition to the Lenten feast table.  (We've used this recipe successfully in the past.)
For more ideas, check out our Lenten Feast Table from 2016.  You'll find lots of good Lenten book ideas!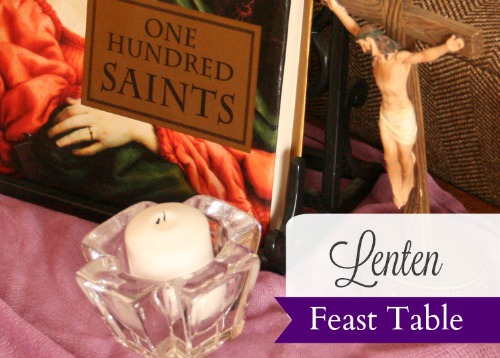 If you want a list of liturgically appropriate books and feast days for the month of March, check out our March Feast Table from last year.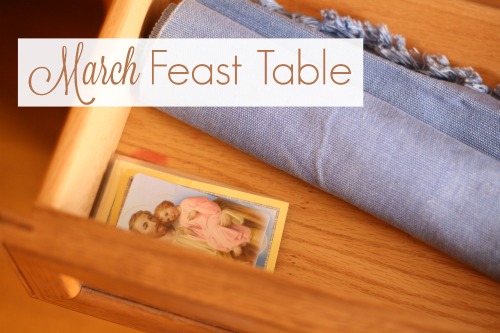 Also on our Feast Table will be the Jesus Tree (like the Jesse Tree only it chronicles the life of Our Lord).  I was hoping to make a felt version this year (similar to our Jesse Tree ornaments), but embroidering 40 ornaments is pretty low on my priority list right now.  Hoping I can get to it when life settles down a little!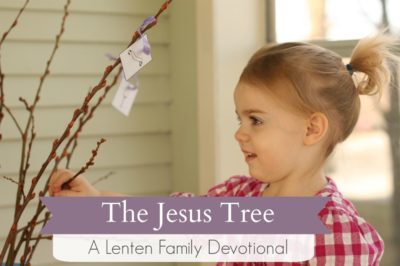 Preparing Ourselves for Lent…
I've been fueling up with coffee and sweets way too much, and, while some say I'm taking the default Lenten mortification, I know that these are what really need to go for 2017.   I'm always amazed at how weak I am when I try to bring this very earthly desire under the Lord's dominion.
Husband and I are taking time with the kids helping them to plan their own sacrifices.  Jim says giving up school would be a good mortification.  Seems I need to redefine mortification for him and help him realize DOING school is mortification.  The whole family may be dumping sweets to show support for our guy with the rigid medical diet.
You may want to check out:  Lenten Sacrifices for the young and old!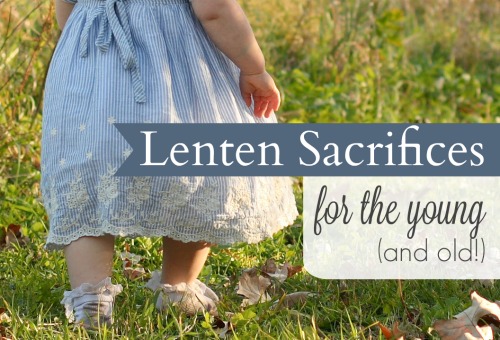 Of course, one of my greatest mortifications in skipping the local fish fry every year!  You can read more about my thoughts on that here:  I ain't No Minnow Muncher.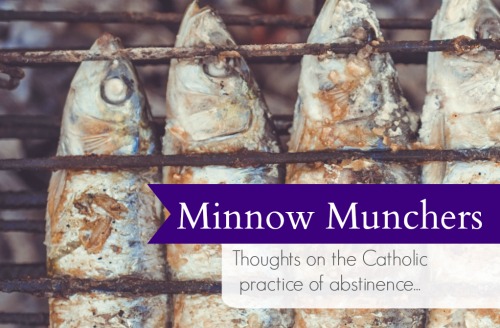 Our Lenten Home…
No fancy decor changes for us this year.  With all the medical craziness that is going on in our home right now, changing the decor is pretty low on my to-do list.  Not to leave you uninspired, check out our Lenten home last year: Lent in Our Catholic Home.
Easy Meal Plans…
We've been blessed with gads of food from family and friends after our little guy got so sick in January.  The list of 10 quick fix survival mode meals hasn't been used much since our freezer is still stocked with the kindness of others.
Our Crockpot Refried Beans recipe was on that list.  If you are looking for the world's easiest meatless meal for your Fridays, I encourage you to try it.  I always end up freezing half of the recipe since it makes way more than we can eat at a one sitting.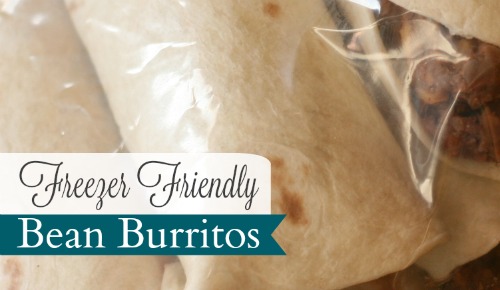 A little more involved, but extremely well received, is this American Pierogi recipe.  Mashed potatoes, lasagna noodles, cheese, onions, and sour cream – what isn't there to love?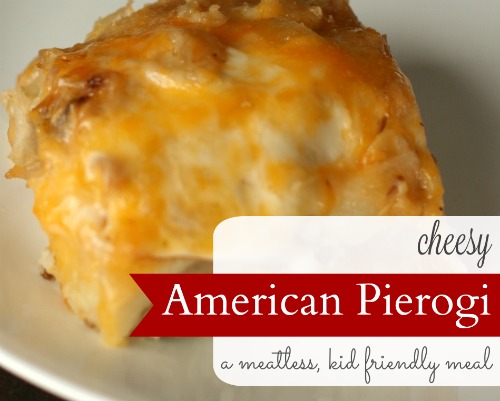 In our book basket:
Here is what is hanging out in our book basket this month.
March Feast Table – our liturgically appropriate books (we'll add the books we have and check out the library for others)
Lenten Feast Table – other book ideas for Lent
 Read Alouds
A dear friend gave us Charlotte's Web as a gift when our little man got sick.  Once we got started, he begged for me to read it to him every day.  It is such a perfect beginning read aloud:  easy to follow, great story, and many illustrations.
Two Little Savages was a treasure I picked up at Salvation Army.  It chronicles a nature loving boy while gently and naturally imparting a lot of science and nature study.  Both the older boys are enjoying this one!
Husband has just finished reading Robin Hood to the boys and is now beginning Treasure Island.  Their talk is slowing transitioning from "Robin Hood language" – "basting each other's hides" and "journeying over yon" to pirate.  Both of these classics have been read over and over in our home and will, most likely, continue to read for years to come!
Our little redhead is forever asking which animal would win in a fight.  He's lately been gifted several of the Who Would Win series and they have been a real hit around here.

Here are two more new to us books in the basket this month:
If you want to know more about our book basket, check out:  Helpful Homeschool Habit:  Implementing a Book Basket
Here's what I'm reading:
Focusing on the Bible this year, I don't have a whole lot of time for pleasure reading, however, I always find myself drawn to homeschool books this time of year.  They not only encourage me to finish the year strong but they inspire me for next year.  I've got several irons in the fire (3 of which are re-reads).
What's new here…
Praising and Trusting God…
Our sweet boy who stayed in the hospital is doing much better.  He still has a very long road ahead of him, but his doctor was amazed at his progress when we went for his check-up.  They are discussing decreasing one of his medications which will hopefully help him be more himself.
It is still on my heart to share our journey with you, but I don't know if I'm ready or quite how to go about it.  I only know that the internet is a broad and vast audience, and if our story can bring hope, courage, or peace to someone else who is walking the same road, then I know it is worth it.
School for this child has been on hold since the end of November, when this long journey began.  He is at the age where his world is just opening up to him and I hate to see how his medication has dulled his mind and altered his physical abilities.  However, I know God is in control and that He is the one ultimately at the wheel of his life and education.
The difference 15 minutes makes…
The other day, I finally bit the bullet and purchased a large wall map for our living room.  I want to add geography to our Morning Basket and I felt I needed a wall map to do it justice (besides, they just look cool!).
Husband is planning on helping me with a DIY framing job following this tutorial.  I don't want to just tack it to the wall since I am forever moving furniture around and I want to transport the map to new locations without damaging it.
The purchase got me to thinking where it should hang, and that led me to a quick 15 minute rehang and sprucing of our living room.  No money spent, using just what I have around.  And you know what?  It made me love the room even more and it felt so good!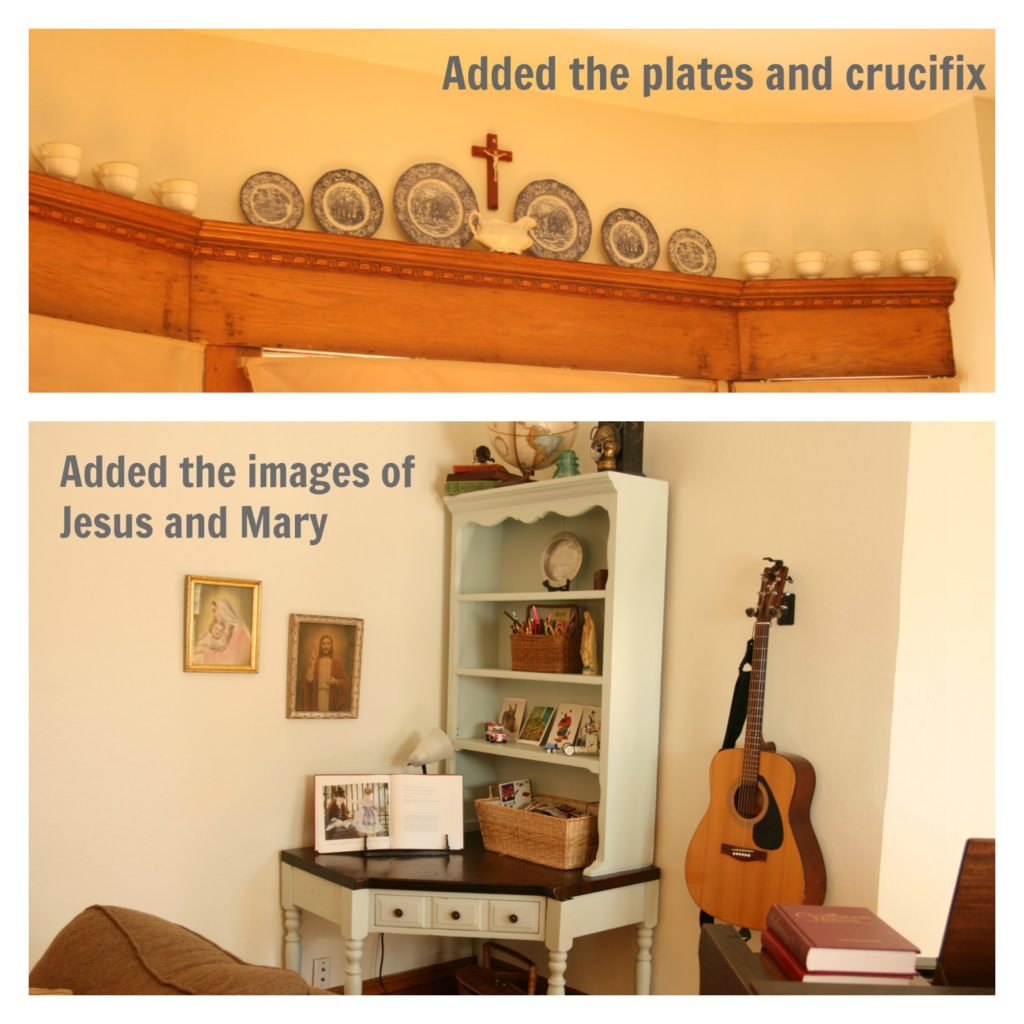 So, if you, like me, tend to push off home decorating, consider this your push to get going on quick 15 minute decorating spruce!

Our living room has a huge wall, and I never know how to decorate it.  It should really have a bigger piece of furniture on it, but this is what we have – a little ditty I picked up at a garage sale for $3.  It hides our TV perfectly.  I think the addition of the clock and other picture help fill out the space.  The cow print may be a little 90's, but it reminds me a lot of home, and I love it!
Planning our 2017 garden…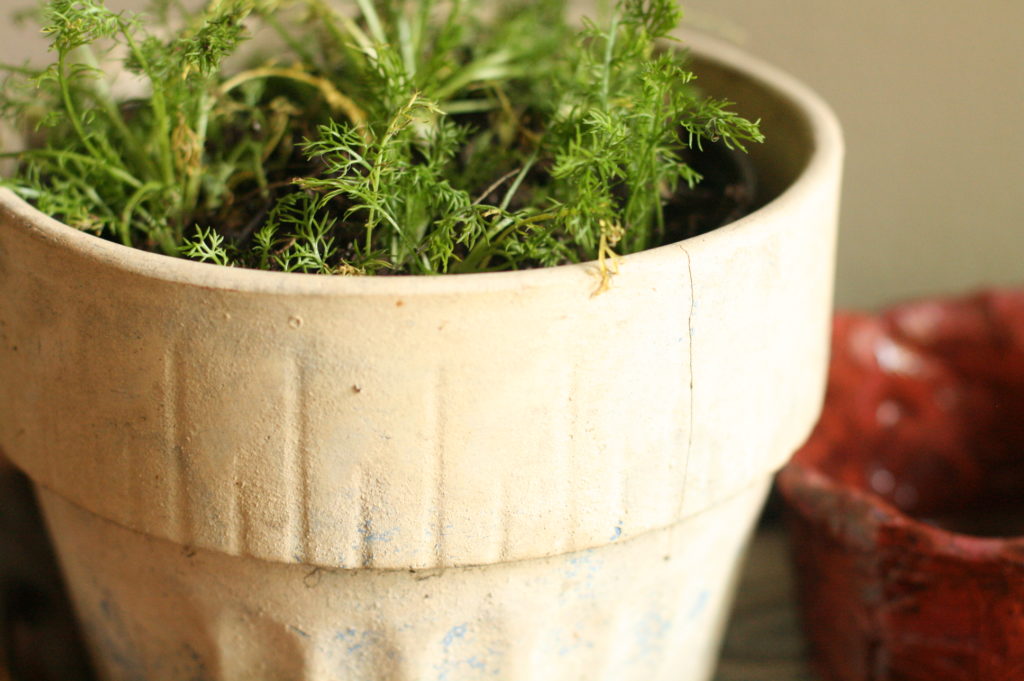 My normal January garden planning time got eaten by our 12 day hospital stay.  I usually sit down with a hot cup of cocoa some cold winter evening and drool pour over all the seed catalogs.  I love gardening and I love planning – the two together are a real joy!
I'm just getting around to figuring out a rough draft of our garden for this year and ordering seeds and replacement fruit trees (those bunnies!).  I'll be purchasing tomatoes and pepper plants this year since I didn't have the time or inclination to start them from seed.
I'm trying a new gardening method this year.  I read Ruth Stout's Gardening without the Work and I'm hoping it can save me a little time and help our garden produce more over the years.  The book was a fun read – not at all dull like many gardening books on the market.
What are your Lenten plans?