Hey all!  It's Monday – let's catch up!
Sunday Best
Here's what I wore to church this past Sunday.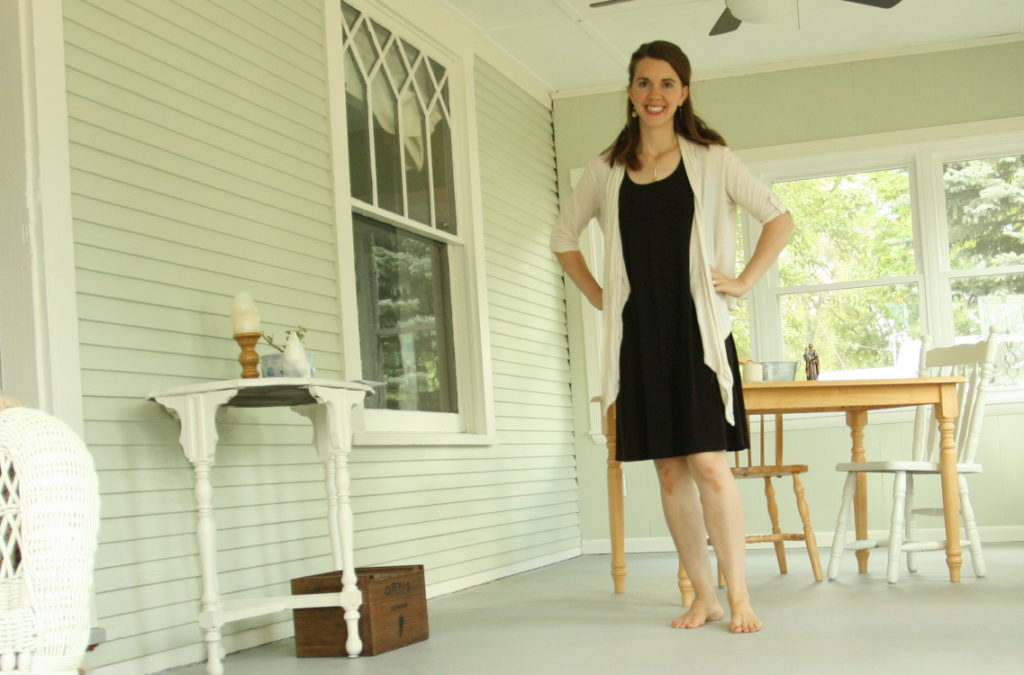 We went to church on Saturday for the 4th time in a row. It seems to work with Christian's schedule the best right now. He dropped down one pill on his last anti-convulsant (little victory!) and that combined with a lingering cold has found him sleeping 14 hours a day again. It's made that tidy school schedule I worked tirelessly on last week obsolete. Oh, he keeps me on my toes!
You'll have to make do with this catty-wompus barefoot photo.  At least the newly redone porch looks fresh and clean.  Lots of little things to finish up there, but we are back to enjoying this space once again!
Dress: super easy, peasy brown shift dress (one of those you can wad up, travel with, and never need an iron for). This one was a Christmas gift from Mother 5 years ago, but this one is similar for only $15!
Cardigan: Thrift store years ago (maybe $3??) this one is similar for $10ish!
Shoes: I promise I DID wear shoes to Mass, but I'm a barefoot girl around the house and didn't realize they were missing when I took the picture (ha!)  Kohl's – $8 (spitting image of these)
What we are reading

I first watched Dan Burke online speaking at a conference.  I love his style of speaking and how he speaks truth from the heart in love and in the power of the Holy Spirit.  It is so obvious that this is a man of God.  I was able to pick this book up off the library rack at church and have been slowly working my way through it.  I saw he and Connie Rossini are collaborating on a book about praying the Rosary contemplatively and I now am waiting impatiently for its release.
I loved Kim's first book Large Family Logistics, but it is now out of print.  I am enjoying this book which is very similar to Large Family Logistics but in a newer format.  It's giving me the "umph" I need as we dig into a new schedule and homeschool year.

I have read Little Britches to the boys a couple times, but this is our first time reading the sequel, Man of the Family.  It is just as good as the first.  There's still cowboy language that I edit out as I read aloud, but the character and story of the Moody family is so touching and endearing.  If you have boys that are past the Farmer Boy stage (although, I don't think you can ever be past Farmer Boy), this is a great next step.  We have been reading 1-3 chapters a day and are set to finish the last chapter this evening.

Lowell is listening to this on audiobook as he's building his lego creations in the afternoon.  He seems to be enjoying it and is always begging for another chapter.  The ease of this audiobook has me seriously considering a Audible subscription.  Do you use Audible?  I'd love your thoughts on it! (You can try Audible and Get two free audiobooks.)

This has been a well loved book in our home.  Beautiful, well written stories and gorgeous illustrations make for happy readers all the way around.
Cowboy Small– favorite board book of the week
Michael simply loves this book.  He loves the horses, he loves the cows, and he loves that the story is short and sweet with not too many words to a page.  Don't look for a developed plot in this one, but toddlers just learning to love books will love Lois Lenski.
Planner Sale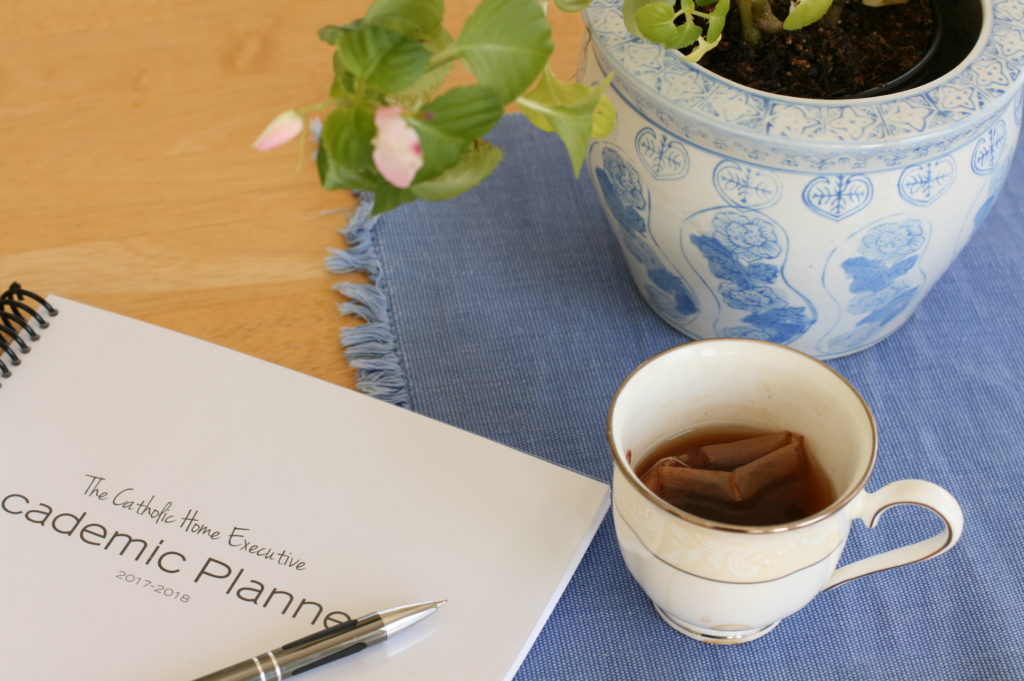 I'm down to my last box of 2017-18 planners and I would love them out of my house.  I've reduced the price and you can find them here.
2017-2018 School Year is Underway
We've officially started all our subjects as of today.  Of course, we'll already have an interruption to our school year next week when we travel for Christian's check-up.  He'll have an EEG to recheck for the "brain slowing" they saw after his January seizure cluster.  The "slowing" could be damage caused by all his seizures or a result of his strong doses of medication.  Now that we've been able to get him off of 2 medications, we are hoping to see some improvement.  I hate to share such personal stuff here, but I know my readers are prayers and I would love for you all to say a prayer for my sweet red head.
We took time working up to our full school schedule, and I'm so glad we did.  Things are running incredibly smooth for our first official day back.  Look for the curriculum we are using in a later post.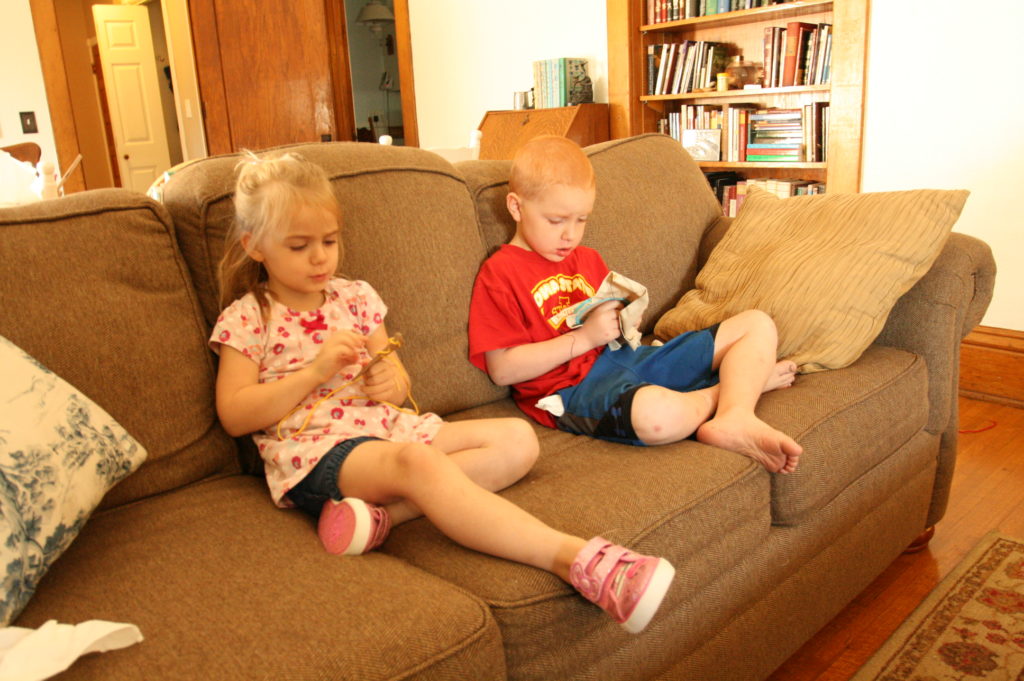 And here is as picture for you from last week.  Christian has a button collection and he got it in his head that he wanted to sew buttons on some of his clothes.  I started him with a lacing card (which I've had tucked away forever and he has never shown interest in).  He tackled the lacing card with ease so I got out my cross-stitch materials and made marks on the fabrics to show him where to stitch.  He sat on the couch for an hour and a half sewing a *perfect* circle.  I was simply amazed!  Of course, Lilla decided she better keep up.  She is working on her lacing card skills.
Lots of things coming from the garden and orchard to keep me occupied.  I'll be busy in the kitchen this week putting away lots of goodies for winter.
Have a blessed week!