I have a fabulous group of friends (praise God!).  About a month ago, we all were dialoging through email about developing thoughtful Christmas lists for our children.  We were all looking for clever no toy Christmas ideas.  Don't we all have enough toys already?
Our list really helped me out a lot and after taking some extra time brainstorming and scouring the internet, I'd like to share the completed list with you.  I hope this list of non toy gifts will help you give to your children this Christmas without filling up the toy room anymore.
At the bottom of the list, you will also find ideas for the Catholic child in your life.  Enjoy!  And an extra thanks to my fabulous friends!
(Psst!  If you are looking for toys that are worth your money, check out Our Family's 7 Favorite Toys for open-ended and classic gift ideas that will last!)
100+ ideas for a no toy Christmas:
Edibles:
Crackers ( Goldfish, Animal Crackers)
Dried Fruit (apricots, individually boxed raisins, banana chips, mango, apples)
Trail mix in a jar
Candies and Gum
Learning:
Craft kit
Science kit
Magnets
Calculator
Experiences:
Museums
Observatory
Planetarium
Zoo
Amusement park
Science Centers
Theater
Art experience (pottery, painting)
Ice Skating
Roller skating
Swimming
Bowling
Mini golf
Concert tickets
Hotel stay with just Mom or Dad
Lessons (swimming, piano, dance, gymnastics etc.)
Art Supplies:
Necessaries:
Cash (set up a special account at the bank for them)
Overnight bag
Fun bed linens
Fun bandaids
Clothes
Belt
Shoes
Toothbrush
Hair bows, ties, headbands
Hair brush or comb in fun color
Nail polish
Calendar
Colorful shoelaces
Colorful and fun straws, cups, plates, silverware
Decorate bedroom
Bubblebath
Chapstick
Lotion
Sunglasses
Hat (winter, summer, baseball)
Wallet or purse
Bookmark
Eraser
Personalized pencils
Notebook and pen
Reading:
Magazine (Our family enjoys gifting magazines that are for older people that are in the child's interest area.  Child magazines we like include: Nature Friend, Thomas and Friends.)
Kindle(A big gift, but we have more than earned our money back by using it to read all the free classics available online.)
Activities:
Board games (Our family's favorites include:  Ticket to Ride, Hi Ho Cherry O, Blokus, Checkers, Chess, Sorry)
Puzzles (from chunky Melissa and Doug to more complex 3-D or 1000+ pieces)
Model set (train, airplane, etc.)
Simple woodworking kit (birdhouse, car, etc.)
Pulley
Toolbox and several tools (keep adding to their box every year)
Apron
Musical instruments (guitar, ukulele, xylophone, harmonica, tambourine)
Outdoors:
Goggles
Umbrella
Sidewalk chalk
Kite
Microscope
Roller skates/blades
Bird house/feeder and food
Sports equipment:  bat, ball, hoop
Hula hoop
Jump rope
Bug Net
Scooter
Trampoline
Binoculars
Tent
Sleeping bag
Sleds
Music:
Movies:
Miscellaneous:
Christmas ornament (give one every year)
Aquarium and fish
Jewelry (earrings, necklace, bracelets)
For the Catholic Child:
Religious necklace (Saint medal, crucifix)
A book from our list of Must Reads for Young Catholics or Our Advent and Christmas Read Aloud List
Prayer Pillowcases
Sacrifice beads
Saint peg dolls and creatures
Holy card
Prayer bookmarks
Religious figure or statue (get their patron saint to watch over them)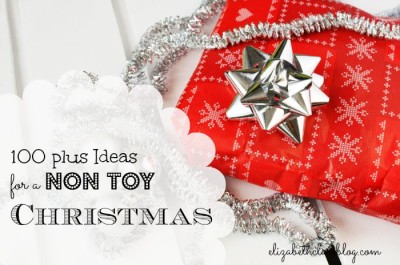 What ideas would you add to the list? 
Still need more inspiration?
Kayla at Kayla Aimee Writes has a great list!
Heather at Raising Memories has an awesome list of ideas!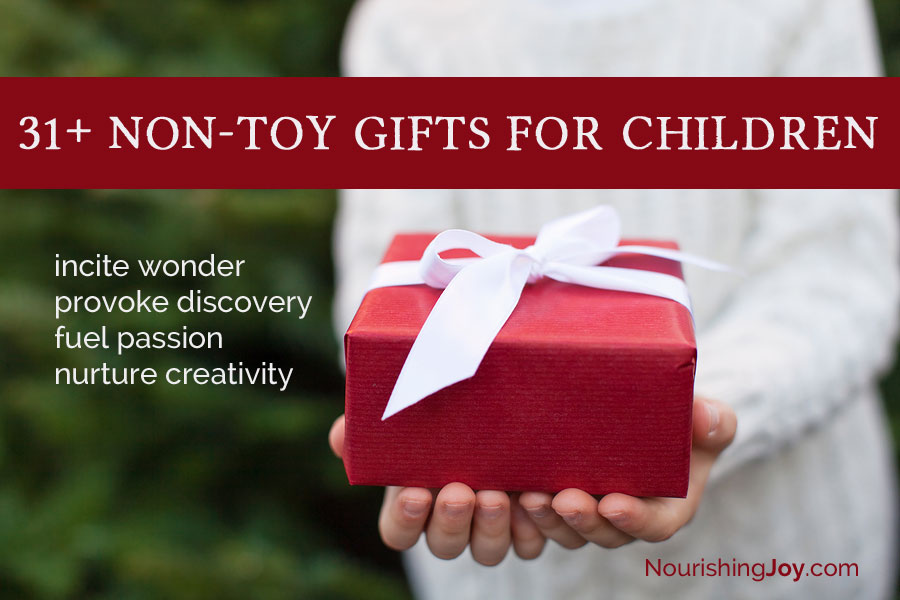 Kresha at Nourishing Joy has a list of 31+ Non-toy gifts
(*This post contains affiliate links.)
Don't forget to check out Our Family's Favorite Toys for toys that last!