Books are such an integral part of our family's life together.  Snuggling on the couch for Read Aloud Hour during our midday routine is the highlight of my day as a mother.  That is, unless the baby is fussy..then I dance the one-handed-Tango with him while holding the book in my other hand as the other three snuggle on the couch!  Overtime, we've accumulated quite a list of must reads.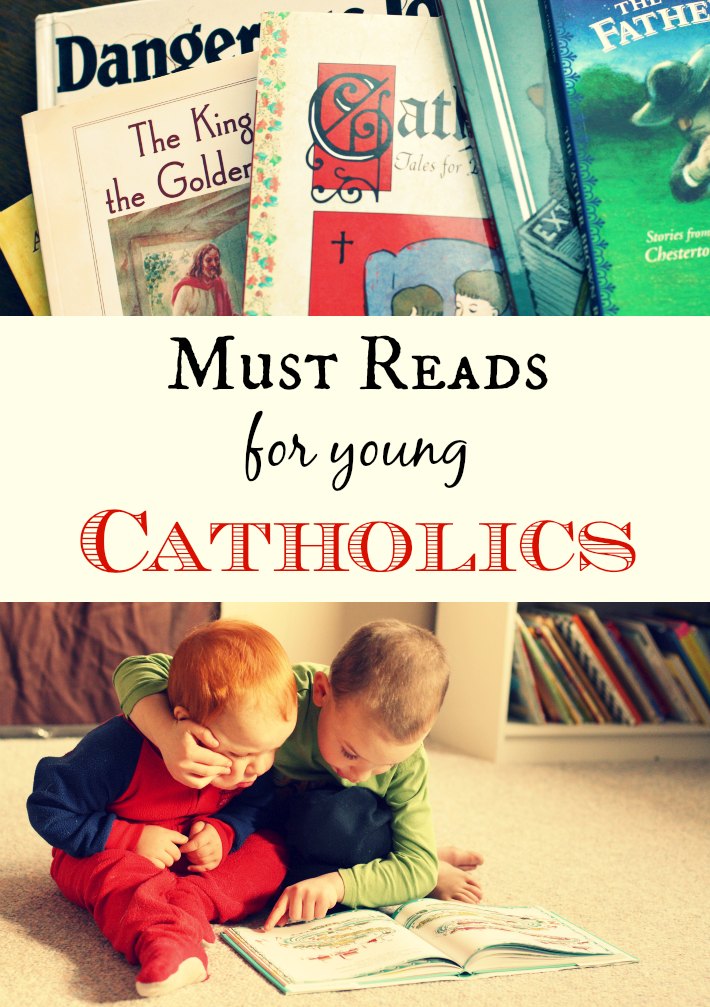 When I converted to Catholicism five years ago, I knew I wanted to instill the Catholic faith in our children from a young age.  While definitely not the only way, books have played a key role in handing on the faith in our family. 
I've been very intentional about what books I choose for my school age students to read, even going so far as to create a required reading list for the year from my favorite booklist resources.  I love stocking our feast table book basket every month with liturgically appropriate literary fodder (check out all the feast table posts with companion booklists here).  Good literature is one of the main reasons we chose to go with Mother of Divine Grace over other boxed Catholic curricula.  Books are always at the top of our gift giving lists for Christmas and birthdays (one of these must reads is a great addition to the no-toy Christmas list).

I'm a firm believer that a book must have life, breath, and beauty within its pages.  I have been thoroughly disappointed by some of the dry, lifeless Catholic (or non-Catholic for that matter!) children's literature that is on the market today.  I do think that our options are expanding as out of print books are brought back into circulation and new Catholic literature is produced.
Unfortunately, many libraries don't have much selection when it comes to religious books, so many of these will be an investment in your family's home library.  You'll not only be investing in your book collection, but also investing in the souls under your care.
I'd love to share with you, dear reader, some of our family's must reads.  These are tried and true, from the trenches favorites of our family.
And if you want to know how I know what to read when, you may want to check out my Catholic Planner.
(Don't forget to leave a comment below telling me your family favorites!)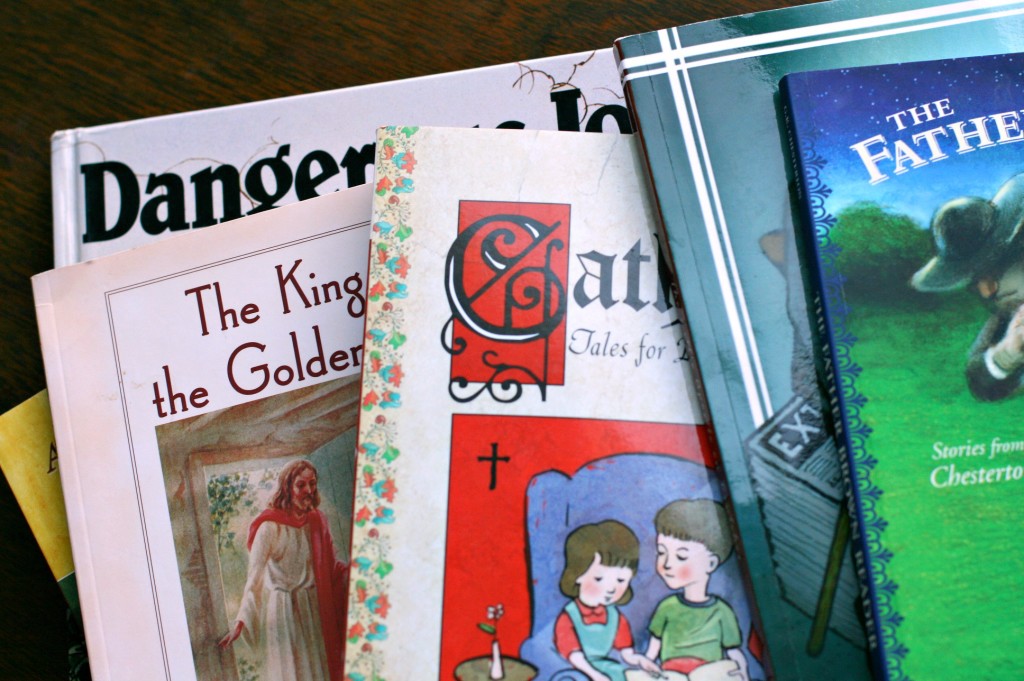 Must Reads for Young Catholics:
Picture Books:
Catholic Children's Treasure Box
Once Upon a Time Saints (Entire Series)
Patrick Patron Saint of Ireland
Angel in the Waters-A pro-life book.
The Holy Twins: Benedict and Scholastica
Pascual and the Kitchen Angels
My Path to Heaven-This book makes a wonderful devotional.  Even the little ones enjoyed this book, though some of it was over their heads.
A Child's Book of Prayer in Art
Non-Picture Books:
Catholic Tales for Boys and Girls (series)-Fictional stories highlighting the Catholic faith.
The Little Apostle on Crutches
The First Christians: The Acts of the Apostles for Children-For early readers!
The Life of Our Lord for Children-Great for beginning readers!
The Action Bible– This is not specifically Catholic, but our boys and many of their friends enjoy this book immensely!
Angel Food for Boys and Girls-This is a new book to us in the last several months, but it has become dearly loved as a daily devotional for the whole family.  The stories are beautifully written and each chapter ends with a meaningful reflection on Catholic teaching.  We will be purchasing the complete series when we finish with Book 1.
The Catholic Children's Bible–This makes a great first Bible for those who are just taking off reading.  I scoffed at the idea of having a children's Bible, but I have not regretted the purchase.  One morning my husband and I woke up and discovered our eight year old had cooked himself an egg and was reading his Bible!  It only happened once, but it sure melted this mama's heart!

Books about Books!
There are a few helpful books on the market that will help you find that perfect (Catholic) book when you need it!  I always thought it was silly to get a booklist type book, but I have found them invaluable in our homeschool, especially when I create our required reading list for the year.
Let the Authors Speak: A Guide to Worthy Books Based on Historical Setting by Hatcher
This is a new book on our shelf and I have found it to be a fabulous resource for creating my required reading lists for next year.  Books are organized by time period, by author, and by title.  Within each collection, the reading level (early reader up to adult) is listed as well as if the book is written with a Catholic flavor.  A perfect title for Catholic homeschoolers who like to use "real books."
For the Love of Literature: Teaching Core Subjects with Literature by Wittmann
Again, another book which brings together great educational titles for our little ones.  Books are grouped by subject including:  art, music, history, and science.  Each title is given a quick summary as well as a reading level.  Catholic books are also noted.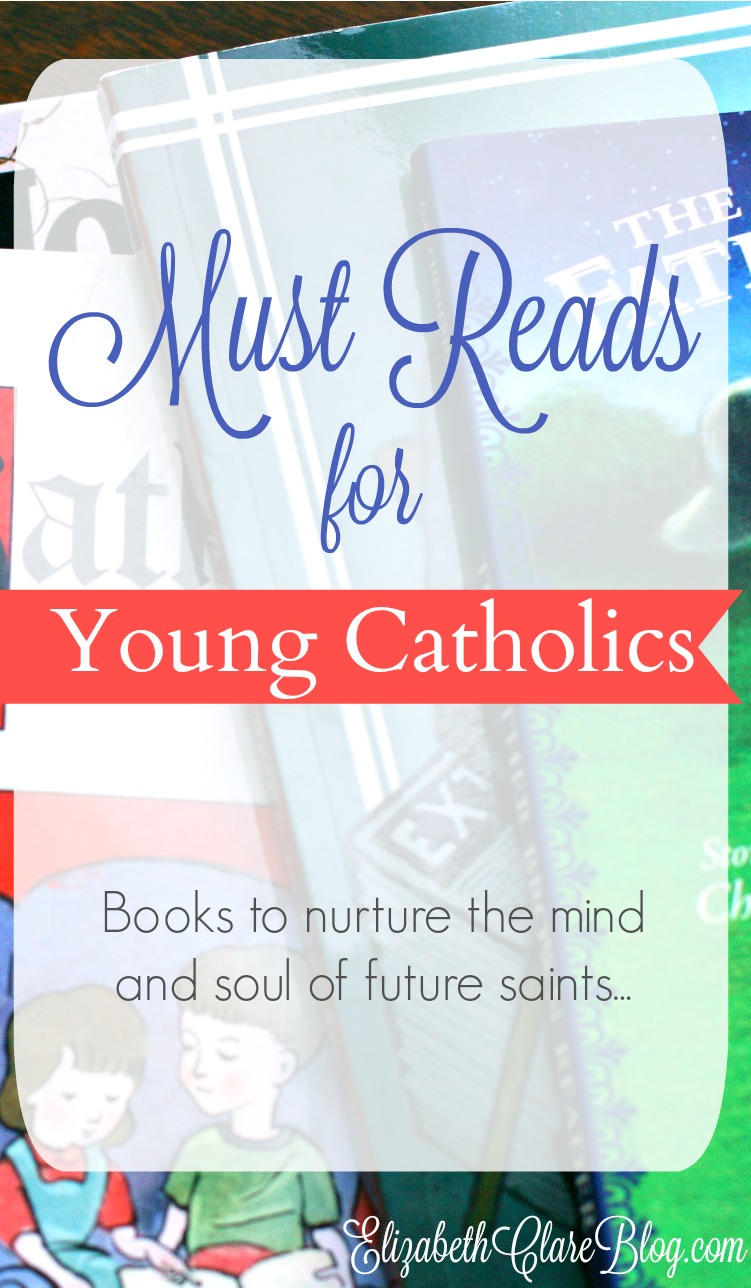 Looking for more books you and your family will love?
What are some of your favorite must reads for young Catholic literature?   Leave a comment and watch the must reads list grow!

You'll also like:
Catholic Mom's Bible Study Resources
The (Catholic) Bible in a Year
{Above links may contain affiliate links.  At no cost to you, I will receive a small commission if you choose to purchase through those links.}