When our little boy got sick, we were abundantly blessed by our friends and family with delicious food.  My sweet sister-in-law made gads of food for us, including breakfast burritos.  The kids loved them and they were such an easy thing for them to warm up in the mornings.
A couple of years ago, our oldest boy used to come downstairs and fix himself an egg in the morning, but, for whatever reason, has a current strike on scrambled and over-easy eggs.  He eats either peanut butter on toast or cereal for breakfast (like my homemade granola), but no eggs.
He DID; however, devour the breakfast burritos.  So when we finally ran out of the breakfast burritos from my sister in law, I knew it was time to whip up a batch of our own.  I eat eggs for breakfast every morning and I'd like my kids to eat them at least twice a week.
My oldest helped me whip out 20 of these freezer friendly breakfast burritos one afternoon.  No recipe required, but if you are looking for a guideline, here is what we did.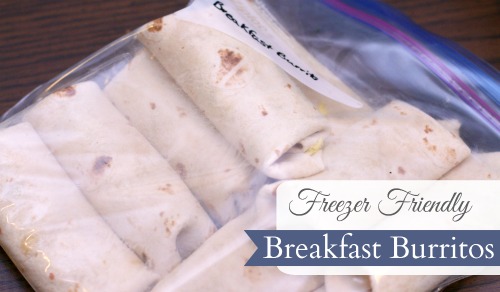 Freezer Friendly Breakfast Burritos
20 eggs
1/4 C. milk
1/2 C. veggies (we used spinach, but you could also use green pepper, onion, broccoli, etc.)
1 lb. of Homemade Sausage (see below recipe) or ham
1 C. Cheddar Cheese
20 flour tortillas
Whisk eggs and milk together.  Cook in greased skillet.  When cooked, add veggies, meat, and cheese.  Scoop into tortillas.  Fold the tortillas envelope style and place in a gallon freezer plastic bag.  You can wrap each burrito individually, but I just lay them carefully in the bag. Freeze.  To use:  remove from plastic baggie and heat till warm in microwave.
Our oldest was my assigned kitchen helper the day I made these.  He broke, scrambled, and cooked the eggs, as well as cooked the sausage.  I stuffed and rolled the tortillas.  It didn't take long with the two of us working together.  Next time, I'll probably do a full 2 dozen eggs – I know this batch won't last long around here!
Just because I love to punch numbers, I thought it would be fun to see what each burrito costs.  I got most of my ingredients at Aldi, except for the sausage (which was purchased in bulk on sale at another local chain).
Here is a price breakdown for the freezer friendly breakfast burritos:
Eggs =$1.31
Milk = $.07
Spinach = $.25
Homemade Sausage = $.99
Cheddar Cheese =$.90
Flour Tortillas = $2.38
Total for 20 Breakfast Burritos=$5.90
Price per burrito=$.30
(The kids eat approx. 1 burrito each while Husband eats at least 2.)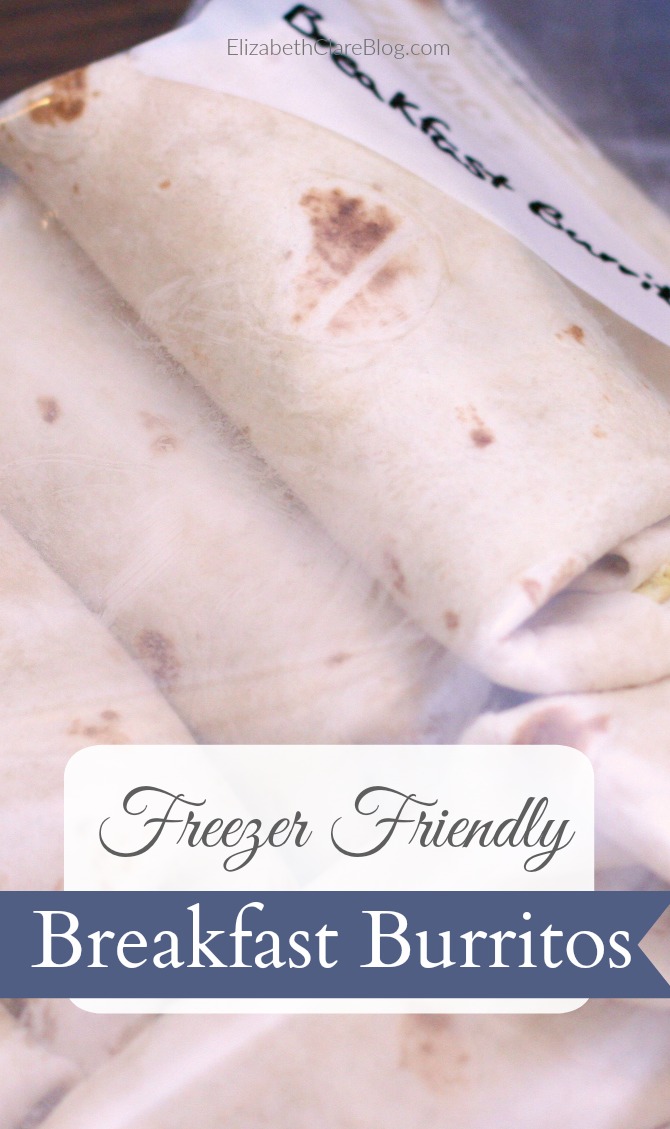 I (almost) always make my own ground sausage at home.  I think it tastes worlds better than store bought plus I know everything that's in it.  The only added time is the few seconds it takes me to throw in the seasonings.
I usually purchase my ground pork in bulk from our local grocery store.  When I bring it home I make a large batch of sausage with most of it (I make the rest into pork burgers – a family favorite).  I then cook several pounds of the sausage to freeze for quick use in pizzas, spaghetti, lasagna, or biscuits and gravy.
Homemade Sausage
1 lb. ground pork (uncooked)
2 tsp. sage
2 tsp. salt
1/2 tsp. ground pepper
1/2 T. brown sugar
pinch of cloves
** pinch red pepper flakes (I love the little bit of heat in my sausage, but I skip this when I know the kids will be having it too!)
Mix by hand all the ingredients (can easily be done in bulk).  Cook and use immediately, freeze for later use, or cook and freeze for later.
Here are a few other recipes to try:
Slow Cooker Refried Beans and Freezer Friendly Bean Burritos