It's time I let the cat out of the bag and share my DIY Powder Laundry Soap recipe with you all.  I've always enjoyed saving a little money by DIYing household products and I've tried several different methods for making my own laundry soap over the years, but this one has become my standby.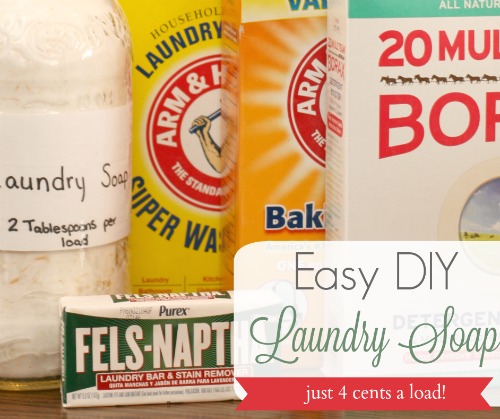 I've gotten more choosy about what money-saving habits are actually worth my time.  Making my own laundry soap continues to be worthwhile to me (keep reading to see the yearly cost savings and per hour return).
Many years ago, when I started with a cooked liquid laundry detergent.  It took longer, made more of a mess, and required more storage space.
So I began the hunt for a dry laundry soap.  Somewhere along the line, I found this recipe and it has been a keeper.  It doesn't take too long to make and it lasts a long time (about 461 loads to be exact!).  In fact, I made my last batch over 6 months ago (and that is saying something for someone who washes about 20 loads of laundry a week)!
Last weekend, I found my laundry soap supply was running low, so I mixed up a new batch in less than 5 minutes.  I thought I'd share my tried and true laundry soap recipe with you today!

DIY Powder Laundry Soap
Grate the Fels Naptha bar with your cheese grater.  Mix well with other ingredients and store in a large container.  Add essential oils if desired.  To use:  Use 1 – 2 T. of dry soap per load. (Makes approx. 416 loads when using 1 T. per load.)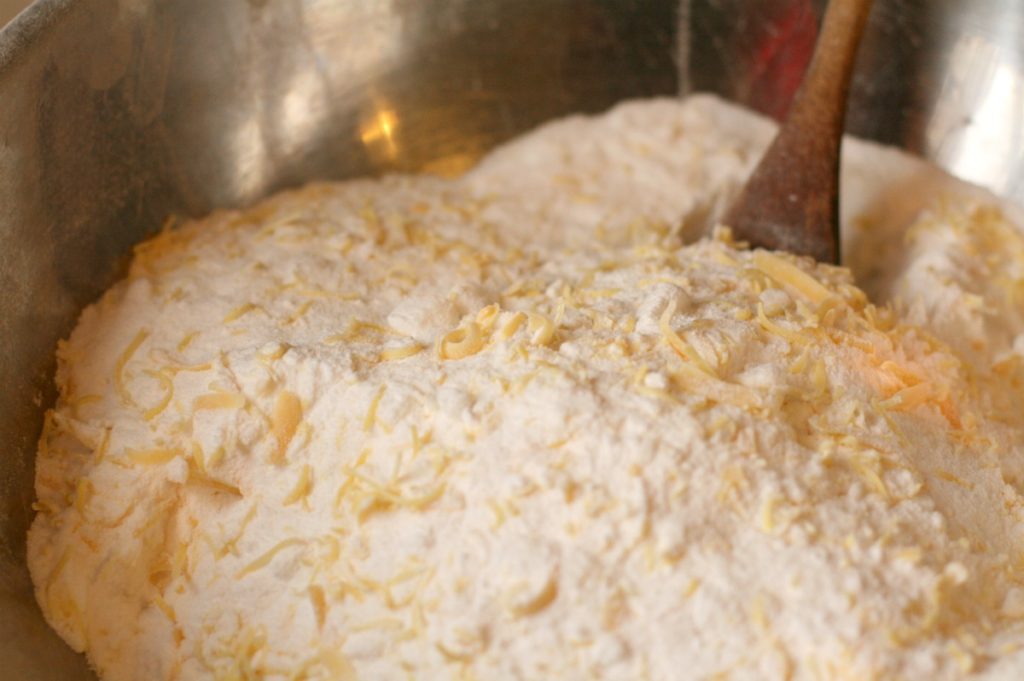 My helpful hints for making DIY Powder Laundry Soap:
 Get a good grater.  I had a cheap plastic grater to start, and the force it takes to grate the Fels Naptha eventually cracked it.  I now have this grater and it is holding up rather well.
Make a small batch to start.  When you are trying something new, always start with a small batch.  That way, if you don't like it you aren't stuck with a huge amount of laundry soap you don't like!
Make a big batch.  If you end up liking the DIY Powder Laundry Soap, begin making it in big batches.  You save a lot of time just making your mess once!  I only make it twice a year and it takes me 5 minutes each time to make enough to last me 6 months.
Don't add essential oils.  I find it takes A LOT of oil to notice the scent in your laundry.  That kind of defeats the purpose of saving money!
Label your jar.  Just in case someone else happens to do laundry in your home, do yourself a favor and label your soap.  An old pickle jar filled with mysterious white powder may confuse visitors!
Fels Naptha is a great spot remover.  Use your little nubs of Fels Naptha that are left after grating as a spot remover.  Simply wet the stain and run with the soap.
Big pickle jars make great laundry soap containers.
Amazon Price Breakdown for DIY Powder Laundry Soap
Fels Naptha – $.97 per bar x 3
Borax – $12.99 per 4 lb. box
Washing Soda – $7.23 per 4 lb. box
Baking Soda – $4.95 per 4 lb. box
Total Price: $28 per batch ($.06 per load)
Walmart Price Breakdown for DIY Powder Laundry Soap
I get my supplies at Walmart in the laundry detergent area.  They seem to be much cheaper!  Your local grocery store may also carry these items.  (Remember, prices can vary in different Walmart stores!)
Fels Naptha – $.97 per bar x 3
Borax – $3.97 per 4 lb. box
Washing Soda – $3.97 per 4 lb. box
Baking Soda – $2.94 per 4 lb. box
Total Price:  $13.79 ($.03 per load!)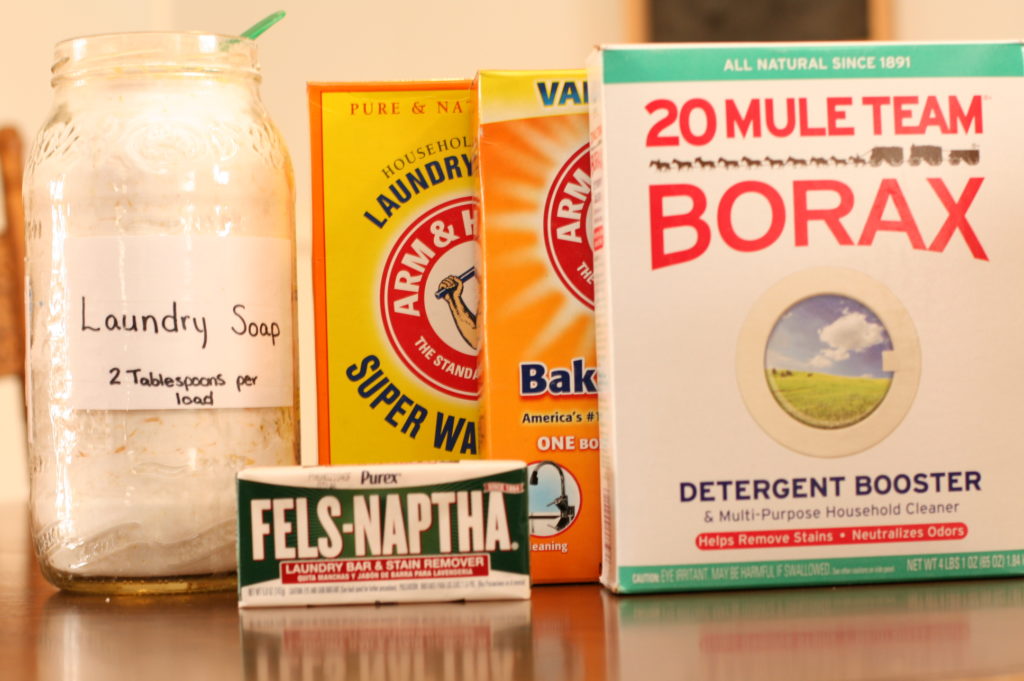 Savings over Store Bought:
Like I said, I'm getting more discerning about what money-saving techniques are really worth my time.  I rarely hang out my laundry to dry (it takes me 20 minutes to save $1- no, thank you!).  I've started buying baby carrots instead of peeling and slicing my own (I'll spend an extra $.50 per pound to save me the extra minutes!).  However, I continue to make my own laundry soap.  I've broken it all down so you can see why I still think it is worth my time!
Powdered Tide
approximately $.19 per load
at 15 loads per week
yearly costs=$200 a year
DIY Powder Laundry Soap
$.03 per load at 15 loads per week
yearly costs= $23

Yearly savings of $177!
It takes 5 minutes to whip together a big batch of laundry soap, which means you "make"
$74 in 5 minutes
or $885 per hour!
Yes, it is definitely worth my time to continue making my own DIY powder laundry soap!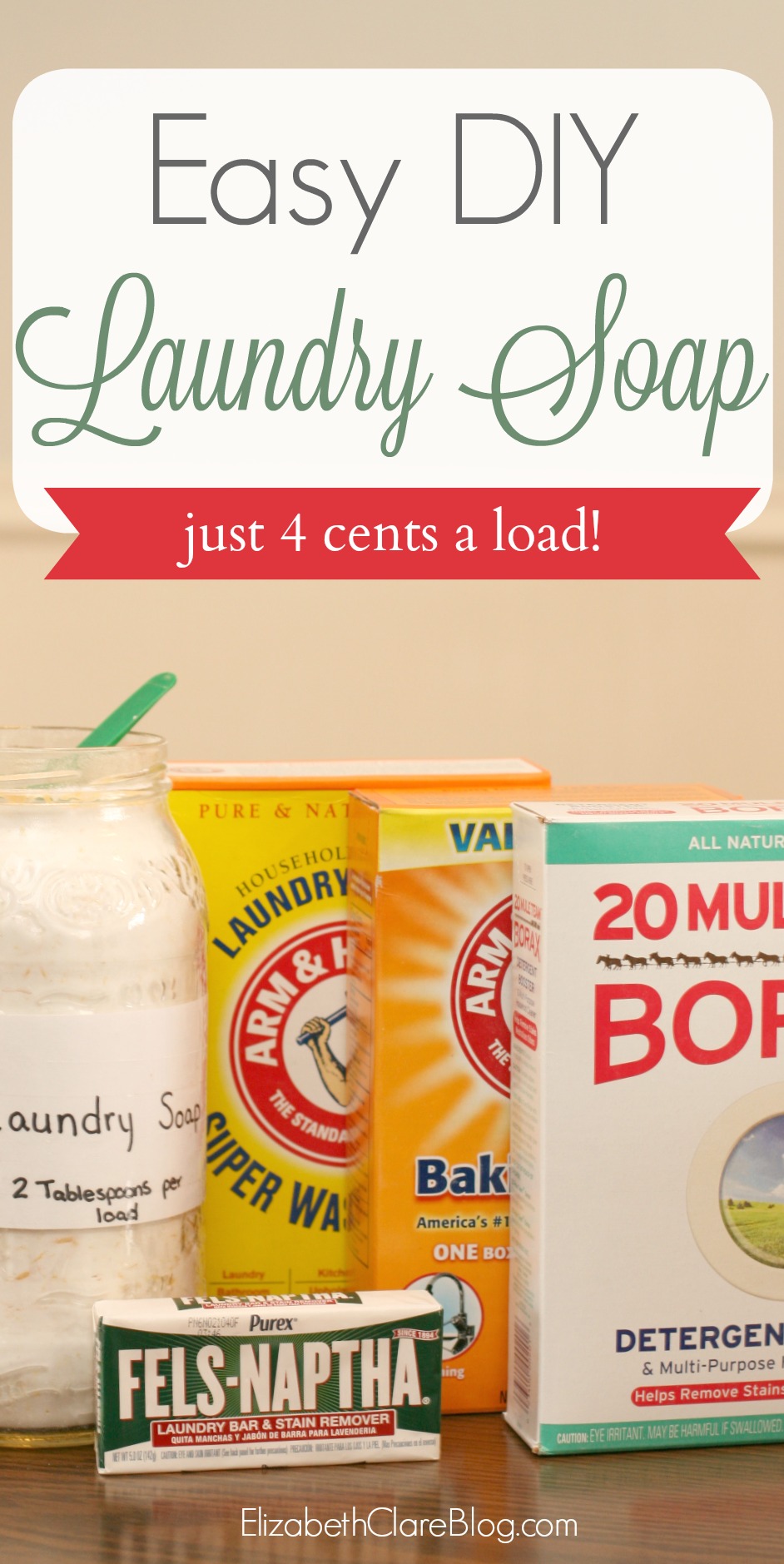 Other frugal, DIY posts you'll enjoy: