I'm a country girl who became entangled with a big-city boy.  So long country life, hello small town living.  Town life has perks, so I can't complain much.  We got a lot more house than we could ever afford in the country, we can walk to the post office, church, and library, and the paved streets make running with a baby stroller a piece of cake.
But I vividly remember my first spring in town.  My body itched to go dig in the dirt.  I was an addict that needed a fix in a bad way.  It's strange considering I never had plowing duty back home, but I guess it was just the farming blood coursing through my veins.
The spring following the move out of our rental and into our current home, I started digging by hand an ginormous garden in our backyard.  The next few years, as our oldest became homeschooling age and more kiddos were added to the mix, I realized I was in over my head.  I've slowly downsized, but still enjoy gardening immensely.
Want to take a walk with me through my garden?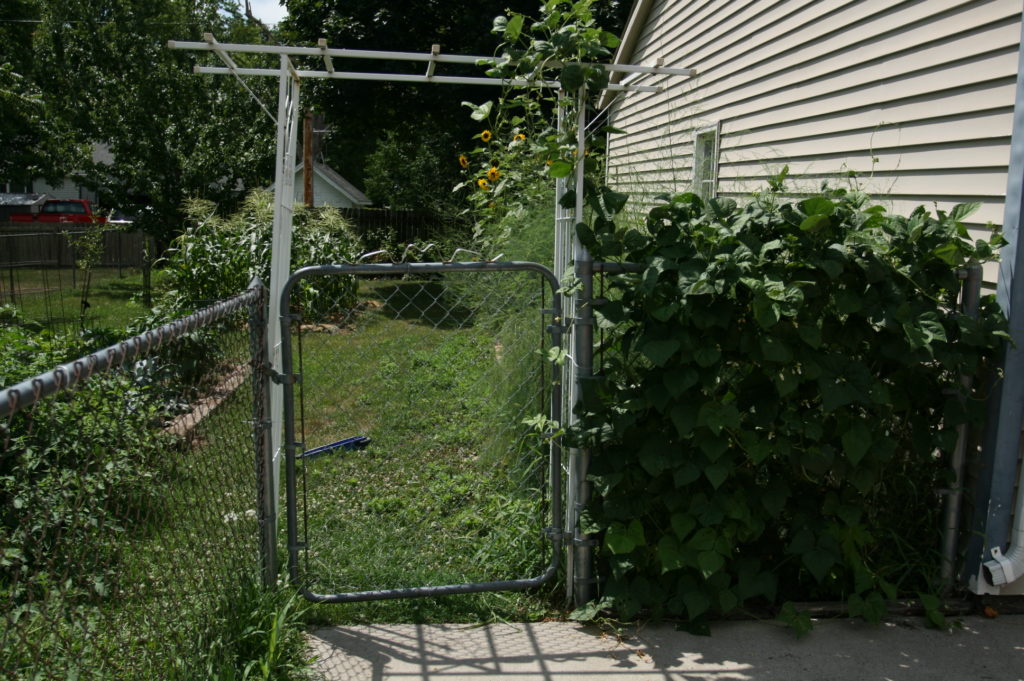 Come on in.  There's one of  my three patches of green beans are on your right climbing the fence.  Don't trip over the scooter!  Once we get in the yard, let's turn around.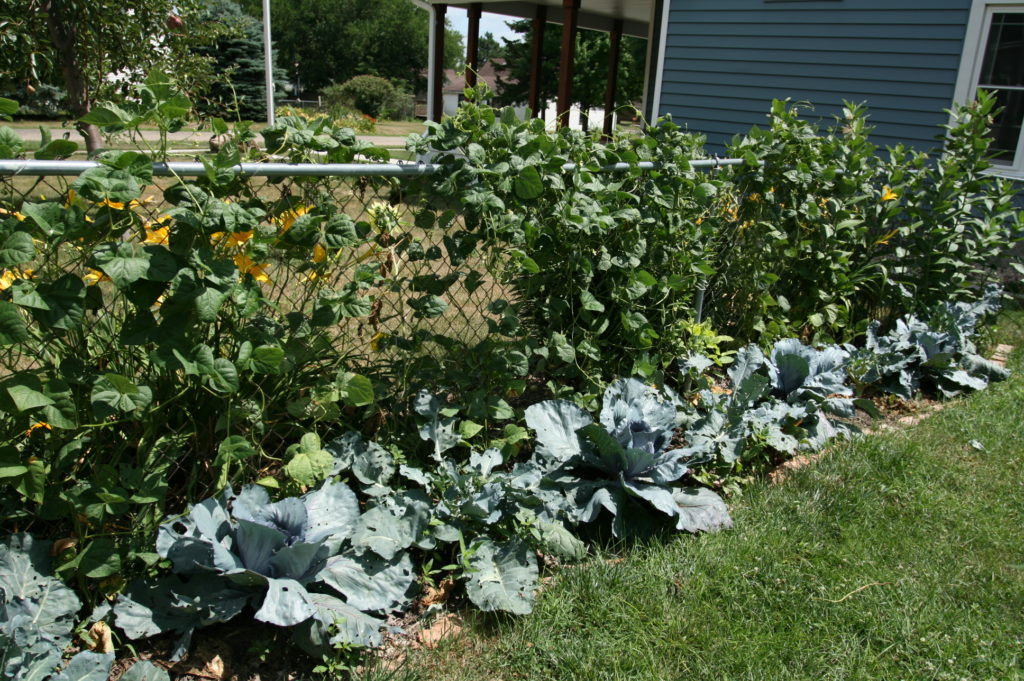 Here is a mess of broccoli and cabbage with more green beans climbing the other section of fence.  Anyone have any cabbage moth remedies?  Lowell and I picked a lot off by hand and that helped, but I wish they would just go away!  Moving on…
Turn around again, and here is the main section of garden with the arbor you walked through to your right.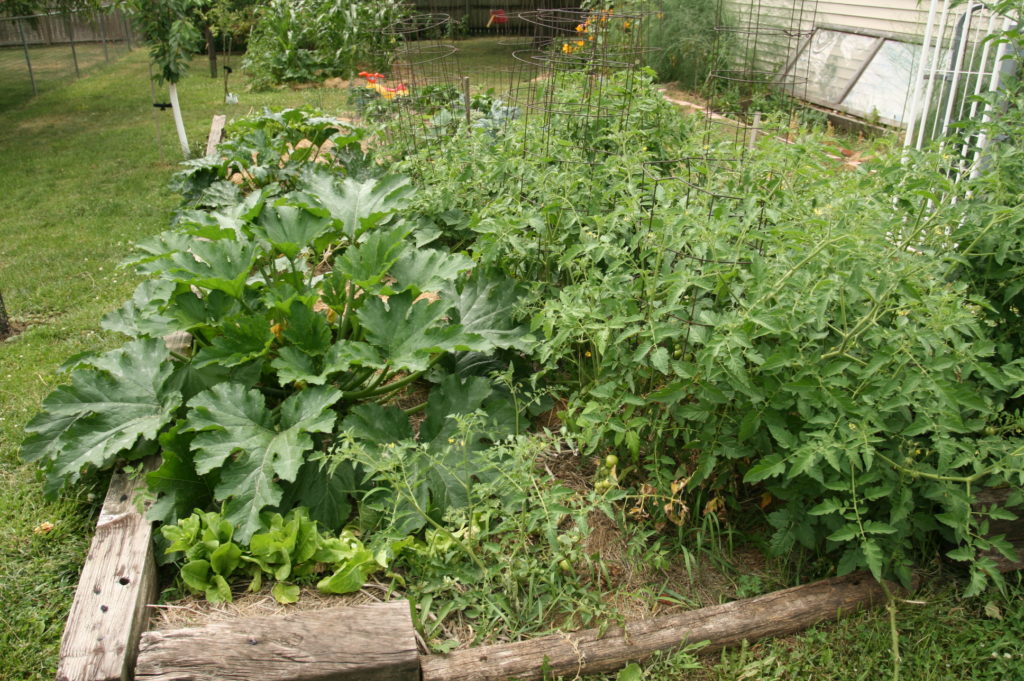 There is a small patch of lettuce up front ( I like to stick it in wherever I have room) with some Zucchini, cucumbers, and more summer squash in the background.
The cherry tomato plants have gone nuts over to the right but the other tomato varieties are a little more subdued.  I used to can a lot, but I've also enjoyed freezing my easy Spaghetti Sauce, which is so much simpler!
See my little cold frame hiding in the asparagus patch?  I love to start lettuce there in the early spring and keep in going through Thanksgiving.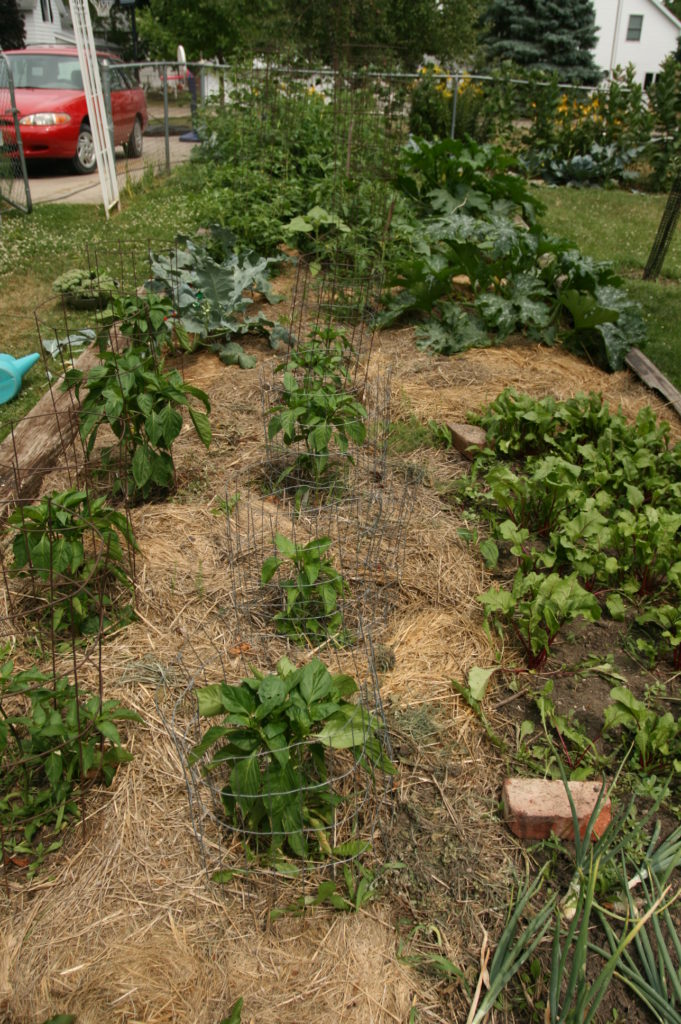 Here is the other end of the same patch.  Onions and beets on the right, peppers and broccoli on the left.
See all that hay?  After reading Gardening without the Work by Ruth Stout, I started my love affair with hay as mulch.  My good friend and my mother have both had excellent results with the system as well.  Ruth is a lovable character and her writing is unlike any other gardening book you've ever read.  Using hay as mulch has significantly cut down on my weeding time as well as the need to water.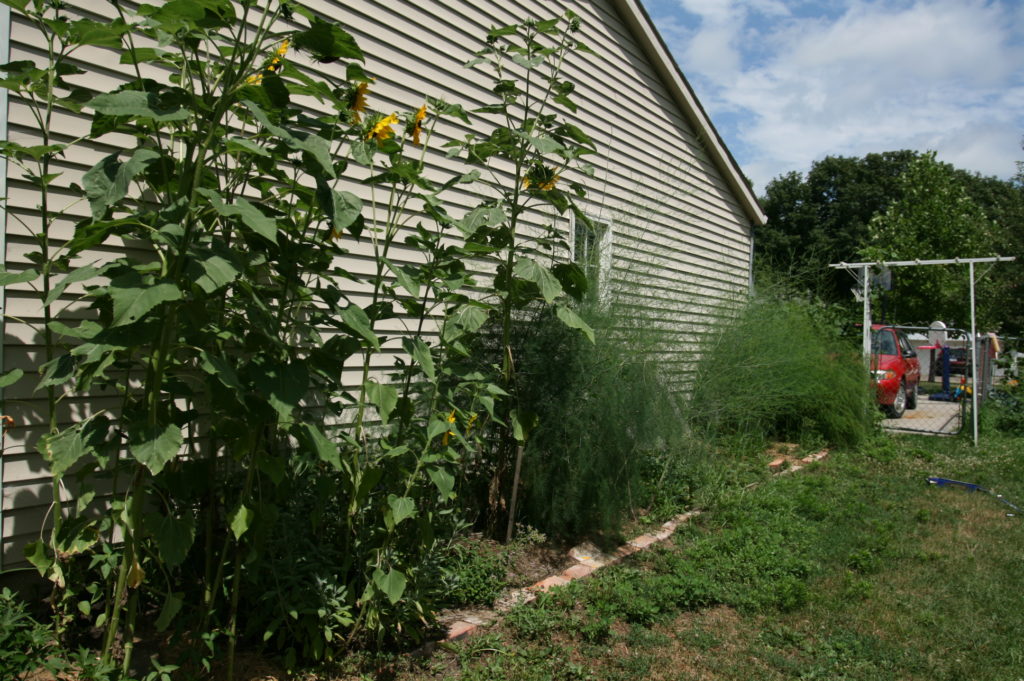 Let's just turn left a little now.  Here is looking back at the garden gate (someone really ought to move that scooter!).  The sunflowers were supposed to be 3 feet high, not 12 and somehow they took over my herb garden (see the Sage peeking out?).  There are the asparagus fronds skirting the cold frame.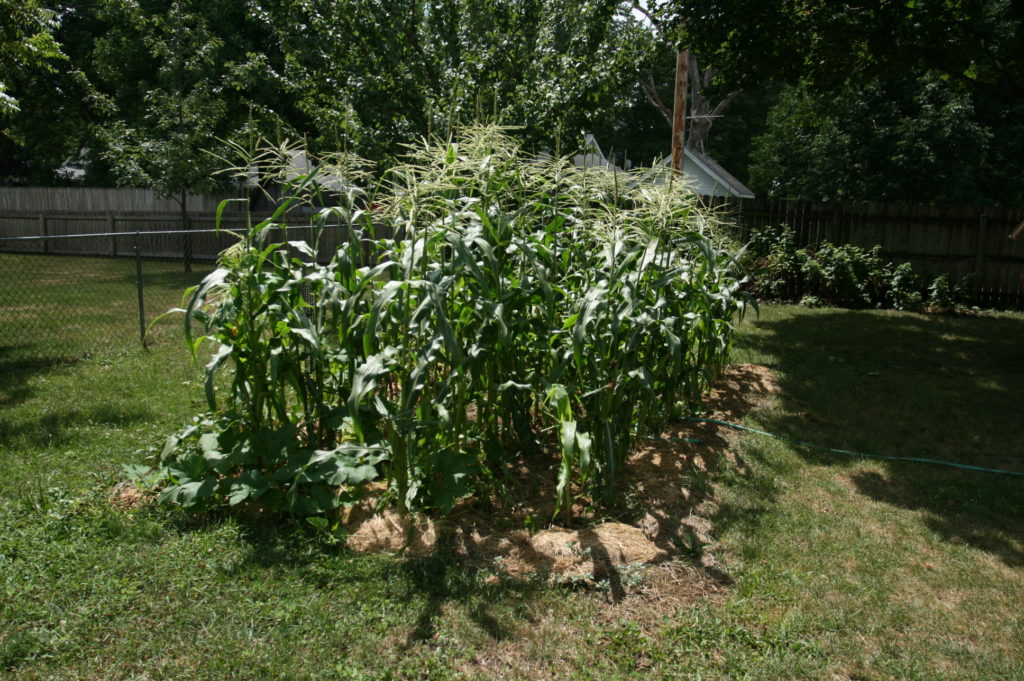 Just turn around and here is Husband's favorite part:  the corn patch.  I go back and forth on growing sweet corn.  It takes up so much space, but Husband loves it.  This year, I threw a couple pumpkins in the middle of the rows.  We'll see how that goes.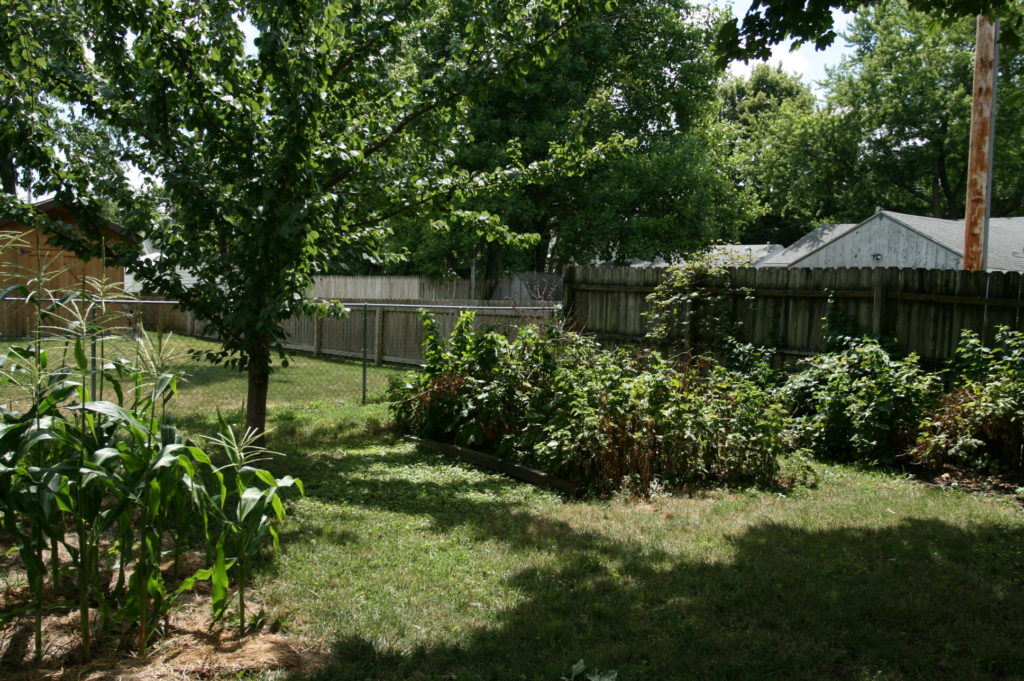 Behind the corn patch is my little raspberry patch.  This patch has never done well for me, so I'm working on moving them all along the back fence where they seem to be much more productive. The berries did really well this spring and I'm excited to see their fall harvest.  Even when the actual raspberries are less than great, I like to make Raspberry Leaf Tea.  It is actually our family's favorite tea!
Oh, and there is the apricot tree between the raspberry and corn patch (if only those blasted rabbits hadn't eaten my pollinator!).    There is also a large grapevine climbing the fence in the corner too.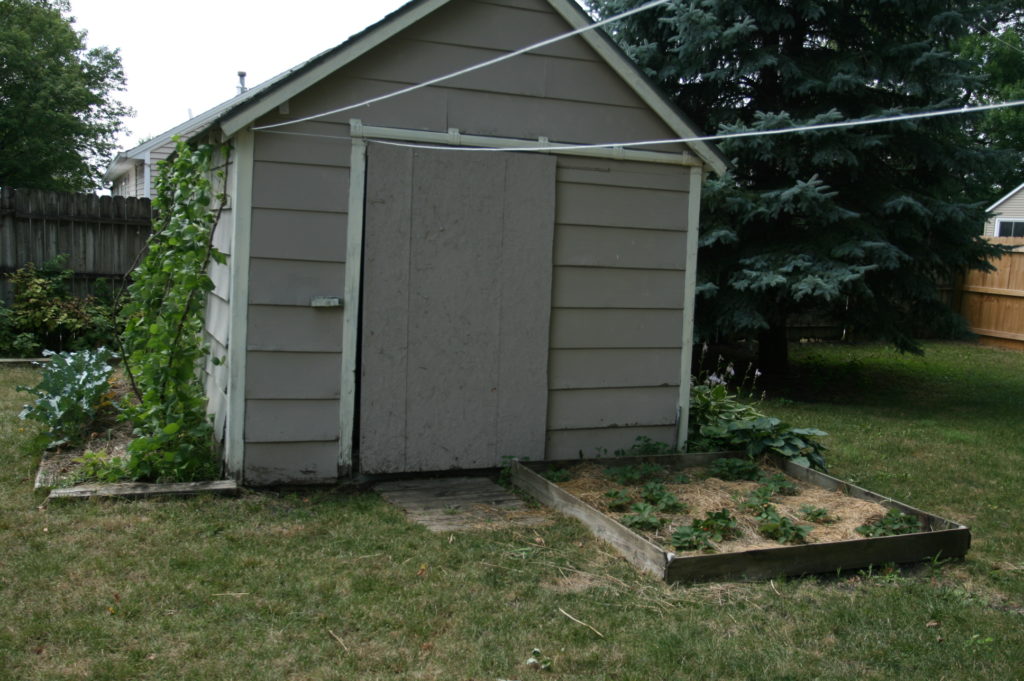 On the other side of the yard is the garden shed.  It definitely could use a little work, but it makes a great green bean trellis and clothesline post!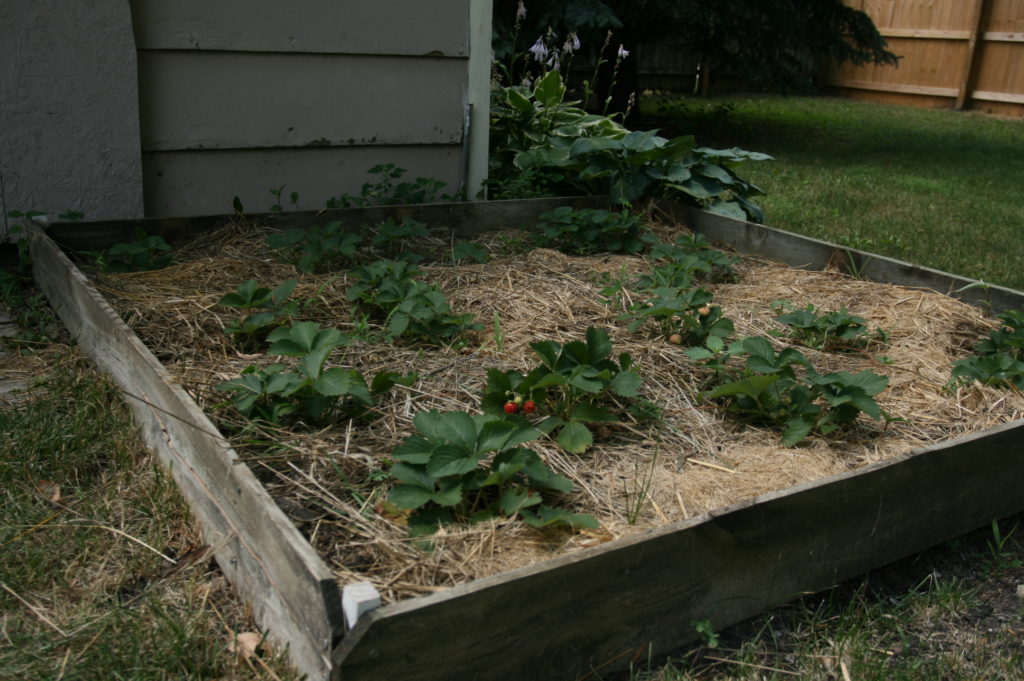 Yep, those are baby strawberries and that hay again!  Mother warned me that strawberries were a lot of work, so I put off growing them for years.  I finally gave in this spring and started a patch using old fence panel pieces to create a semi-raised bed, hoping I can prove her wrong!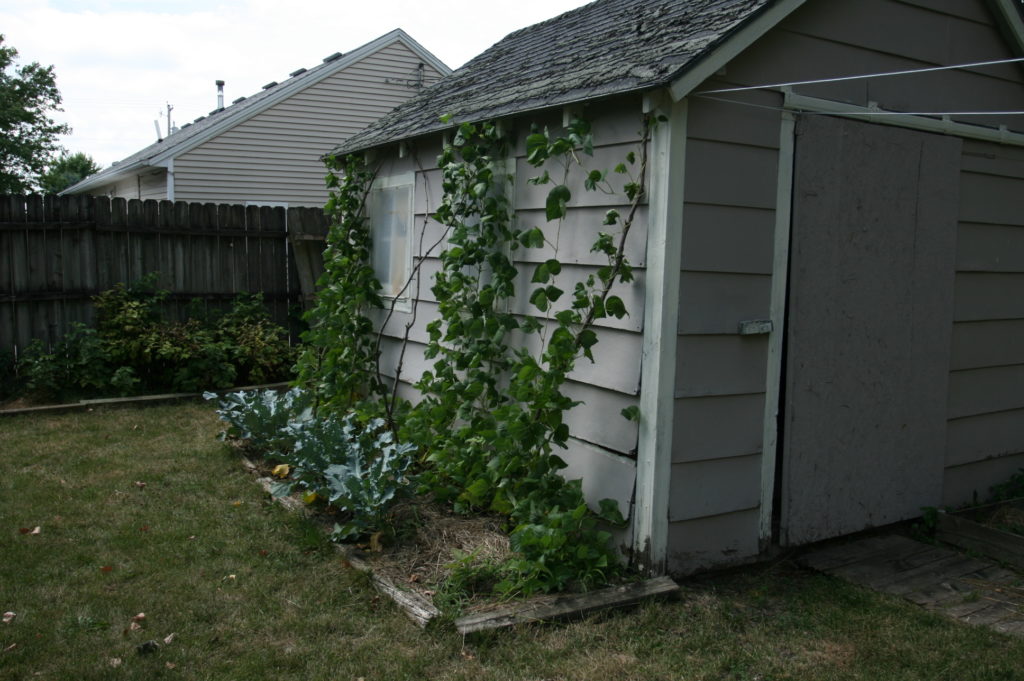 And here is the side of the garden shed.  I usually tie up string for the beans to climb, but this year I thought I would make use of some branches from a tree trimming project.  It gives it a rustic feel, but it didn't work very well as bean supports.  Next year I'm going back to string!  I love how the string allows the green beans to create a big wall rising up the garden shed's side.
There are a few more broccoli there in the front of the beans.  You can never have enough broccoli.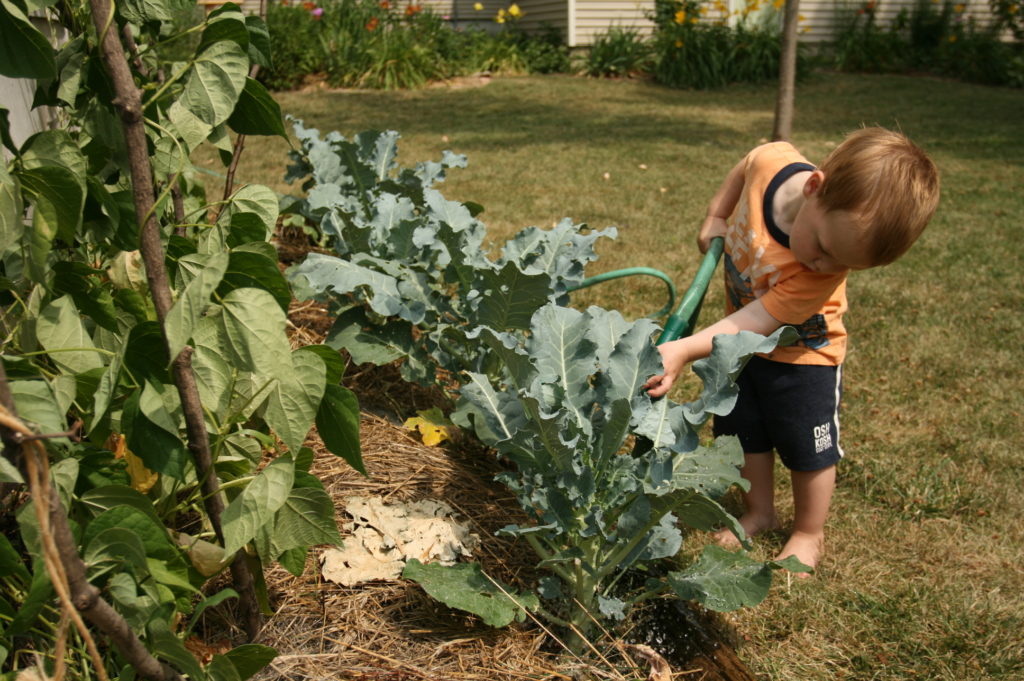 You can also never have enough garden helpers!  What's in your garden this year?
You'll also enjoy:
Our Grocery Budget for a Family of 6 (the garden is just one element of our money saving strategy)
Easy Garden Spaghetti Sauce (freezer friendly)