Forget wiping walls, decluttering, or washing windows, my spring cleaning has been all about busting out of survival mode.  Or, at the very least, attempting to do so.  Instead of deep cleaning the house, I've been refreshing our routines, organizing chores, changing up school, and taking a hard look at our schedule.
In January, after a 12 day stay at the hospital with our little guy, our life was thrown into survival mode. Encouraged by my family and Husband, we even hired a housecleaner to come for 2 hours every week so I could get a little bit of a break.
When March hit, I really felt the need to tighten down the hatches and work on some creative solutions to make our life run a little more smoothly.  I so wanted even a little bit of normal!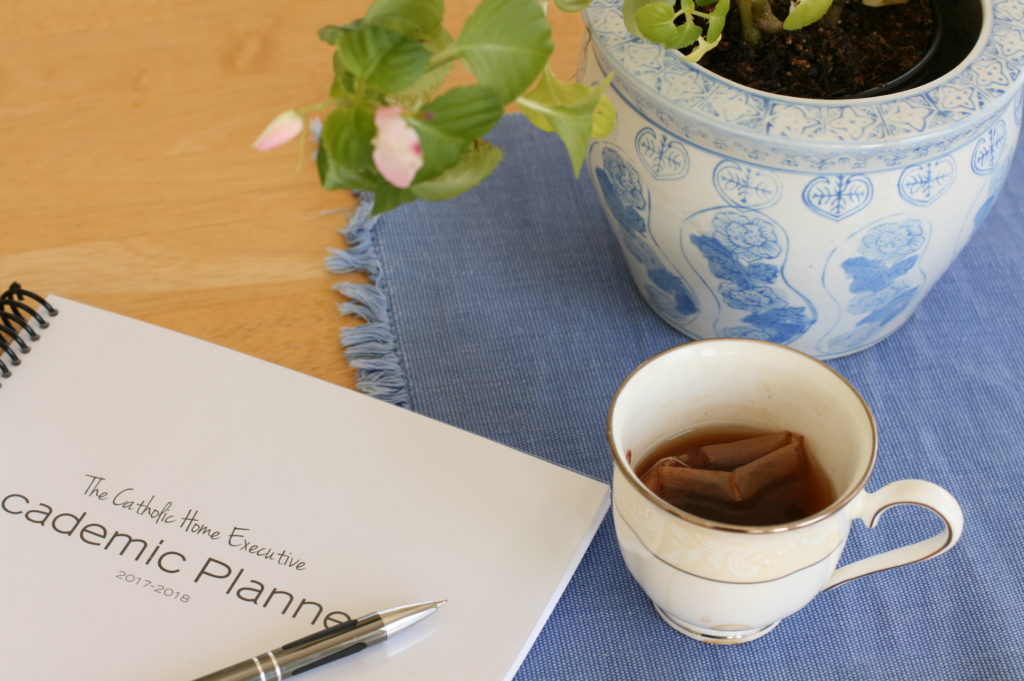 There were several issues I needed to deal with:
I was spending several hours in the kitchen each morning because our sick child was getting some much needed rest and sleeping in 2 hours after the other kids. Once he awoke, his breakfast is specially prepared and then we have to make sure he eats every.single.blessed bite even scraping the container with a spatula. There's also his multitudinous medications to give as well. My mornings are normally my most productive time, and spending several hours in the kitchen was not enjoyable nor productive! I was finding myself frustrated, defeated, and in my pajamas at 9 in morning! (Thank God that as we slowly transition him off one of his medications, he is waking up earlier!)
I was afraid the other kids would wake him up when they went upstairs to complete morning chores, so chores were skipped altogether. Later in the day, I would walk into messy rooms with unmade beds and my frustration would build.
While I still thoroughly enjoy the outline of Mother of Divine Grace, there were several subjects and curriculum materials that I've been been less than happy with.   While I always strive to make my learners as independent as possible, there were still several subjects that were fully dependent on me and I was beginning to look for a workbook approach.
Because of my morning duties, school kept getting pushed later and later.  We needed to re-institute a hard school start time so the vast amount of school work was completed before lunch time.
One Sunday, I grabbed a pen and paper during my quiet time.  I wanted to bring all these issues to God and I needed some time to just think and process.  Some times when you need answers from God, He sends them to you in the form of a person.  Providentially, Husband sat next to me and asked what I was doing.   When I poured out my frustrations to him, he started asking questions and helping me sort things out in my head and on paper.
Morning Schedule
The first thing he helped me tackle was my morning schedule.  I thrive on a productive morning, but I've had difficulty with rising before 6:30 am since I had my 3rd child.  Maybe it's all those nightly interruptions?
I recommitted to a slightly altered morning routine and set a definitive wake-up time of 6:15 am.  I felt that this was a workable time for me.  Most days, even waking at 6:15, I still don't beat 2 of my children downstairs, but it allows me to get a few things done before I'm "on duty."
Getting out of bed on time is one thing, but I need to continue the momentum into my day.  I get dressed first thing before I leave my room.  Christian is sleeping in our room now so we can watch for seizure activity nightly, so if I don't get dressed quietly first thing when I wake up, I don't get dressed until he wakes up, has his breakfast, and I finish cleaning up the kitchen, which can be as late as 9:30 am.  There are few things that wreck my mojo as much as being in my pajamas so late in the day!  I'm not one of those crazy people that jump out of bed in the morning, and most mornings I just want to throw on my warm sweater and slippers and head downstairs, but I tell myself, I.MUST.GET.DRESSED!
After I've wandered downstairs, I start a load of laundry.  Lowell rounds up the laundry for me every night and I usually get a couple loads (if not everything) done before I go to bed.  I find it much easier to wash clothes while our family relaxes in the evening than in the morning when I'm trying to concentrate on homeschooling.  I often leave a load in the washer overnight, and I've never had a problem.   In the morning, I just switch things around if need be.  Folding and putting the clothes away is part of everyone's afternoon chores (see below).
Breakfast is fend for yourself.  Breakfast options include freezer breakfast burritos, homemade granola, peanut butter on toast, pancakes, or eggs.  This is where the beauty of older children comes into play.  My 9 year old, Lowell, makes pancakes and the extras are put in the freezer to be used during the week.  He actually enjoys getting breakfast for 3 year old Lilla and 18 month old Michael.  We never officially gave him the job, he just does it!
While breakfast keeps the children occupied, I head to the living room to have my "quiet time."  I usually get my Bible reading done (right now it's 4 chapters a day from the Bible in 360 Challenge) and have a little prayer time.
At this point in my morning routine, things get more flexible.  I usually wander out to the kitchen and make my breakfast, prepare Christian's special ketogenic breakfast and morning medications, and pack Husband's lunch (if I remember).  I remind the children that are awake to get their morning chores done and tell Lowell he must start school at 8:00 am.  By now, it is usually time to wake up Christian (we make sure he gets his meds no more than 12 hours apart) and we eat breakfast together.  I finish cleaning up the kitchen, check kids chores, make my bed, and wash my face and brush my teeth.
A good portion of my morning is still spent in the kitchen, but at least the essentials are taken care of (Bible, breakfast, laundry, dressing).  For now that is the reality of my life and I have to accept it and make it work for us the best I can.
My Morning Routine:
 Wake up:  6:15 am
Get dressed
Switch laundry (if needed)
Bible and quiet time
Eat breakfast, make Christian's breakfast, pack Husband's lunch
Start children on chores
Wake Christian (check other kids' chores while upstairs), give him meds and breakfast
Remind Lowell to start school at 8:00 am.
Clean kitchen
Switch laundry (if needed)
Make bed, brush teeth, wash face
This is very similar to my morning routine I posted last summer, but has a few changes for this season in life.  Just thinking through how I want my morning to run helps me get more done.
If you'd like to read more about developing your own routines you may also like:
School
There were a few things that were slipping through the cracks in our school day that were sources of frustration too.
The first thing was to set up a solid start time for Lowell (9 yo).  With Christian being sick, Lowell is my primary focus in homeschooling right now.  He does most of his work independently, so I just need to set a solid daily start time for him.  Husband and I thought 8 am was a reasonable time (Lowell is an early riser!).  I tell him when to start and he goes to his room (free from distractions) and does his independent work (Math, Spelling, English, Latin, Penmanship/Typing,  and Poetry Memorization).
I like Mother of Divine Grace, I really do, but there are few things that I needed to change for this season in life and also curriculums that weren't working for us.
Husband encouraged me to try these changes to free up my time.  He gave me wise advice telling me he didn't want me to spend my time making curriculum work, but actually teaching.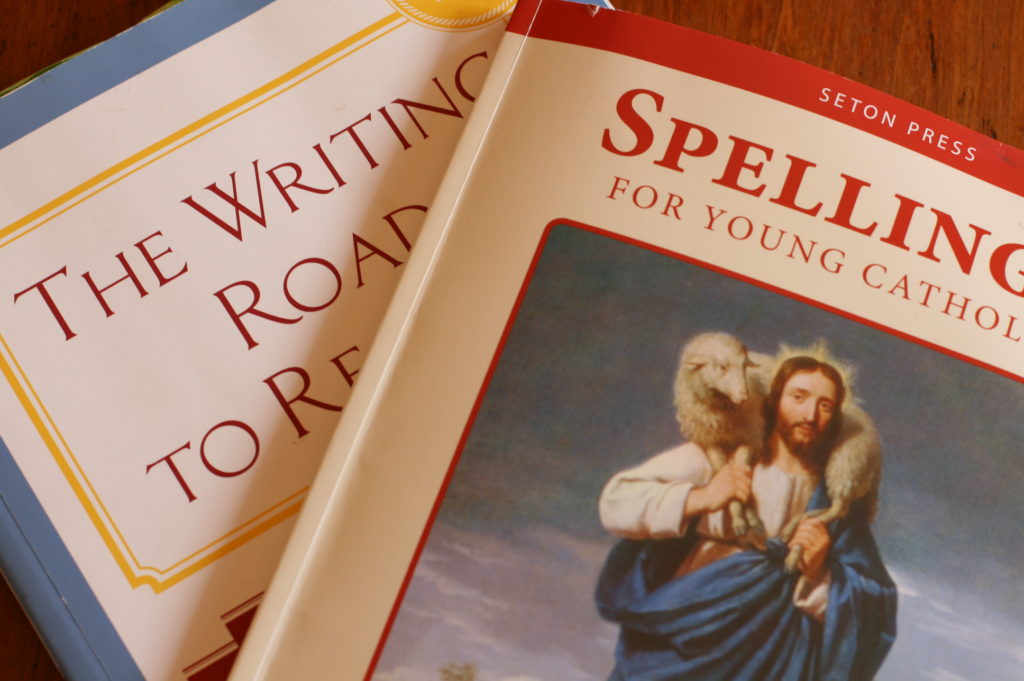 Spelling
MODG uses The Writing Road to Reading (WRTR).  I was hesitant about this program since I had heard mixed reviews, but I gave it the old college try since I want to stay as close to the MODG syllabus as possible.  Lowell's spelling has improved, but whether it was the program or his age, I don't know.
We found the WRTR program as written quite cumbersome, so we ended up just using it as a list of words (you will probably tell me this is why it didn't work!).  I would help him copy 20 words from the book every Monday and he would study all week and test on Friday.  There were no built in reviews, so I ended up creating them to help with retention.  We were basically using the traditional approach to spelling, but with more work on my part, so we decided to make the switch to Seton's Spelling workbooks.
I still discuss the spelling rule with him every Monday and quiz him every Friday, but I no longer must develop a review test since it is built in.  I also like that he will be focusing on one spelling rule at a time.  In WRTR the words are not ordered by rules and I think this prevented him from learning spelling fundamentals.
English
Last year, in 3rd grade, I enjoyed Primary Language Lessons.  It was a Charlotte Mason type approach to English and Composition.  This year (4th grade) Intermediate Language Lessons was the text suggested for MODG Grammar.  It is very similar to Primary Language Lessons in that you are doing something different every day, but I felt there was not enough repetition and review of the concepts for them to "stick."  Lowell was still struggling with the basic mechanics of writing (punctuation, capitalization, etc.) and this was holding him back when he wanted to do his own compositions.
Additionally, I was needed to teach and supervise his lessons, and I knew I was going to have less time for that in this season.  I was leaning toward Seton English and Husband confirmed that as a good choice (he is a Seton grad himself).  We purchased both the 4th and 5th grade Seton English workbooks.  While we are at the tail end of 4th grade, we went ahead and started him at the beginning of the 4th grade text.  My suspicions were confirmed that his skills are not where they should be at this time.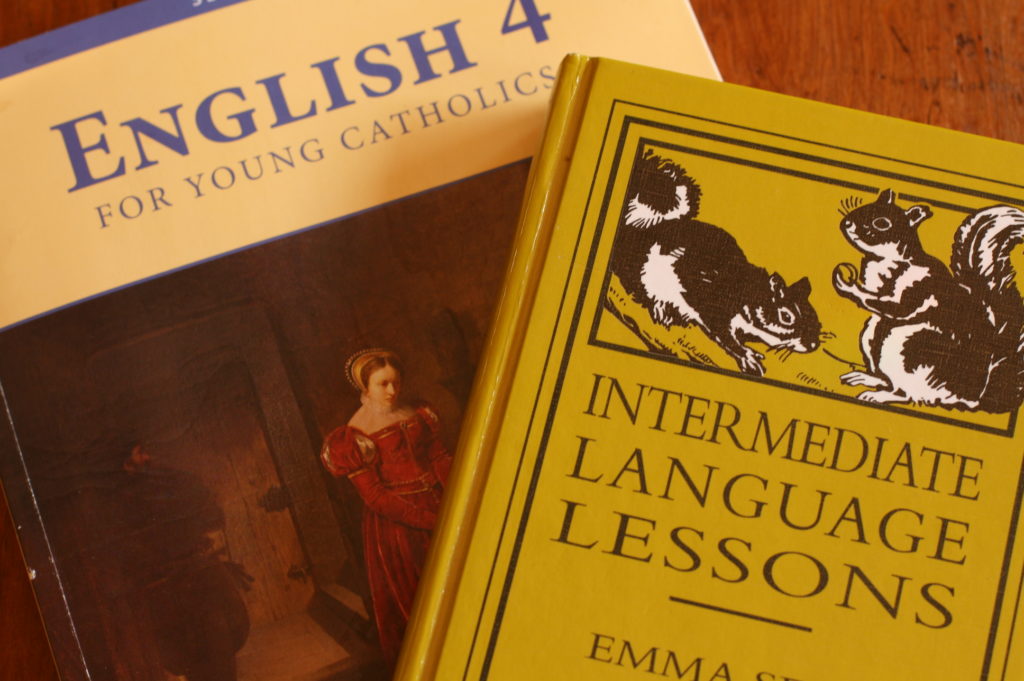 Chores
This section is really a post all its own, but suffice it to say that I have taken our children's chores and put them into ChorePacks as suggested by Managers of Their Chores (MOTC).  I've enjoyed other books written by the Maxwells (though they tend to belabor the point) and so I finally purchased a used copy of MOTC and dove in (used copies can be had on Amazon rather inexpensively).
You certainly don't need to book to implement Chorepacks in your home, but I did find the text semi-helpful.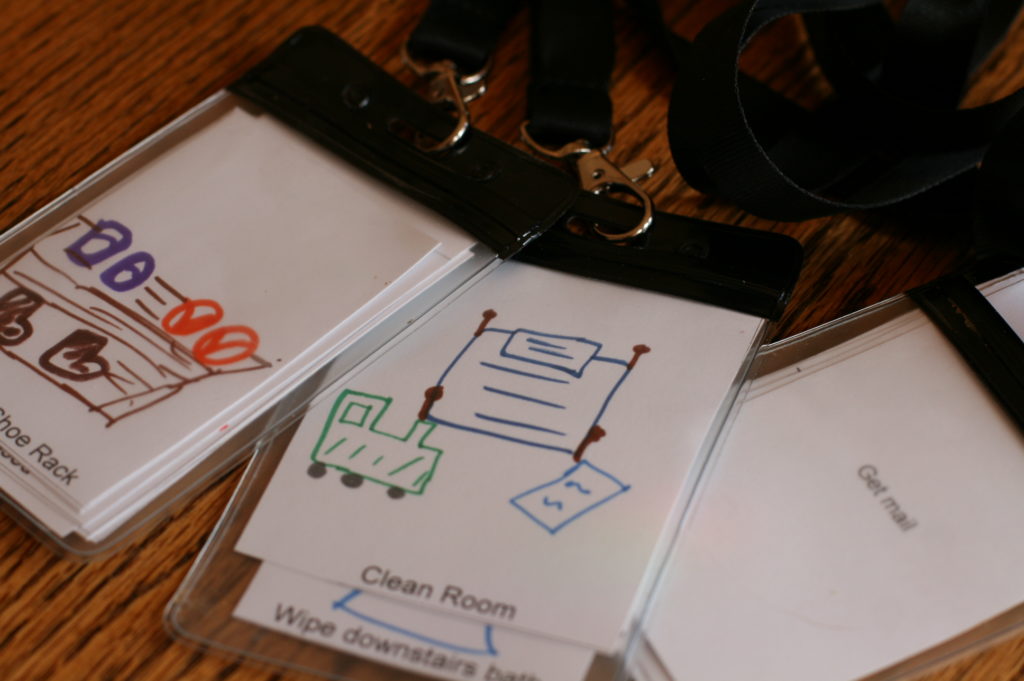 We are now 3 weeks into using our Chorepacks and they have been such a blessing:
I'm no longer reminding, reminding, reminding or nagging, nagging, nagging.  I just hand them their chore pack for their morning chores as well as our afternoon cleaning session.  (After allowing some time for learning the new system, there are consequences for problems with completing chores.)
Putting the Chorepacks together as well as reading MOTC helped me to visual what I was actually asking of the children.  I realized I wasn't asking much and ended up assigning a few more chores to each of the children.
A child can no longer tell me they forgot what they were supposed to do!
ChorePack Magic – seriously!  You've never seen anything like it!  Maybe the newness will wear off, but for now, they are like little machines blowing through their chores with a (usually) cheerful attitude.
I got the ID badges for our ChorePacks off of Amazon.  There are a lot to choose from, but these seemed like the best bang for my buck.  They are pretty robust and have been holding up really well even with daily wear and tear.
The kids are really helping and I have gone from having the housekeeper come every week to every other week.  In one more month, I plan on letting her go completely.
Our home is still a total war zone at some point on a daily basis, but the ChorePacks combined with all the work I've put into planning chores in the first place helps us get it back in order quickly.
This is a rather rambling post, but I know I enjoy very practical, nitty-gritty blog posts the most!  May it be a blessing to you!