I'll be honest.  I'm a Holy Week failure most years.  I seem to focus so much of my attention on Easter Sunday that I miss the opportunities to live out Our Lord's triumphal entry into Jerusalem, tragic betrayal by the hands of Judas, and ultimately His sorrowful Passion and death.
Liturgically, things have been slow at our home lately.  It's hard for me to prepare a feast for my family when Christian can't participate in it because he must eat his "magic food" – a pillar of his epilepsy treatment.  It hardly seems right to feast on special dishes while he downs his blueberry, whipping cream, and canola oil smoothie.
We aren't big crafters here, so that option is out as well. It seems we will be relying more on reading our way through the liturgical year, even though we are still very much in the process of stocking our Catholic bookshelf.  I'm grateful for all those Catholic reading lists now more than ever!
This year, I've vowed our Holy Week will be different than years past.  Our little family so needs to be there at the feet of Jesus and to feel the beauty of His resurrection.  While we will be keeping the special foods of Holy Week to a minimum, I've found a few traditions I would like to start in our family.  I've tried to keep our Holy Week not only meaningful, but manageable!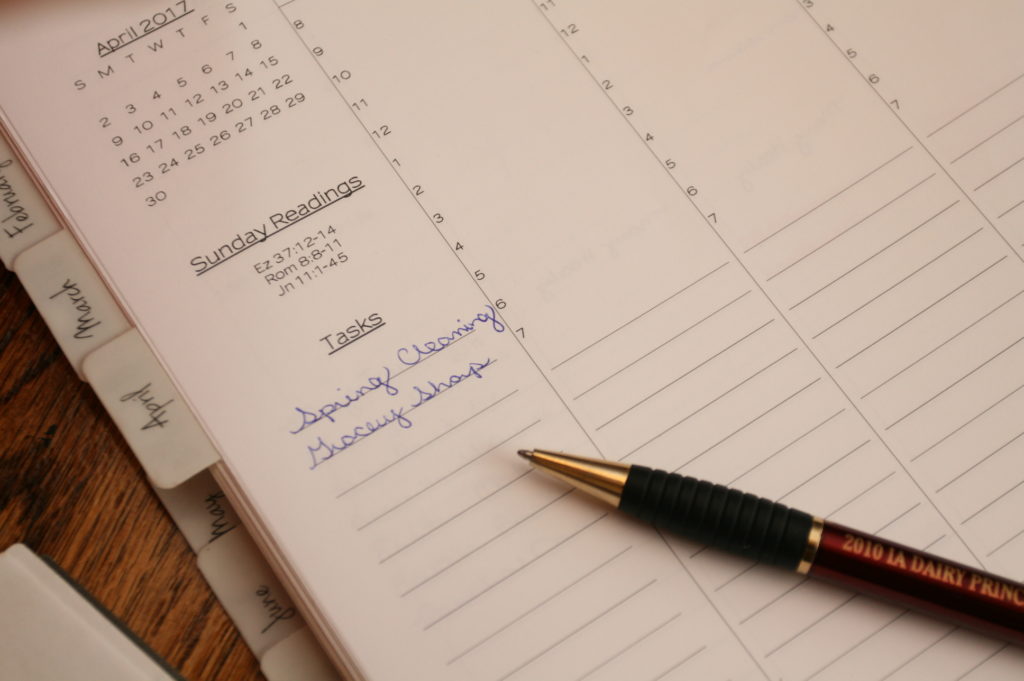 This morning, I looked through several books on the liturgical year as well as resources online and sketched out a Holy Week plan.  After developing my plan, I plugged everything into my Catholic planner so we'll be fully prepared for Holy Week and Easter.   I hope my plans are a help to you!
(*If you have questions about what you see, check out below where I explain our practices in a bit more detail.)
Preparing for Holy Week
1 Month Before Easter:
Plan Easter clothes for the family
Plan Easter Basket treats
Plan Holy Week activities and meals
Purchase:

Easter clothes (if needed)
Easter basket treats
White pillar candle for Paschal Candle
1 Week before Holy Week
Spring cleaning (this is something I do in bits and pieces all year round, but I love the feeling of getting the whole house deep cleaned all at once!)
Finalize grocery shopping list and menu plan for next week
Holy Week Plans
Palm Sunday
Symbolic Meal:  Pea and Ham Soup
Make Paschal Candle
Decorate a family Easter basket
Cover sacred images
Discuss and decide on an family Easter season devotional practice
Change Feast Table cloth to Red
Wednesday
Serve Judases (bread dough shaped into a rope) with soup supper
Mold butter into lamb mold
Make chocolate lambs with mold (one for each child's Easter treat)
Maundy Thursday
Meal:  Seder Meal for supper
Washing of the feet
Mass
Do ahead:  Make Hot Cross Buns for Friday
Good Friday
Meal:  Hot Cross Buns (served at breakfast)
Technology fast
Mass
Do ahead:  Boil eggs to decorate Saturday
Holy Saturday
Decorate eggs
Do ahead: Easter meal preparation
Easter Sunday Plans
Easter Brunch:  Ham, Cinnamon Rolls, Deviled Eggs, Spinach Salad, Fruit Salad
Uncover sacred images
Easter egg hunt
Begin Easter season devotional practice
Decorate Feast Table for Easter season
Notes on our Holy Week and Easter plans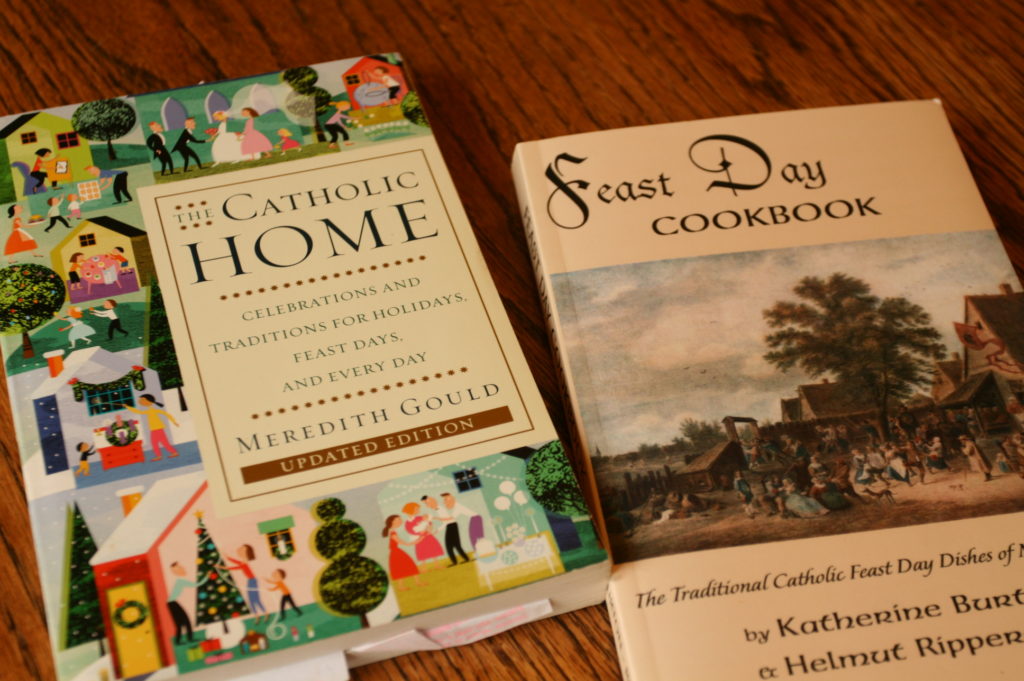 Resources to plan your Holy Week and Easter:
The Catholic Home:  Celebrations and Traditions for Holidays, Feast Days, and Every Day
This is a book I purchased when I joined the Church 5 years ago.   It gives some very simple ideas for different liturgical feasts and seasons.
Feast Day Cookbook:  The Traditional Catholic Feast Day Dishes of Many Lands
I picked this gem up at Salvation Army last week for $.49!  It made my day!  I love how God looks after even our littlest wants sometimes.  This book has very old fashioned recipes in it.  Many of them seem like a LOT of work (boiling pudding?-I don't even know how to do that!).  However, I enjoy reading about the culinary traditions and how they came about.  It is a good starting point as many of the recipes can be adapted with more modern recipes and techniques.
Family in Feast and Feria
Here is a lady who has lots of experience, and lucky for us she is willing to share it.  Check out her Lenten roundup page.  I found it extremely helpful!
Easter clothes
We'll be using what we have on hand, but I need to make sure everyone has something appropriate and shoes that fit!  I'll take time in the next week or so to make the seasonal clothing change for the kids and figure out if I need to make some purchases.
Easter Basket and Goodies
I don't enjoy things I have to store all year round which means no commercialized Easter baskets.  I let the kids choose any number of baskets I have around the house and let them decorate it with ribbons and trimmings.  We'll be doing this Palm Sunday because our week will be full of other activities and Holy Saturday will be spent completing our final Easter preparations.
Here is my shopping list for Easter goodies:
Family Easter Season Devotional Practice
Why stop our good Lenten resolutions when Easter arrives?  We may tackle the Regina Coeli this Easter season, praying it as a family before or after supper.  We'll discuss what we want to do as a family on Palm Sunday.
Paschal Candle
I'm excited to make our own Paschal Candle this year.  You can purchase easy to use, kid-friendly kits online, but we will be making ours from a plain pillar candle.  I'll be making a trip to Hobby Lobby with my 40% off coupon!  (I'll make sure to share our final product with you!)
Cover Sacred Images
We'll be covering the crucifixes and religious images in our home with purple cloth starting Palm Sunday.  I'm sure the kids will enjoy removing them on Easter morning!
Judases
Judases are a traditional bread served on Wednesday of Holy Week to symbolize Judas's betrayal.  I'll be cutting the bread dough into strips and weaving it into ropes, reflecting how Judas killed himself.  Lovely, huh?
I've been wanting one of these for a long time, and this year I finally made the purchase.  I've seen people make a butter lamb sans mold, but that does not seem to be the way I want to spend my time on Holy Saturday, so the $5 was well worth it!
I plan on using the mold for homemade chocolate lambs for the kids' Easter basket as well.  I can make Christian special chocolate for his diet too, so it is a win-win!  I'll still have to weigh out the correct amount every time he wants some, but at least he'll feel like he is getting a little treat.
Seder Meal
We are going to have a very simple Seder meal.  Hard boiled eggs, lamb chops (if I can get them!), charoseth (apples, raisins, walnuts, cinnamon, and juice), spinach salad (to represent the bitter herbs), grapes, unleavened bread, and sparkling juice (to symbolize wine).
Hot Cross Buns
We are a Cinnamon Roll family, but this year, I've decided we'll give Hot Cross Buns a try.  If any of you have a recipe you love, please pass it my way!
Pysanky
The lovely thing about a blog is making notes to yourself and rereading your own posts to remember what you've done in years past or what things you'd like to try.  Next year, I'd like to look into making Pysanky as a family.  Pysanky is the name for those fancy Ukrainian  painted eggs.  I like Family in Feast and Feria's idea of working on it throughout Lent, though having all those supplies "handy" all the time in this house sounds like a total disaster!  Have any of you created Pysanky and could point me to some resources for learning about this craft?
What are your special Holy Week traditions?  What about traditions from your childhood?
You'll also like:
Easter Feast Table (includes book list)
Lenten Feast Table (includes book list)
Must Reads for Young Catholics