Our Advent was hairy and downright dismal last year, so in an effort to allow us time for savoring the season this year, I'm working on coordinating several of the liturgical feasts with our homeschool day.
I'm a by-the-book learner and I like teaching my kids by the book too, so this whole idea of Advent school (a picture book unit study approach ) is somewhat out of my realm.  The break in what has now become our mundane school days will, I'm sure, be greatly welcomed by the children.
Converting to Catholicism, I fell in love with the idea of observing St. Nicholas Day (December 6th) in replacement of Santa Claus on Christmas morning.  I've found doing not only simplifies our Christmas morning, but also makes it more meaningful.  I find it quite appropriate that we start our Advent school plans with the celebration of St. Nicholas Day.
Read how we celebrate St. Nicholas Day here.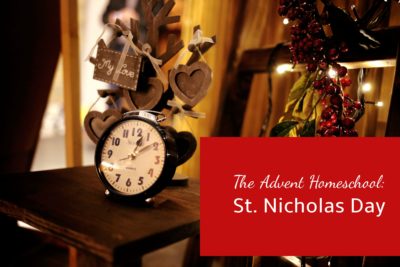 Advent School: St. Nicholas Day
In the morning
The children will wake to find treasures in the shoes they laid out with the greatest of expectations the previous evening.  There will be a new book or two to share, special teas, dried apricots, new hats or mittens, and a bird feeder.
For breakfast we'll feast on St. Nicholas pancakes.  They are so easy, delicious, and always much appreciated!  (Decorate your plain ol' pancakes with 2 raisin eyes, red strawberry syrup hat, and whipped cream beard and hat tassel.)  Maybe this year I'll actually get a picture of them before they are all eaten!
After breakfast is cleaned up and a handful of chores are done (brushing teeth, making beds, straightening rooms, getting dressed), we'll recite the St. Andrew Novena together ( our Advent practice in place of our daily Rosary decade), and then move into our homeschool day.
To Read
The children received St. Nicholas: The Real Story of the Christmas Legend several years ago on the feast day so we will be using that to kick our homeschool off for the day.  I'll gather the crew, start our day with the St. Andrew Novena and then read our St. Nicholas themed book.
Here are other books you may have in your library that would be perfect reading on the feast of St. Nicholas.  You'll see that the ideas for Advent school work with whatever you have on hand, so I encourage you to not think you have to use the exact book we are using.  I'm not purchasing new books or supplies to make any of this work.  I may make a photocopy, print out a coloring page for my youngest guy, or write "St. Nicholas" on a piece of paper for my 6 year old to copy, but other than that, there is no special preparations I'll be making.
Writing:
We'll be basing our writing and/or penmanship practice on our picture book read aloud.  I'll make sure the children leave a blank area (either on the same sheet of paper or separate one) for illustrating their work (see the art plans below).
Lowell (10):  Summarize the story of St. Nicholas as told in the read aloud.
Christian (6):  Copy the name "St. Nicholas"
Lilla (4):  Either trace in pencil over "St. Nicholas" written in highlighter or practice writing the letter "N"
Michael (2):  Color the letter "N" or this St. Nicholas coloring sheet
Other ideas for writing might be:
Copy one meaningful sentence from the book ("Lord, from Your bounty  You gave us Your own dear Son.)
Copy one paragraph in either cursive or print ("Lord, from Your bounty You gave us Your own dear Son.  Now Your blessings have poured out to us again.  We give you thanks and praise.  Amen.")
Tell the story from a different perspective
Write a letter to a cousin or friend telling them about the saint
Develop an outline of the story
An older student could do more research on St. Nicholas and write a report about what they learned
Write a paragraph telling about what the saint and his story teaches us
Write about how we could copy the saint's example
English
I'm not for sure that we will base our English studies out of the book.  We may just keep plugging away at our textbook.  However, here are a few ideas.
Diagram a sentence.
Write a sentence from the book and mark each word with a part of speech.
Photocopy a page of the book and have your student mark as many of the parts of speech as they can (or have them look for a particular part of speech such as all the nouns, all the adjectives, or all the pronouns, etc.)
Spelling
Again, I think we will be staying with our spelling text so we keep motoring toward the goal line, but here is an idea for spelling practice.
Take any word your child misspelled in their writing assignment and have them copy the correct spelling 3-5 times.
Art
I'll give the kids a few options of what they want to work on for art.  I'd like the to illustrate their writing assignments.  (Hopefully, I'll get pictures of all this to share with you for next year!)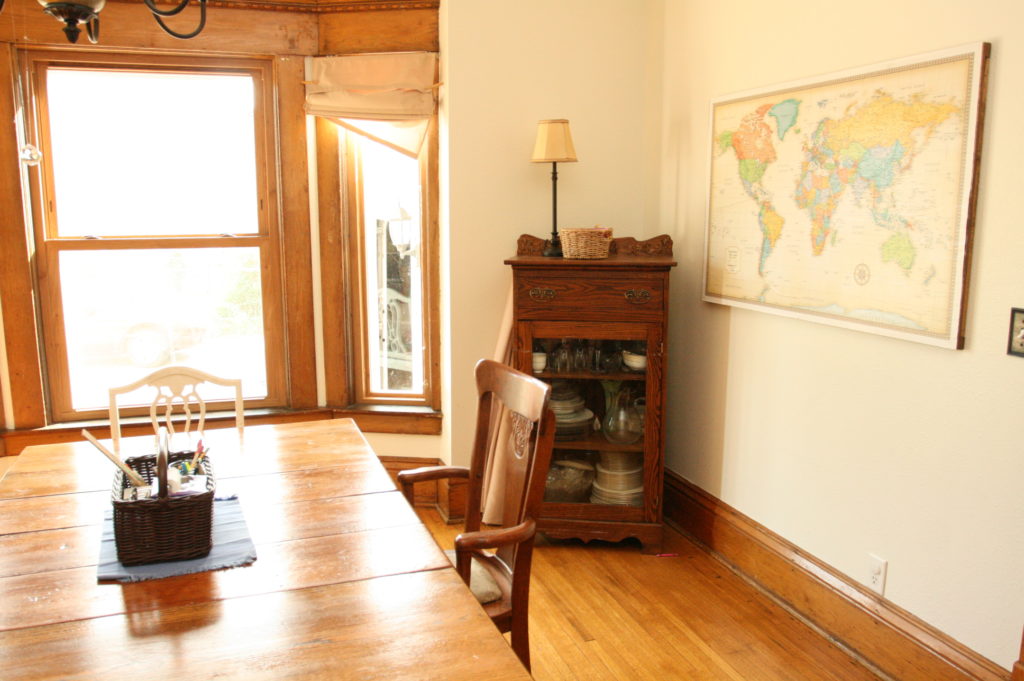 Geography
After moving our school room, the map now hangs above our office desk.  I love the look of the map and how fun it is to look things up on it!
Use our big world map to locate where St. Nicholas lived. (In the ancient town of Myra in Lycia – present day Turkey)
Math
My oldest, Lowell (10) will be doing his Saxon Math, but I have a few ideas for the younger crew.
Work on learning "money math" in honor of the gold coins St. Nicholas gave away
Count objects or people on the different pages of the picture book
Music
Here are a few ideas for music the children can learn about.

The Nutcracker Suite by Tchaikovsky

I can't help but think sugar plum fairies and such relate somehow to the morning treats on St. Nicholas Day
In the spirit of St. Nick
I want my children to share in the giving part of Christmas, but they don't have a lot of financial funds of their own, nor do I want to own some of the items they would choose as gifts for one another (you know what I mean?).  So this year, the oldest 3 drew each other's names and will be making a homemade gift for the person they drew.  They are really excited about it all, and at least one of them has got homemade gifts planned for all of them (even though I only required them to make for one).  We'll be taking some time to work on our homemade gifts on the feast of St. Nicholas as a way to emulate his generosity.
Husband and I have also been talking to our children about giving to charity from their own pockets.  They've chosen to give to Cross Catholic Outreach after Husband read one of their brochures to the children.  We tried to encourage their generosity by promising to match whatever dollar amount they give.  We'll make our gift on St. Nicholas Day as a way to serve.
Other ideas might be:
Carol at a nursing home
Buy presents for a less fortunate family
Give to the community pantry
Have your children donate some of their toys
To Watch

The Veggie Tales Saint Nicholas movie (a December favorite around here!)
Watch any version of the Nutcracker ballet you can find, the whole thing or just a dance or two (maybe this one?)
So here is my question to you.  Do you do school different during the holidays?  I'd love to know about your plans!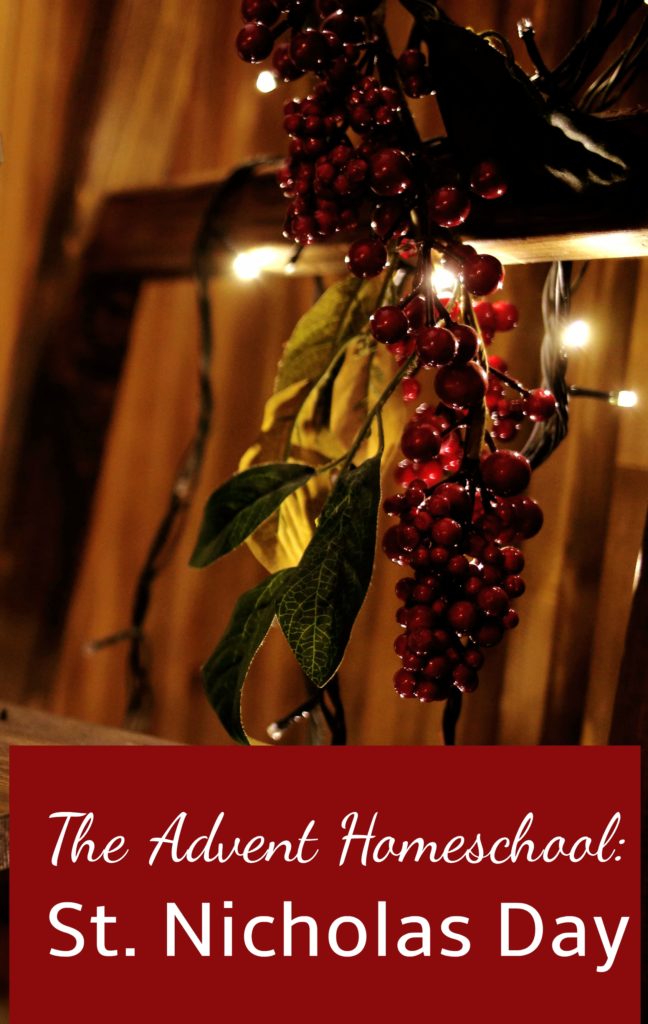 You'll also love:
St. Nicholas Day in Our Catholic Home
Advent and Christmas Read Alouds
St. Lucia Day in Our Catholic Home