The month of May is just around the corner.  It is a special month to turn our minds and hearts to the Blessed Virgin Mary.
Ever since converting to the Catholic faith, I've been intrigued by the devotion many Catholics have to the Rosary.  I've read countless quotes from Popes and saints extolling the benefits of saying a daily Rosary, but have struggled to pick up this particular devotion myself.  I'm hoping to take the month of May to at least expose myself to this form of prayer.  After all, we mamas can never get enough of educating ourselves in the faith!
(Want to know how the challenge went?  Check out my update where I share with you another printable Rosary in a month cheat sheet and tracker.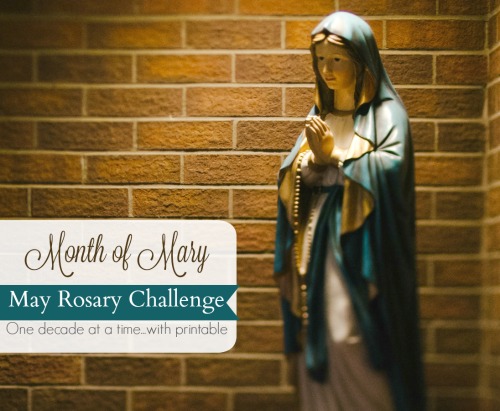 The Challenge:
The Rosary can be so daunting to a newbie like myself, so I'm taking it slow.  Instead of saying the entire prayer every day, I'll be saying one decade a day to begin and adding a decade every week in May.  I've made a little cheat sheet for myself so I can cross of the days as I progress through the month.
Care to join me?  You can find the printable cheat sheet right here:  May Rosary Challenge.
If you are already a Rosary aficionado, feel free to use the printable as a checklist for saying your full Rosary every day!
How to say the Rosary:
Instead of reinventing the wheel, I'll direct you to this printable of how to say the prayers of the rosary from NewAdvent.org.   It will help you know what prayers to say when as you work your way around the beads.
How this convert sees Mary…
The other evening, my hubby and I were watching The Journey Home – part of the way we choose to spend our evenings together.  The guest was a convert to Catholicism from a Pentecostal sect.  One of the callers asked about his relationship to Mary and I thought what he said put into words my own relationship with the Blessed Mother.  Here is the gist of what he said in my own words:
As a protestant, we think of Mary as just another person God used to bring about His will on earth – nothing more.  When converting to the Catholic faith, while still accepting what the Church teaches about Mary, many converts don't immediately fall in love with the Blessed Mother.  How can we love someone we do not know?
Instead, this relationship takes time.  We must come to know Mary before we can love her.
May this coming month be a time when we can get to know Our Mother more!  Amen.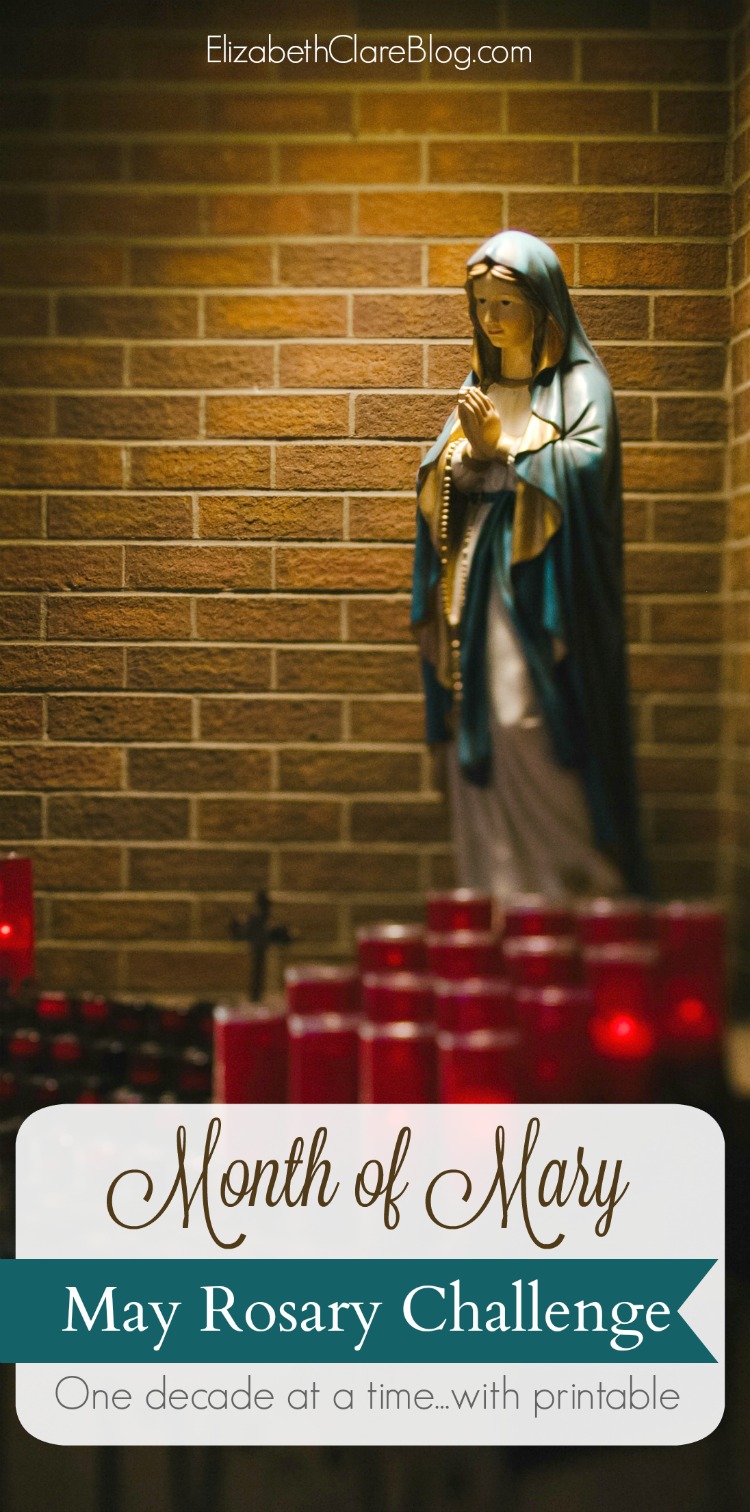 You'll also enjoy:
Rosary Reflections (a follow up to this post!)
Marian Must Reads for Young Catholics