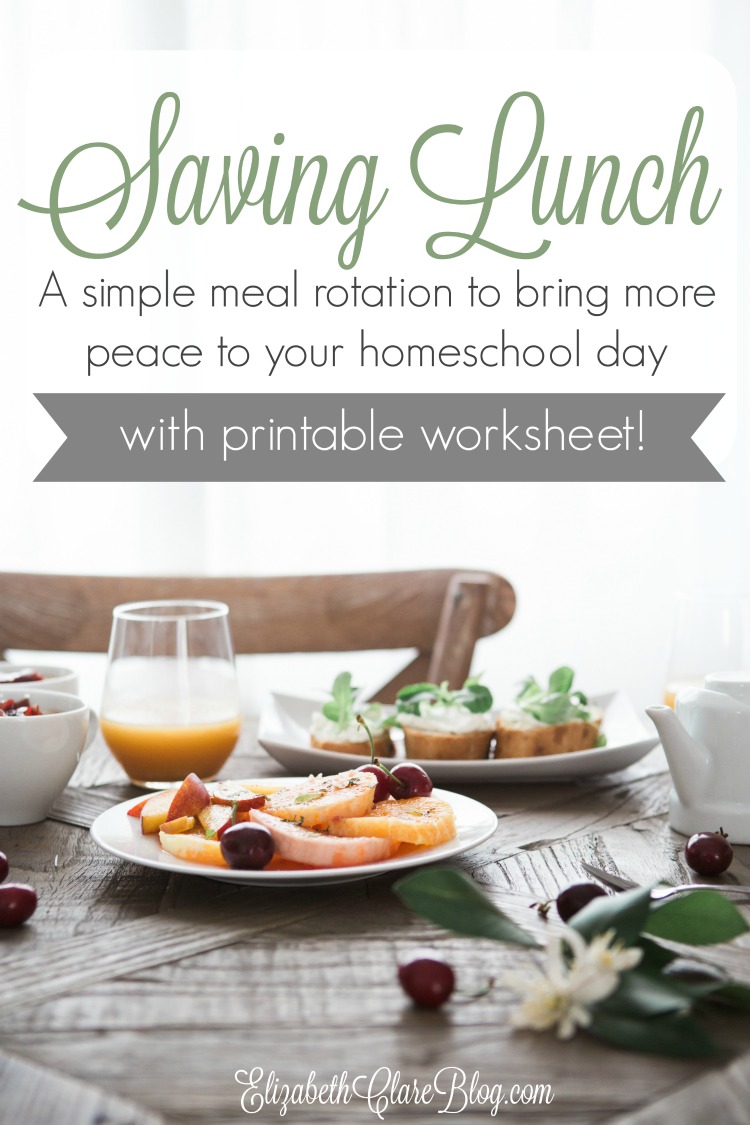 I'm all about creating routines and automating my day so I can really focus my energy on nurturing and educating my children.  I've found with every new baby we add to our clan I simplify even more.  To simplify, we switched from no lesson plans to a boxed curriculum (and I've even found ways to simplify the boxed stuff and make students self starters with a student binder), summer school, and learn the arts with learning corners.
I am a wonder at planning our dinners (for the most part) and breakfast is simple (any of the following:  eggs, toast, peanut butter, homemade granola).  But lunch is often where my meal planning bites the dust.  I need a plan to get easy and healthy lunches on the table quickly.
This is where the beauty of a simple lunch rotation came to my rescue this year.
Back when it was just me and one child at home for lunch, I could serve leftovers or use whatever was on hand.  Now I have four hungry tummies to fill at lunchtime – leftovers don't hack it!
What's so great about a lunch rotation?
Less time to meal plan
Less time planning what to buy at the store
Rarely run out of the ingredients for the meals ( I know I need to keep them on hand)
Less time coming up with something to eat last minute
Lunch can be delegated to an age-appropriate child
No last minute runs to the grocery store/drive-through
I can plan ahead by freezing meals in advance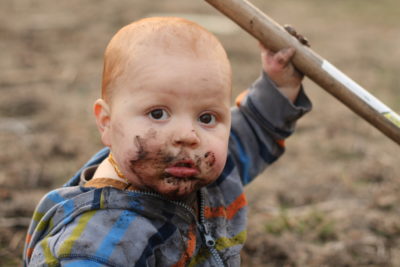 Then again, if I wasn't so organized, they could always dig up a little dirt in the backyard for a quick bite to eat!
Our Current Lunch Rotation:
| | | | | | | |
| --- | --- | --- | --- | --- | --- | --- |
| Sunday | Monday | Tuesday | Wednesday | Thursday | Friday | Saturday |
| Yogurt parfait | Freezer lunch | PBJs | Salad | Smoothie and muffin | Pasta | Baked Potato |
Yogurt parfait-Making my own yogurt means I always have it on hand.  Topped with seasonal fruit, honey, and homemade granola, it is a real hit!
Freezer lunch-These are often meals prepared during my mini freezer cooking sessions (none of those all day affairs for me!).  Some of these freezer meals include:  corndog muffins, Morning Glory Muffins, and burritos.  During busy seasons more of these meals may be store bought:  pizza, chicken nuggets, or fish sticks; but I try not to make that the norm.
PBJs/Sandwiches-Two Tuesdays a month we have our Catholic co-op and field trips.  Lunch needs to be something we can take with us.  PBJs (did you know they can be frozen?-thanks Money Saving Mom!), ham, or tuna sandwiches are usually what we eat on these days.  One of my friends said she makes ham and butter sandwiches to freeze as well.  Freezing these sandwiches ahead of time can make for a much smoother morning on those days you have to get out the door!  I often ask my 8 year old to make these ahead of time.
Salad-Wednesday I pull everything out of the fridge and let the kids enjoy making their own salads.  It is a great way to use up little bits and to encourage veggie consumption.
Pasta – In the summer, pasta salads are refreshing, but in the winter we often crave the comfort of warm pasta dishes (mac-n-cheese or spaghetti).  I've been known to throw seasonal veggies in my pasta pot for the last couple minutes of cook time to boost the health factor of our dish.
Smoothie and muffins-The kids devour smoothies made with homemade yogurt, seasonal fruit, greens (kale and spinach), and/or juice.  Muffins are usually in the freezer from baking day and just need to be warmed in the microwave.  Our favorite are hearty Morning Glory muffins.
Baked Potato-Our family has an enormous breakfast on Saturdays.  A baked potato topped with cheese, ham, steamed broccoli, sour cream, or whatever we have on hand is a great way to have an easy meal while we try to get projects done around the house.
Planning your own Lunch Rotation:
Want to make your own lunch rotation to simplify your day?  Here is the Lunch Rotation Planning printable
Paper and pencil not your thing?  Try Plan to Eat an easy-to-use online meal planning tool.  You can store all your recipes (even ones you drag and drop from the net) and use them to create a custom meal plan and shopping list.
Other Simple Lunch Ideas:



Yogurt parfaits with seasonal fruit, granola
Sandwiches made with bread or a wrap (PBJ, lunch meat, chicken salad, tuna salad, egg salad)
Quesadilla
Cottage cheese and fruit
Smoothie and muffin
Make-your-own baked potato
Taco Salad
Make-your-own salad (provide lots of veggies and ranch dressing for your child to make a salad their own way)
Pasta salad
Tortilla Pizzas (tortilla topped with tomato sauce, cheese and toppings broiled or baked in the oven)
Homemade Mac n Cheese
Apples, peanut butter, and crackers
Grilled Cheese and Tomato Soup
Snack lunch (crackers/popcorn, fruit, cheese slices, veggie, and dip)
Pasta with red sauce
Cheesy tortilla melt (put cheese on a tortilla and melt in microwave)
Microwave nachos (put shredded cheese and mexican seasoning on chips, melt in microwave)
Freezable Lunch ideas:



(Take time once a month to double/triple/quadruple a recipe to freeze for easy lunches.)
Corndog Muffins
Chicken Nuggets  (you can make your own, but I purchase a bag or two for busy seasons)
Fish Sticks
Pizza (I usually freeze an extra crust that will fit into a ziplock, add sauce and toppings and bake; I also buy a few for busy seasons)
Muffins (of any kind-our family loves Morning Glory Muffins)
PBJs or ham and butter sammies
Helpful Tips:
Leftover trump cooking – I love the lunch rotation, but if we have enough leftovers for everyone, we have those instead.  Big batches of food (like American Pierogi) never go to waste!
Keep meals simple – all our lunches take less than 15 minutes to get from fridge to table
Revolve meals around a well-stocked pantry – make most of your meals from shelf-stable ingredients so you aren't worrying about fresh things spoiling
Keep ingredients on hand – stock up on the basic ingredients so you never run out, give bi-weekly grocery shopping a go to simplify even more!
Kid prep – start your kiddos young and delegate whenever possible
Lunch Rotation printable – use this printable to create and keep track of your meal rotation
Try a meal planning service – the thought of meal planning still overwhelming?  Give a meal planning service like Plan to Eat a try.  So simple and affordable ($4.95/ month or $39/year).   If you are going to the drive-through because you didn't plan ahead, you can "earn" that money back by avoiding the big arches once or twice.
And what post about food would be complete without a baby with food on their face?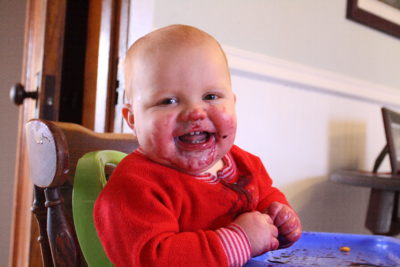 Do you have a lunch rotation?  What are your favorite simple lunch ideas?
(Above links may contain affiliate links)