It has always been my intention to share with you some of our family favorite recipes.  Somehow, the recipes get sidelined for posts I deem more important.  After all, there are tons of recipes on the 'net already, but not so much encouragement for the young, Catholic mom.  Anywho, last week, I whipped up a batch of my childhood favorite, Blue Ribbon Wheat Bread, and I knew it was time to post another treat from my kitchen.
I'm always leery of trying recipes I find through Pinterest or on the internet, so I want to let you know that I only share my absolute best here with you.  If I don't have it perfected, I won't share it.  That's my promise to you!  The recipes you find here will be ones our family makes over and over and over again.  I will only share the recipes that are met with enthusiastic applause every time.  (Okay, maybe not applause.  I don't think my family has ever applauded for supper!)
This was the bread recipe my mother always made in quadruples at Christmas time to hand out to our friends.  Everyone was always eager to be on the receiving end of this delicately sweet, perfectly moist, rarely crumby bread.  Oh, the agonizing pain I felt when all those loaves were wrapped and tied with festive ribbon awaiting delivery!  Why, oh why was only ONE loaf for us?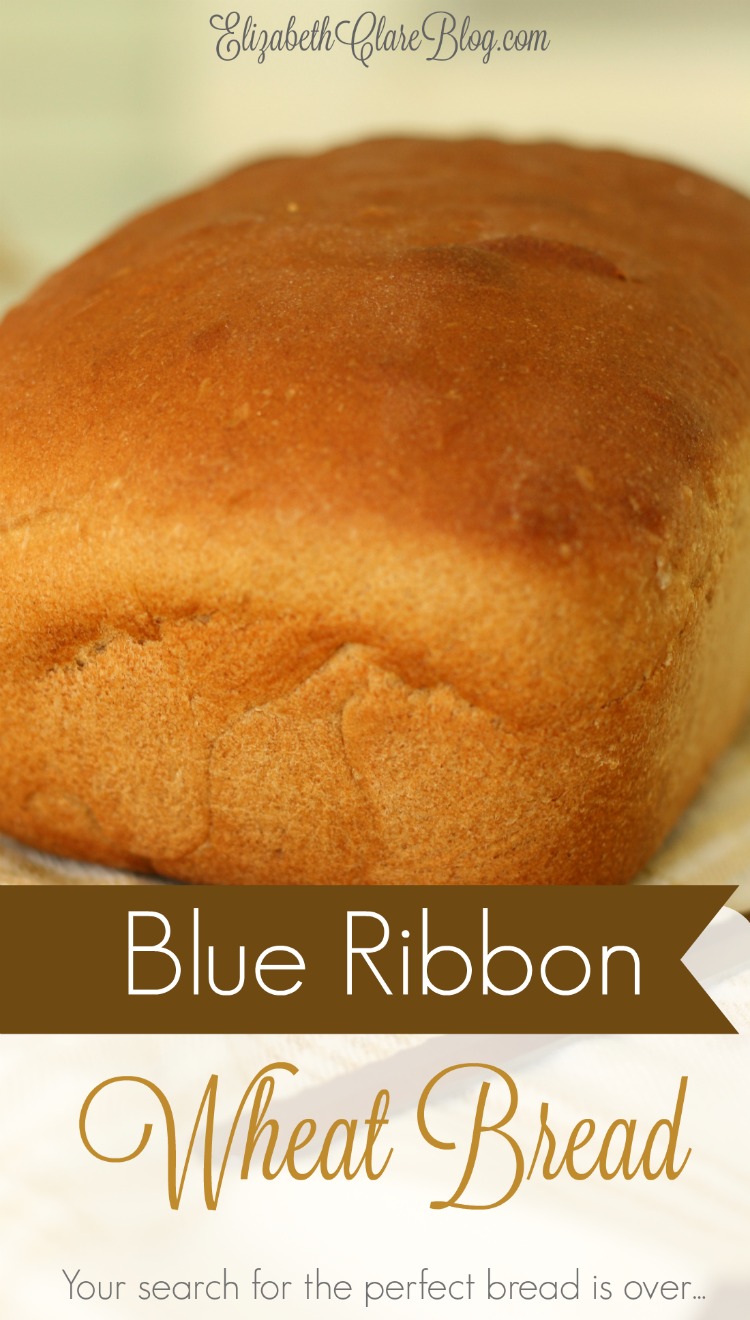 The perfect name…
Are you wondering about the name?  Where I come from, recipes are judged not only on how much (or rather, how little) is left after a church potluck, but also on how well it did when entered at the county fair.  I remember so many nights before the fair as I tried to create the perfect looking, perfect tasting treat with my mother close at hand.  The question always was, Will it make it to the state fair?
My eldest sister, 10 years my senior, was the first to enter this recipe.  She and my grandmother worked on perfecting the recipe during a week long stay at my grandparents' house.  After Sister earned the honor of sending her loaf to the Iowa State Fair, Grandma renamed the recipe "Blue Ribbon Wheat Bread."  As a testament to the taste of this bread, 10 years later, my own loaf of Blue Ribbon Wheat Bread also made it to state.
When we first got married, I started making bread as a way to eat healthy and to trim the grocery budget.  I began by making Blue Ribbon Wheat Bread, but slowly transitioned to using simpler recipes with the aid of bread machine.  In fact, I haven't made this bread for several years!  Last week, inspired to gift some family and friends with some bread, I knew it was time to pull out all the stops with this oh-so-good-slap-it-right-on-the-thighs recipe.
No bread machine?
For my daily bread baking, I always use my bread machine.  I love the fact that I can pull together a loaf of home baked bread in under 5 minutes.  BUT, when I bake for other people, I always mix it in my Kitchen Aid mixer, shape it by hand, and bake it in the oven.  This is the only way to get the perfect bread every time, in my opinion.
The Secret to PERFECT bread…
You know how grandma could just pull together a gorgeous pie every time and make it look effortless?  She developed that skill by making pie.  Lots of pie.  Overtime, she learned the feel and look of the perfect pie dough.
In my own time, I've gotten very good at making the perfect bread.  Just like grandma, I had to learn this by making lots and lots of bread.  Today, I'm sharing my secret with you.  100% free of charge!
SECRET TO PERFECT BREAD:  Only use the flour measurements as a guide.
Adding too much flour will leave your bread dry.  If anything err on the side of too little flour.  When you shape your loaves, you can always work in some extra flour from your board.
So how much is just the right amount of flour?  Just enough for the dough to pull away from the edge of the mixing bowl and begin forming a ball.
Illustration:  So it was hard for me to get a perfect picture of the perfect bread dough.  Here is my dough after I've had it off the mixer stand for a little while.  If you added more flour, it would stay in a ball when the mixer is done kneading -you don't want that.  It should spread out slowly after the mixer stops.  Do you notice how the dough is turned under at the edges?  That means it has enough flour, but not too much.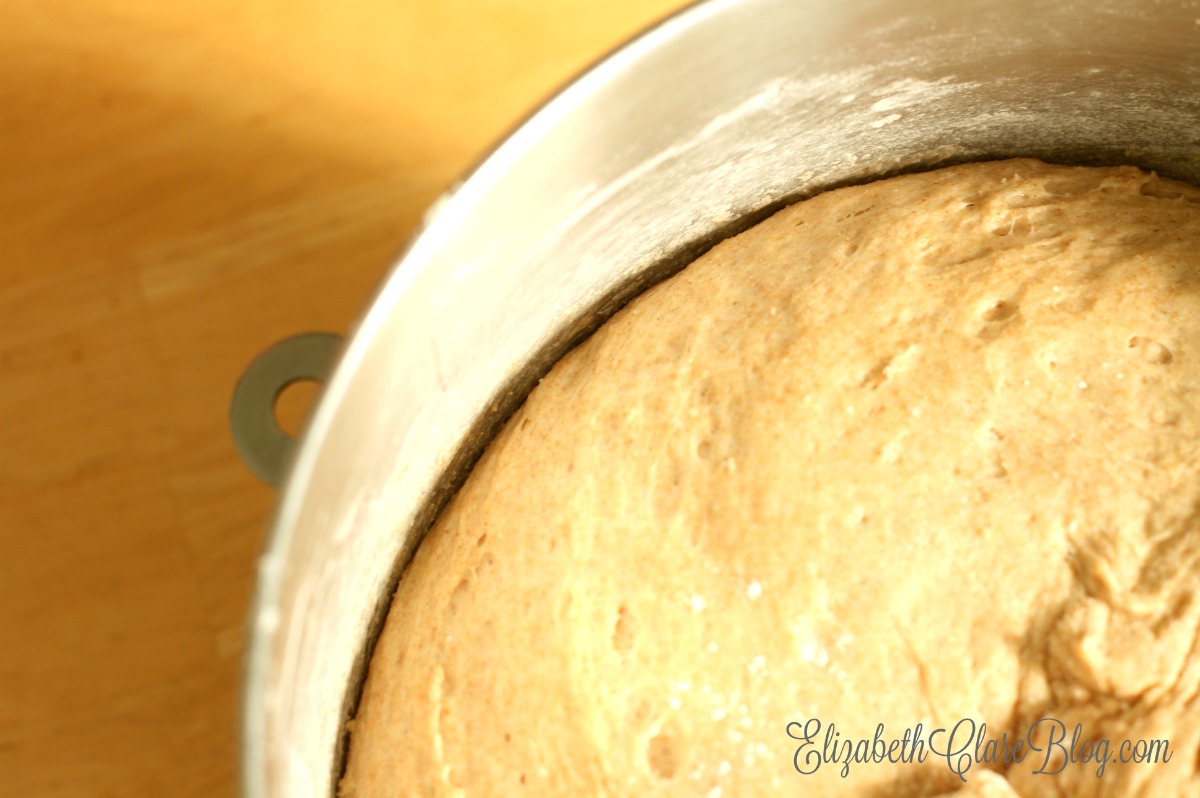 So now that you know the secret to perfect bread, you are ready to dig in with this fabulous recipe!
Blue Ribbon Wheat Bread
2 C. scalded milk
2 tsp. sugar
1 tsp. salt
1 C. lukewarm water
1/2 C. Honey
3 T. Butter
3 C. Whole Wheat Flour
3 C. White Flour
1 pkg. yeast (or 2 1/4 tsp.)
Dissolve yeast in the warm water.  Add sugar, stir well.  Mix scalded milk, butter, honey, and salt.  Cool to lukewarm and add mixture.  Add wheat flour and beat well with a spoon.  Stir in white flour.  Knead on a pastry cloth until smooth and elastic (I do this in my Kitchen Aid).  Set in a warm place, covered, until double in bulk.  Punch down and rest for 15 minutes.  Cut dough in equal parts.  Shape 2 loaves and put in loaf pans.  Brush with oil and let rise until slightly above pans.  Bake at 350* for approximately 1 hour or until golden brown and loaf sounds hollow when thumped.  When you remove from pans, rub tops with butter.
Other recipes you will love…
Are you a bread baker?