Six years ago, as I was preparing to join the Church, I prayed and stitched my way through Advent.  Somewhere I had come across the idea of a Jesse Tree and I was immediately drawn to the devotion as a way to prepare my little ones (at that time, there was only one!) for Christmas.  I poked around on the net for Jesse Tree ornaments I could use in my home, but all I found were ornaments that were too gaudy, too much work, or too expensive.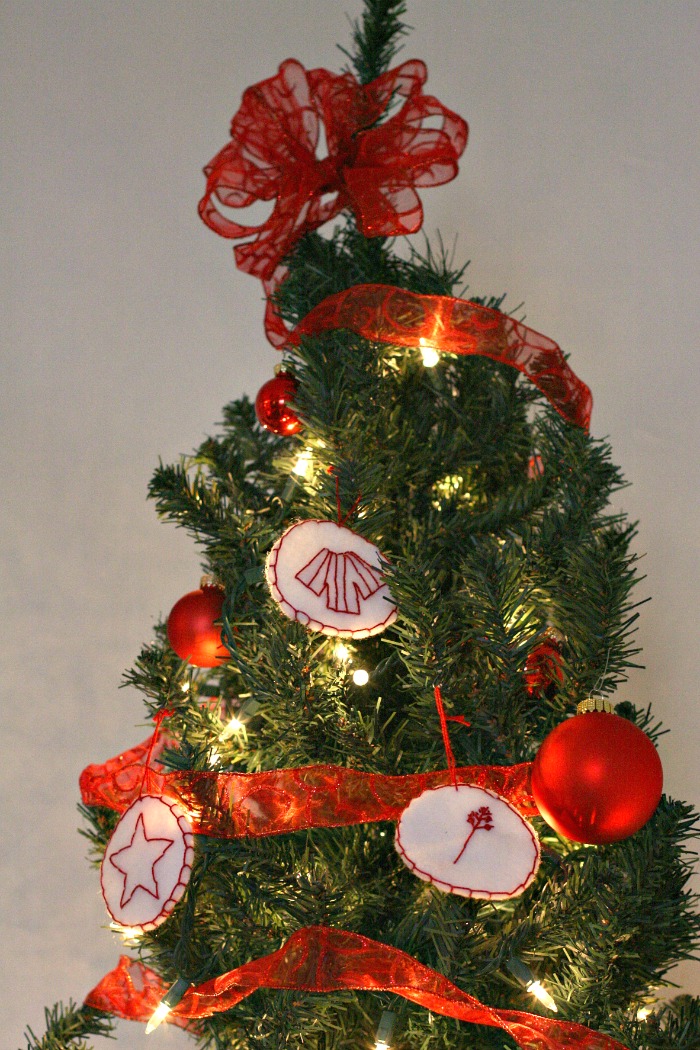 It's a long story, and one I won't bore you with now, but I ended up combining some cross-stitch/embroidery, and white felt to create my very own Jesse Tree ornaments.  The result?  Heirloom Jesse Tree ornaments that I love and will be used for years to come.  I'm no embroiderer, and I haven't done cross-stitching since Junior High, but these little ornaments were a cinch to pull together!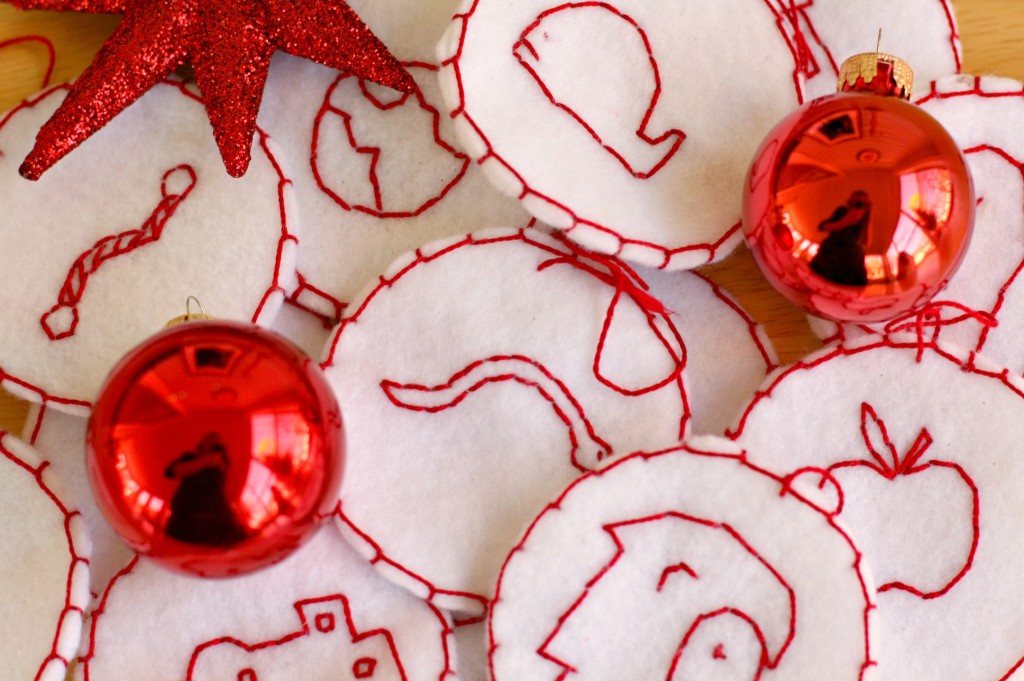 I worked on one ornament a night, and before I knew it, the whole set was complete.  I made around 30 ornaments, but have since pulled a few ornaments out of the collection so that we begin our Jesse Tree devotion no earlier than December 1st.  I prefer not to lug out all my Advent and Christmas gear the day after Thanksgiving!  I also ended up making a devotional, since I couldn't find any I liked.
Yes, there is some work involved, but I find I can usually make one of the ornaments in less than 30 minutes.  I've made several sets for family and friends, so that tells you how easy it is!
Today, I'm showing you how I did it!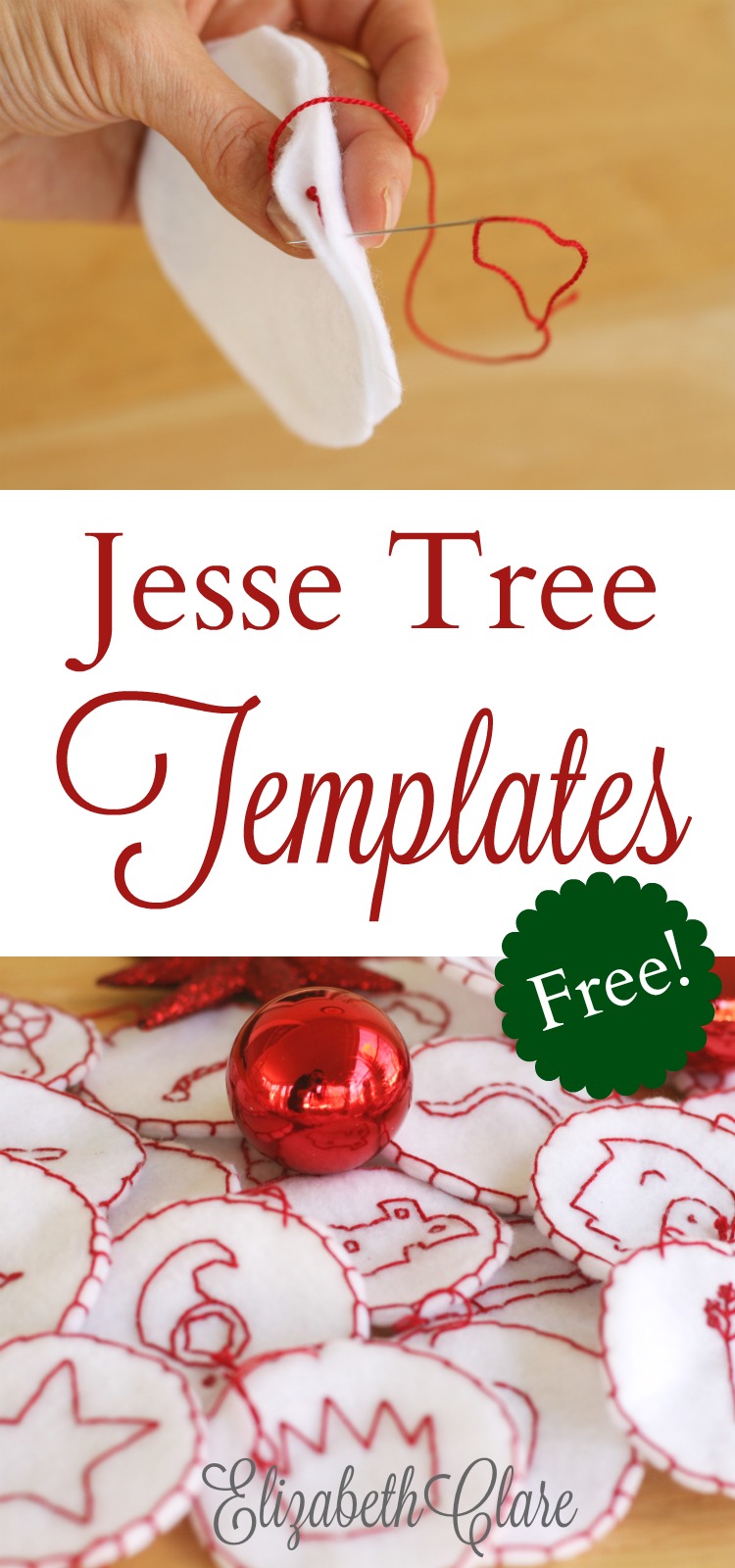 Jesse Tree Ornament Supplies:
Embroidery Floss (I chose a dark red, but an amethyst color would be more liturgically appropriate)
Scissors  (Get yourself a good pair!  Nothing worse than trying to cut with crumby scissors!)
Templates
Step 1- Determine how many Jesse Tree you ornaments you want.  I would suggest finding a devotional you like first and then basing your ornaments around that.  Determine what will be on each ornament.
Step 2 – Using a cup, plate, or something else round, trace a circle onto cardstock.  Cut this circle out.  It will be the template for your felt circles.  (You can make them any size you like.  Mine are approximately 2.5″ in diameter.)
Step 3- Use your circle template and cut out the number of Jesse Tree ornaments you need. (You will need 2 circles for each ornament:  a front and a back.)
Step 4 – Use your disappearing fabric marker and draw out a outline and simple details of the Jesse Tree ornament image.  Then stitch, in and out, in and out following your lines until you've made your image on your felt.  Tie off your thread.
Step 5- Place another white felt circle on the back of your embroidered circle and blanket stitch around the two.  Tie off.  Here is a tutorial I found on Youtube to help you out!
Step 6- Use a length of embroidery floss (approx. 5 inches) and make a loop to hang your ornament from.
It is really quite easy!  If you are a subscriber, you can access the templates I used as well as more detailed instructions on the Subscriber's Bonus Page.  If you aren't a subscriber, go here, subscribe, and then use the password at the bottom of every email from me to access the goodies on the Bonus Page!
Printable Jesse Tree Ornaments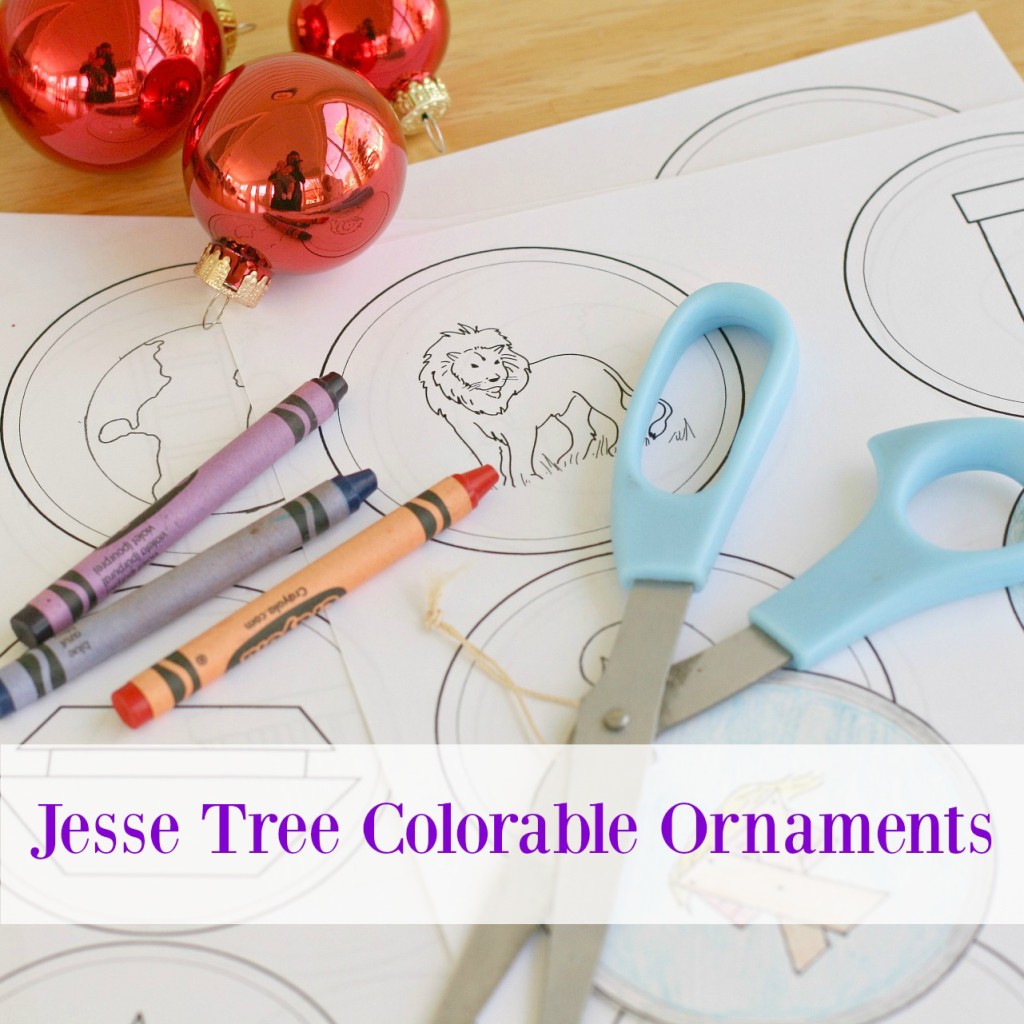 If this all seems like too much work, you can always resort to some download and print Jesse Tree ornaments.   You can buy the ornaments with the coordinating devotional($8.99) or without ($3) in my Etsy shop.
Just looking for a devotional?  You can use mine sold on Amazon or one of the many others around the internet.
Let me know if you make them!  I'd love to see them!
Other posts you may like:
Advent and Christmas Read Alouds