About a year ago, I made a little change in my laundry routine.  This one simple trick has made my day run much more smoothly.  I'm sharing that odd little tip with you today along with several other laundry techniques I use to keep things simple around here.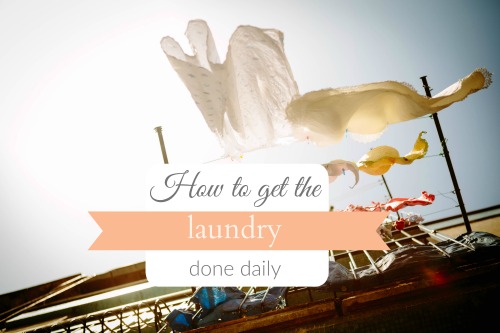 My laundry routine has changed drastically in the past 10 years:
As newlyweds our Laundry Day was once per week
When we had our first child, Laundry Day changed to 3 times per week
Now with 4 littles Laundry Day is everyday, but Sunday (if there is no pressing laundry)
Getting the laundry done has never been an issue for me.  Here is how I keep it simple.  (#1 is my wierd tip)
My 8 Top Laundry Tips
#1  Get the laundry started at night
Most "experts" will tell you to start a load of laundry when you wake up in the morning.  This does not work for me.  I normally do 3 loads of laundry per day (some days more, some days less).  If I start my first load of laundry at 6:00 am (when I wake up), then that means I'm still switching laundry from the washer to dryer and starting new loads during our school hours.
Experience has taught me that when it is "school hours", I need to focus on school.  When I try to get cooking, cleaning, or laundry done, things slowly disintegrate into chaos.  Children wander away from the table, random things are pulled out, and work gets sloppy.  I prefer to have my laundry done before school starts (8 am).  It doesn't always happen, but that is my goal.
To get this done, I get the laundry started the night before.  Lowell (9) gathers laundry in the evenings as he gets ready for bed and brings it down to the laundry room (it is in his ChorePack).  I then start a load, sorting as I load the washer.  Doing this means I usually have 2 loads of laundry done before I go to bed.  Sometimes a finished load gets left in the washer over night, but I've never had a problem with it stinking.
Note:  I don't leave the washer or dryer (or other major appliances for that matter) running when I go to bed.  I always want to make sure the machine completes its cycle normally (no big water disasters, fires, etc.).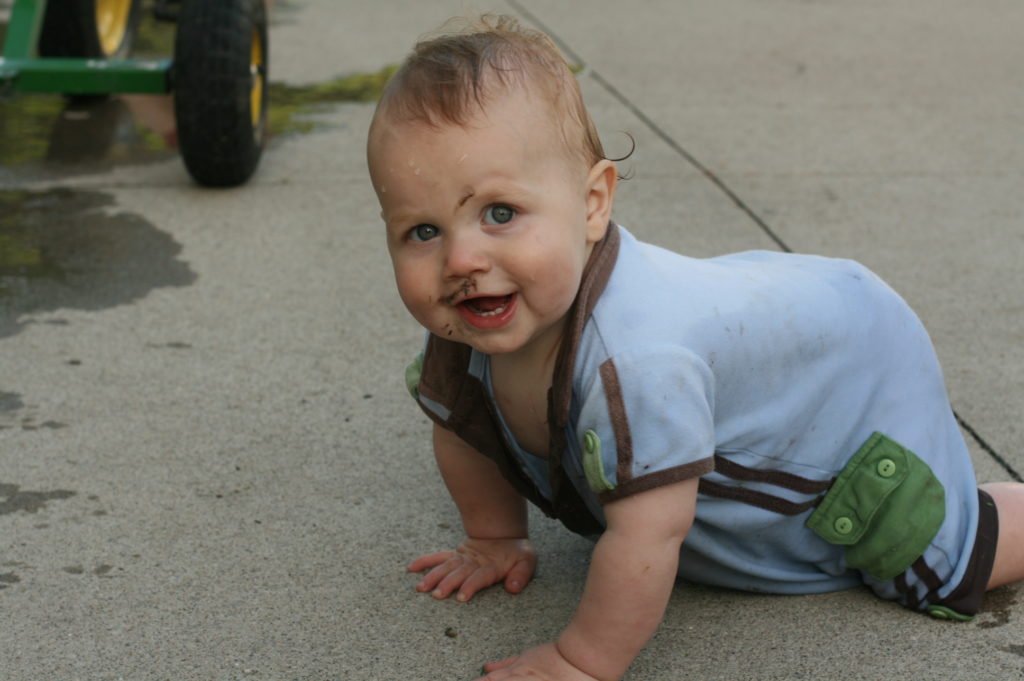 #2  Wear your clothes until they are dirty
When it isn't summer and when I'm not nursing, I'm able to wear my clothes for more than one day before I wash them.  Jeans can be worn for several days as long as you don't sweat or spill on them.  An apron helps keep your clothes clean while you cook (though I confess I don't always wear one!).
When I'm going to do really dirty work like gardening, I change into a set of "work clothes."  I will wear these work clothes several times even if they are slightly dirty.  After all, they are just work clothes!  I grew up on a farm, so I'm totally used to putting on a good used pair of work clothes – cow poop and all!
Encourage your kids to wear their clothes more than once as well.  This isn't usually possible when they are really young, but my oldest (9 yo) can wear sweatshirts and jeans for 2 days.  Use hooks in their closets for them to hang their clean clothes to be worn again.  Hooks are great for organizing towels in the bathroom as well.  Everyone has their hook and they know which towel is theirs. (Alternatively, you can assign each child a specific color/pattern of towel.)
#3  Don't fold everything
Ever tried to fold baby clothes?  Maybe I'm a weirdo, but I find it all but impossible.  Instead, I've gotten into the habit of laying the baby clothes in the drawer.  I even do this with my 18 month old's clothes.  I also find hanging takes a long time with little clothes, so I put as much in dressers as I can.  For the children, I hang only their dress clothes.
Babies go through so many clothes a day anyway, what is the point?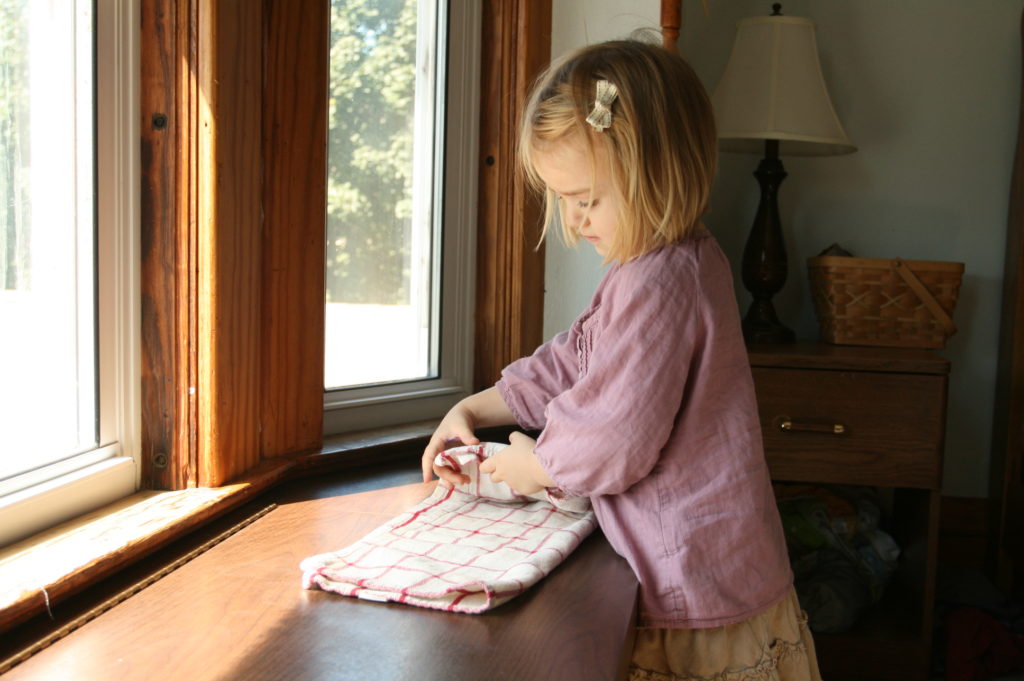 #4  Enlist Your Helpers
The more children I've added, the more I find it imperative they help me with the housework.  The first chore in all their afternoon ChorePacks is put away laundry.  Many times I will fold my youngest children's clothes, but they are always responsible for putting them away (even 18 month old Michael likes to carry his laundry to his room!).
This is what my kids do to help me with the laundry.
18 months-
Put dirty clothes in hamper
"Help" switch laundry loads
Put clothes away (he loves to carry several items to his room and put them away in his dresser)
3 and up
All of the 18 month chores, plus the following
Fold napkins, washclothes, hand towels, rags
Match socks
5 and up
All of the 3 and up chores, plus the following
Independently fold and put away their own laundry
Round up laundry in the evenings and bring to the laundry room
Independently rotate loads from the washer to the dryer
12 and up
(I don't have any this age yet, but it is my plan for my kids to do the following chores)
All of the 5 and up chores, plus the following
Learn to spot treat and wash/dry the laundry
#5  Have a missing mate stash for socks
I have a drawer in my dresser that is dedicated solely to mismatch socks.  (We don't need the whole drawer, but it was empty anyway so I confiscated it for this purpose.)  When I don't have matches for socks, I throw them in the drawer.  Once a week, I have the little kids try to make matches as I fold.  They find the job a lot of fun!
#6  Keep washing till you can make no more full loads
Do you know what a lovely feeling it is to see the bottom of the laundry basket on a daily basis?  This little practice has prevented me from having to climb the laundry mountain I hear other homemakers complain about.
#7  Cut out the ironing
We keep our clothes low maintenance.  No ironing.  No dry cleaning.  I even avoid whites for the kids.  Of course, this is greatly dependent on the type of job your husband has.  If he needs to wear a suit on a daily basis, you will most likely spend more time doing laundry.
Husband can get away with wearing a polo and jeans to work most days, and I try to keep our Sunday clothes easy to care for.  As a result, I usually iron about once a year.
#8 Think about efficiency of movement
Think about all your little movements as you do laundry.  If it works for you, your schedule, and your space, it may be most efficient for you to fold clothes as they come out of the dryer.
For me, it is most efficient to take everything up to my bed in the middle of the day.  Most of our laundry belongs upstairs, and the bed allows a big space for the kids and me to fold all together.  When I'm done folding, I can just walk a couple of steps and put my things away in the drawers and closet.
I also prefer to not fold my laundry downstairs.  A big pile of laundry on the couch or dining room table is a real downer for me!
Our Laundry "Schedule"
7:20 pm    Lowell and his little helpers round up the laundry and bring it all in one basket to the laundry room.
7:30 pm   I start a load of laundry
8:30 pm    Switch load to dryer and start another load of laundry
(Sleep the night away, knowing tomorrow's laundry is half done!)
6:20 am  Start another load of laundry (if needed)
(Continue to switch/start laundry until I can no longer make a full load.)
10:50 am   Take laundry basket upstairs to my bed after morning school hours, I do my folding and putting away now
4:00 pm     Kids fold and put away laundry as part of their afternoon chores
What are your top laundry tips?
You'll also love:
Nourishing Routines:  Framing our Day for Success