Well, apparently several of you readers were interested in what we eat after I posted what our family of 6 spends a week on groceries.  One of you even requested a week of real life meals that we eat at our home.  I am one who finds all those "Look-what-I-get-to-eat-for-supper" with complementing photo Facebook posts completely boring, so I will not be offended if a week's worth of food photos and explanations bores you stiff and you promptly stop reading this post (come back next week, please).
Sooo, for those of you who want to know what's on our plate, here goes…
There are several things you should know before you look over what we ate last week.
 I base my meals around what we have on hand.

This week was the tail end of my biweekly grocery shopping cycle, so I ended up trying to use up things or scrounge to round out a meal.
We were down to our last 2 eggs this week, so we didn't have eggs for breakfast nearly all week.  This isn't normal- I usually eat eggs nearly everyday.
Our one son is on a "magic diet" as a form of epilepsy treatment prescribed by his doctors, and so I have some things on hand that I wouldn't normally (prepared meats for one).  These are not a staple of a "normal" frugal food rotation, but have been things I've purchased for him in an attempt to make his high fat diet more palatable and kid-friendly.  One weird side effect of all he's been through are these crazy taste changes.  So, even though I buy this stuff for him, more often than not, the rest of the crew ends up eating it.
We have 6 or 7 family size boxes of Cheerios in our pantry, thanks to a sweet family member who exhibits love by showing up to your house with a box of pantry staples!  I'm not a big fan of cereal for breakfast (expensive and less nourishing), but it's making its appearance a lot at our house lately as we work through our supply.

I don't "cook"  or meal plan too much in the summer.

It's hot.  I'm busy.  And I just don't feel like cooking too much at this time of year.  I end up just throwing things together for the most part, and my crew seems to be happy.
Our meals change quite a bit based on the season, but I thought this would give you a snap shot of what we eat during summer.
I find meal plans archaic when it comes to dealing with a garden.  Instead, I send the kids out every morning to pick and then I base our veggie consumption on what's available.

We eat out of the garden a lot at this time of year.

You'll see lots of veggies and lots of repeats.  While I do preserve some of our garden produce, we all enjoy eating it while it's fresh.
You can tour our little garden here.

I do a lot of "meal rolling."

We eat leftovers.  A lot.  So I try to roll them into a new package if at all possible to keep things exciting.  For instance, last Friday we grilled some pork ribs when we were grilling our supper.  We later made BBQ pork sandwiches from the ribs, and tonight I'll be making BBQ pork pizza with the few remaining ribs.

This isn't a very typical week.

I started this week taking pictures of what we ate, but realized over the course of the week that this isn't a very "typical" week for us.  We were gifted with some lunch meats by a friend, celebrated our anniversary with a special home-cooked meal, and finished off a lot of food from Christian's ketogenic diet.  However, no week is truly typical, so I went ahead and posted what we ate, although it isn't quite as "frugal" as we usually are.
I don't have pictures of our breakfast items.  It's just too rushed around here that time of day.  Under the meals listed, I provide a bit of explanation which will help you see the thought process (or lack thereof!) that goes into our frugal meals.  I've bolded sentences that explain some of my foundational strategies for saving money on groceries.

Monday
Breakfast:  Zucchini Bread or Cheerios (not pictured)
Lots of zucchini in the garden, so we chow down on the zucchini bread I made the night before. 
There's also a bowl of Cheerios if you are still hungry (mainly Husband).
Lunch:  Sausage links, toasted cheese sandwiches, carrots, nectarines, kombucha
The sausage links are from Christian's magic diet, but he won't eat them anymore, so the kids and I decide to get them out of our freezer. We talk them up the entire time we eat them, hoping it will help him try them again in the future.

Carrot sticks are a staple veggie for our lunch. Super easy, healthy, and reasonably cheap.  There was a time when I would peel and chop whole carrots; however, the $.50 a pound I save with my 10 minutes of work hardly seems a fair trade.

Rather than give my kids juice, I've started giving them home-brew kombucha.  It costs about $.50 for me to make a gallon (not including energy costs of boiling the water).
I like to have a bag or two of these in the freezer.  When we don't have leftovers, Husband takes these to work.  You can find the "recipe" here.

Dinner:  Roasted Whole Chicken, Sweet Corn, Cucumbers and Vinegar, Watermelon, Crudites and homemade ranch dip
I love whole chickens!  I can get so many meals out of one bird.  You'll see this become the basis for a lot of our meals this week.  No recipe required.  Pour olive oil over your washed and dried bird.  Season well with salt/pepper and seasonings and bake at 425* for about an hour (internal temperature reaches 175*).  It is delish and kid friendly!

The sweet corn becomes our starch.  When our main course is straight meat, I always provide a filling starch so we don't eat so much meat.
Sweet corn, cucumbers, and crudites are all from our garden.
The kids always eat their veggies better with dip and homemade is healthier and cheaper.  I just mix a homemade dry mix (salt, pepper, garlic powder, onion powder, parsley) with a bit of mayo and homemade yogurt (Lowell often makes it).  Making our own saves money and is more health conscious.
Tuesday
Breakfast:  Eggs with garden veggies, toast OR leftover pancakes (not pictured)
I love to throw veggies into my eggs.  In the summer I throw kale from the garden, and I freeze our homegrown sweet peppers to use in the winter time.
Every Saturday morning Lowell makes pancakes.  The leftovers make a handy breakfast or snack for the kids throughout the week.
Lunch: Broiled roast beef and cheese sammies, crudites and dip, and applesauce
Again, the prepared meat is  something I rarely purchase (except for Christian's magic diet).  Lunch meat costs around $4/lb. and I try to keep my meat purchases under $2/lb. so I avoid purchasing except as a convenience during busy times or traveling.  However, Christian has also gone on strike against lunch meat, so the kids and I finish it up.
Our sammies are served on homemade bread.  Homemade bread is filling and frugal (costs less than half of store bought bread) and takes me less than 5 minutes to make with my bread machine (which was purchased at a garage sale for $5).
After cleaning out our freezer, I realize I have several bags of frozen applesauce I need to use up before I make more from this year's apples.
Husband's lunch:  Leftovers sloppy joes, carrots
We had sloppy joe's for dinner on Sunday.  Husband is very happy with leftovers for lunch.

Dinner:  Veggie soup, watermelon, crackers, milk
I make chicken broth from the chicken bones that I've picked clean and from the drippings from last night's bird.  I then add some more seasonings and lots of garden veggies to make soup!

Crackers help round it out and make it a bit more kid-friendly of a meal.
Wednesday
Breakfast:  Cheerios with sliced fruit
Lots of fruit to use up before I go shopping later this week.  Plus it makes the meal feel a bit healthier.
Lunch:  Bean and cheese rollers, veggies and dip, nectarines
The beans are dried pintos that I've cooked and frozen in a ziplock – convenient but cheaper than canned beans.  The kids call them "rollers," but they are basically a burrito.  You can see how I cook the beans and how I make the burritos here.
There was extra filling and tortillas after our lunch, so I threw together 10 more burritos and stuck them in the freezer for Husband's lunches.
Husband's lunch:  Freezer bean burritos
Again, something I always have on hand for a last minute lunch for Husband to grab.
Dinner:  Chicken salad sandwiches, crudites and dip, fruit
I've still got half the meat from the bird I cooked two nights ago (thanks to adding a filling starch to our original meal).  I mix it up with homemade bread and butter pickles, mayo, yogurt, and some onions and serve it on homemade bread.
Thursday
Breakfast:  Homemade bread and peanut butter
The kids love to toast bread and spread peanut butter on it.  Sometimes they add homemade jam or honey.  I pay up and get Smucker's Natural Peanut Butter – it makes me feel a bit better about myself!

Lunch:  Smorgasbord!  Chicken salad, pepperoni, cheese, crackers, fresh fruit or applesauce, veggies
We have lots of little things to use up in the fridge.  I have the leftover chicken salad, which the kids aren't crazy for.

The kids have a snack lunch of pepperoni (not something I normally buy, but something I have for Christian's magic diet, that he yet again has called strike against), cheese, and crackers
Husband's lunch:  Chicken salad and Raisin Spice Bars
Dinner:  Leftover Veggie Soup, homemade bread
The kids weren't crazy for the soup the other night, but it makes it's appearance again tonight after a night reprieve.  I don't cater to my kids' palates, but I do try to be considerate.  The bread helps fill them up.
Friday
Breakfast:  Oatmeal and fruit
Oatmeal is a super saver when it comes to getting your money's worth out of your groceries.  Add some fresh or frozen fruit to it to give it a natural sweetness and kick up the health punch.
Lunch:  Bean burritos, grapes, crudites
We had to run errands this morning, but I plan for us to be home in time for lunch so we can avoid hitting the drive thru.  It's Friday, so we go meatless and have bean burritos.
Dinner:  Grilled scallops and shrimp, sweet corn, salad, homemade bread, champagne
I had planned a very simple supper for the night, but Husband surprises me by stopping after work to pick up some seafood to grill.  Saturday is our 11th anniversary, and instead of going out, we often treat the whole family to a "fancy-er" dinner at home.  This definitely isn't a "frugal meal" but I thought it would be helpful for you to see it as a part of our money-saving strategy.  (sorry no pictures, we were too busy enjoying!)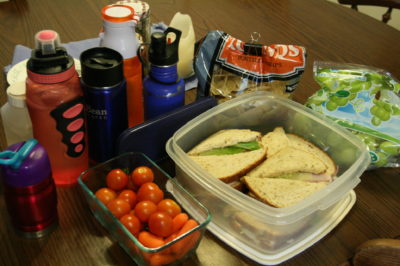 Saturday
Breakfast:   Whole wheat pancakes and eggs
Saturday is our "big breakfast day."  Lowell makes pancakes and Husband makes a big pan of eggs.  The kids enjoy the pancakes as snacks or as breakfast during the week.
Lunch: Yogurt and muffins
I keep a big bag of homemade muffins in the freezer for an easy lunch or snack.  Today, I'm trying to get a lot accomplished and it's just the kids and me and home so we have a very easy lunch.
Dinner:  Picnic fare- sandwiches, chips, grapes, carrots sticks and tomatoes
We decide last minute to go to Mass on Saturday night, so I quick pack a picnic supper for us to share at the park afterwards.  This helps us avoid a stressful supper prep with hangry kids upon arriving home an hour later than we normally eat supper.
Other ways I saved money in the kitchen this week:
Besides cooking for our regular meals, there's little things I do throughout the week as a way of putting "money in the bank" in the kitchen.  Here's what I did this week.
froze 1 gallon of chopped green peppers
made 7 quarts of applesauce
made 3 loaves of bread in my bread machine
So what are your stand-by frugal meals?
You'll also like:
15 Foundational Strategies for Living on One Income