When I was a fairly new housewife, I cobbled together a family recipe binder in an effort to get more organized.  It became a space where I could throw all those printed recipes that became new family stand-bys and gather new ones I wanted to try.  The finished product was less than beautiful, but super functional and became something I pulled out of the cupboard several days a week.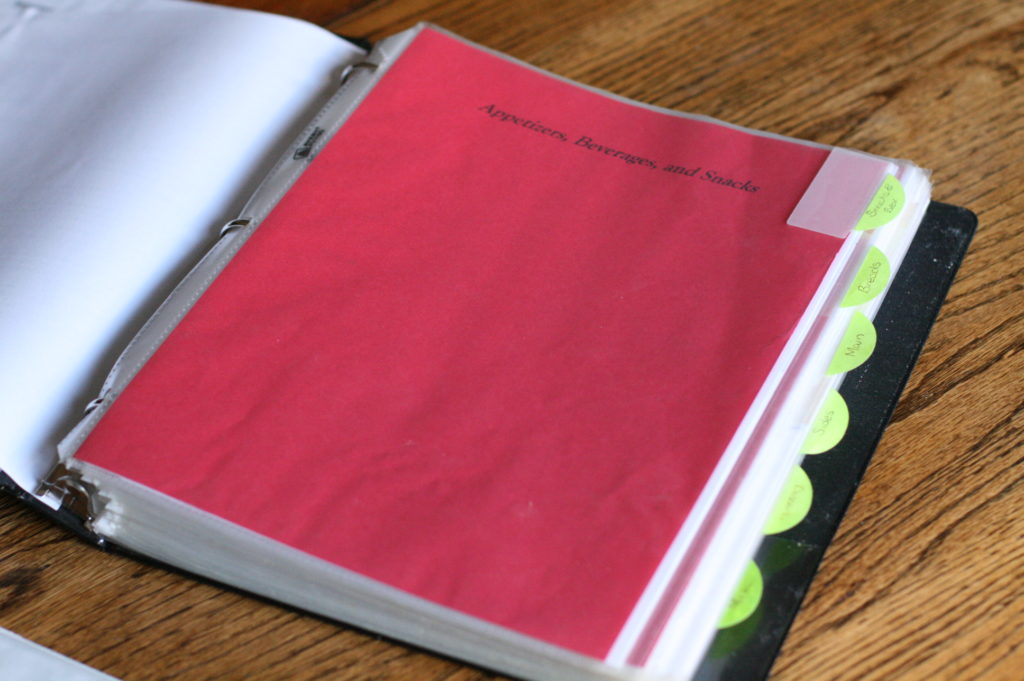 Here is a picture of my old recipe binder.  You can see there are loose papers on the left and that I've outgrown this binder size.
For the past couple years, my recipe binder has been in need of some work.  I needed to weed out recipes, upgrade to a larger binder, and find a way to easily incorporate my favorite cookbook recipes as well as recipes to try.  This summer, I've been trying to tackle a few little organizational tasks every week and I finally could put this off no longer.
All told, it took me about an hour's worth of work and I'm extremely happy with the finished product (even though it is still less than beautiful).  I thought you may enjoy seeing how I make my recipe binder work for me.
How to Make a Recipe Binder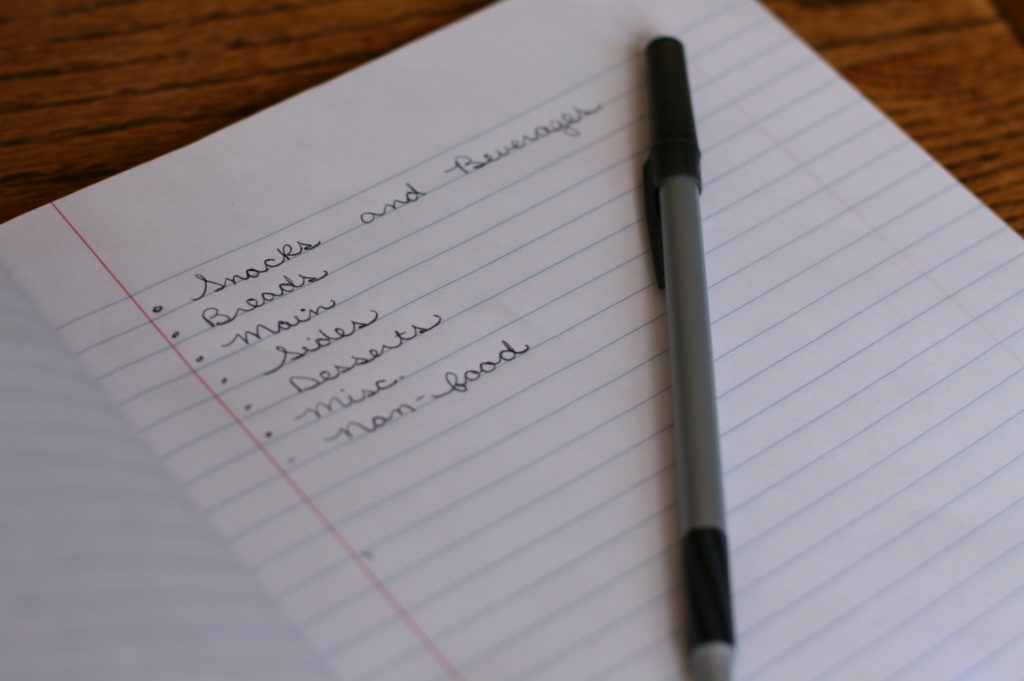 Step 1- Decide on and set up Categories
Here are the recipe binder categories that made sense for me:
Planning
Snacks and Beverages
Breads
Main Dishes
Sides
Desserts
Miscellaneous (like my Mexican seasoning, ranch dressing, and canning recipes)
Non-food (this is where I keep all those diy cleaner and beauty product recipes)
After I decided this I made up title pages for each section.  I already had these in my binder, but I just wanted something fresh!  You can download the file with the title pages here:
Step 2- What are you going to do about cookbooks?
I've gone back and forth on how to deal with family favorite recipes that are scattered throughout my hardbound cookbooks.  I enjoy perusing my cookbooks, many of which are nearly on the status of family heirlooms.   I have no intention of getting rid of them, but there is also value in seeing a list of favorite meal ideas in one place.  I can easily forget a recipe for years until I accidently happen upon it while cookbook browsing.   I've previously tried to type up our favorites to add to the recipe binder, but this was extremely tedious and time consuming.
I finally came up with the idea of having a page behind each category that I can fill in with recipes ideas from my cookbooks.   This saves me the time of printing up recipes, helps me see meal ideas in one place, and lets me enjoy my cookbooks!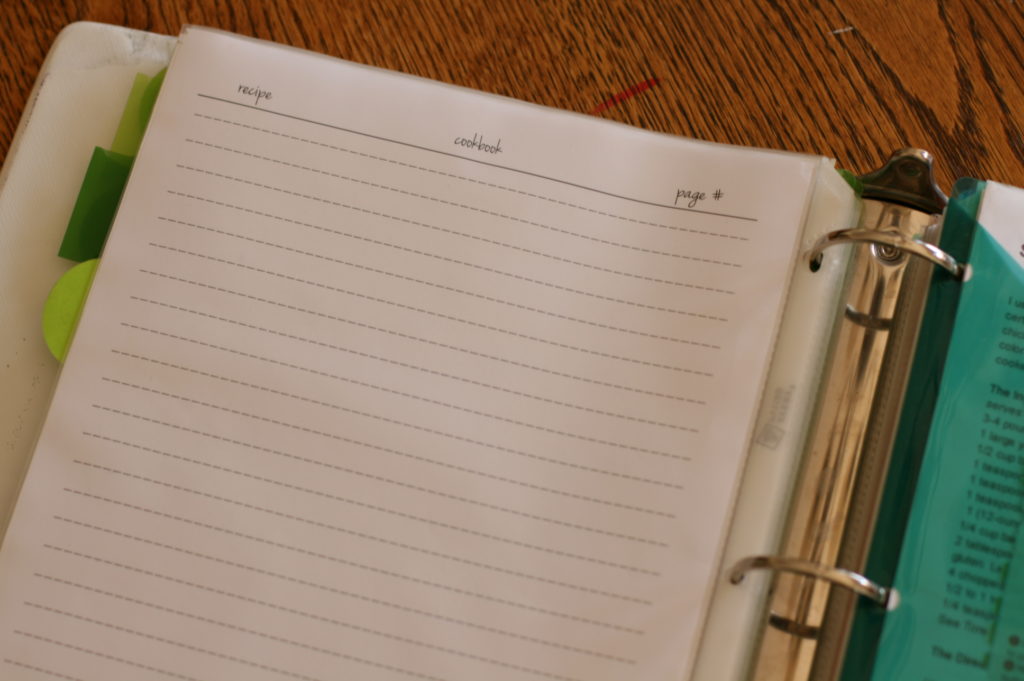 Here is what the pages look like.  I plan on filling these out over time.  The page is part of the free printable recipe binder title page file.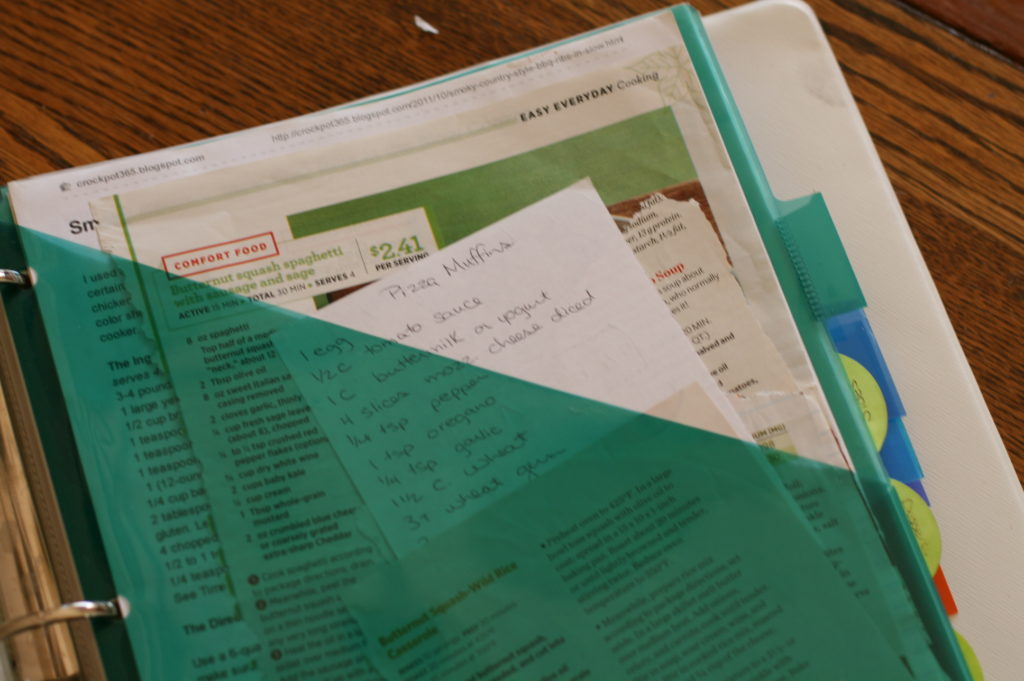 Step 3 – What about recipes to try?
Again, I never knew what to do with these.  I often printed them out and then put them in a folder, but I had a hard time sorting through them all to find the one I wanted to try.  I ended up putting these in pocket dividers behind each category.  It is much easier to locate just what I want now instead of sifting through gads of printed recipes and I'm actually working my way through some of them.  I had something similar to these pocket dividers on hand.  No, they aren't all color coordinated, but they serve their purpose.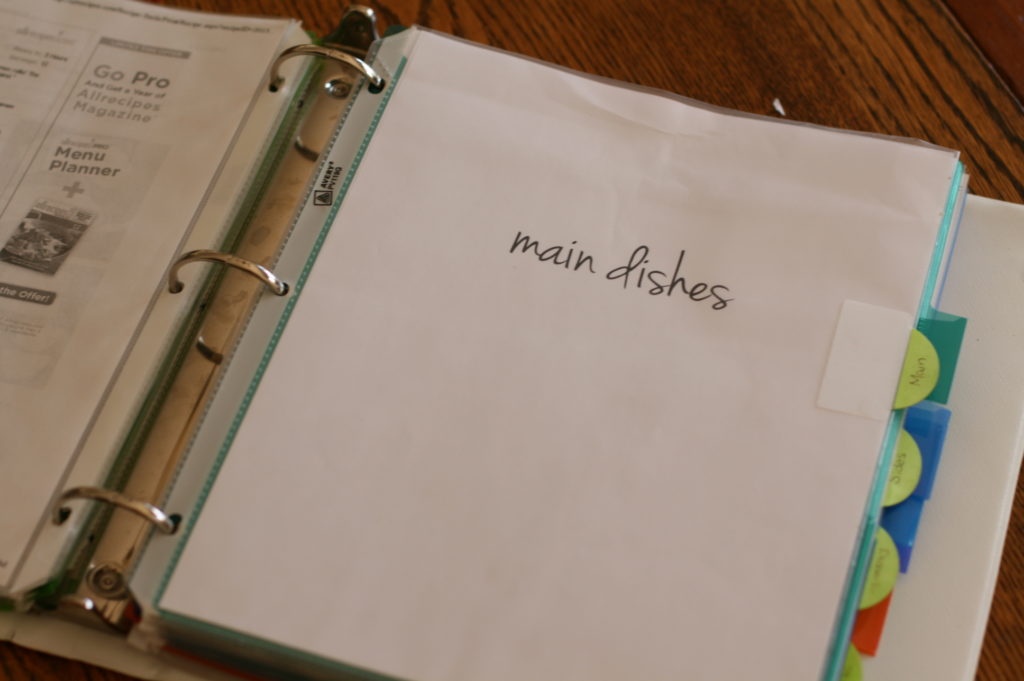 Step 3 – Start filling your cookbook
After making your category title pages, begin filing your printed recipes in their appropriate category.  This was fairly easy for me.  I simply transferred pages from my old binder to my larger one and weeded out some as I went.
Here are a few things to consider: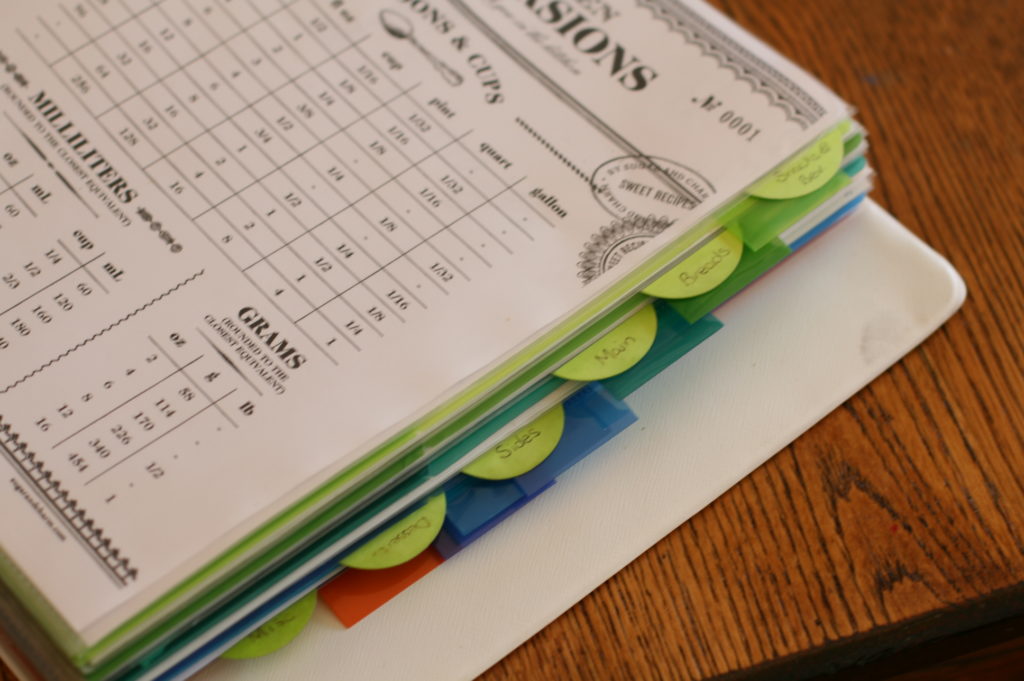 Step 4-  Create a useful planning section
Things to consider including:
Checklist for Kitchen Day (This is every Monday in our home.  I make bulk meals, bread, yogurt, granola, and do deep cleaning tasks in the kitchen.)
Price book
Family food traditions
Menu and shopping list printouts
Lunch Rotation (you can see mine from 2016 here)
Pantry Inventory (this helps me create my biweekly shopping list)
Freezer Inventory
Ideas for freezer cooking sessions
Hospitality ideas
Conversion chart (I just printed off this cute one)
Don't go too crazy here.  You don't want to have so much in this section that it becomes unwieldy and not useful.  Consider what would be most helpful.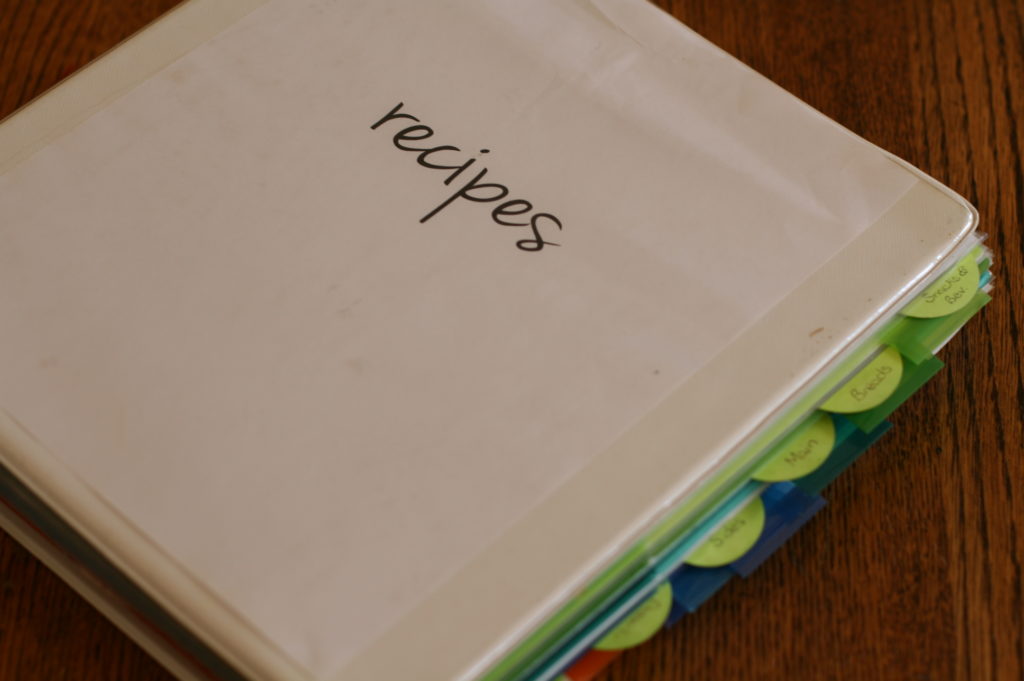 And that is it!  I put this together just a few weeks ago, and I'm finding it much more functional.  I used only what I had on hand, so it cost me nothing to make.
What is your trick to organizing recipes?
Here are a few recipes from my binder:
Freezer Friendly Breakfast Burritos
Slow Cooker Refried Beans and Burritos