I don't think of our family as big, but I know some people think 4 kids is a lot.  I'm always afraid to fill the stereotypical big family image for others.
Don't pretend you don't know what I'm talking about!  You know EXACTLY what I'm talking about!
Weary-eyed mother in an 80's denim jumper.
Stair-step children dressed in janky hand-me-downs with hair in their eyes and dirt on their faces.
Don't get me wrong.  I LOVE hand-me-downs.  Where would I be without all those free clothes?
And children in dirt?  If you've been around here any length of time, you know it's one of my children's favorite accessories!  (I know, I know!  I show this picture WAY too much, but it is one of my favorite!)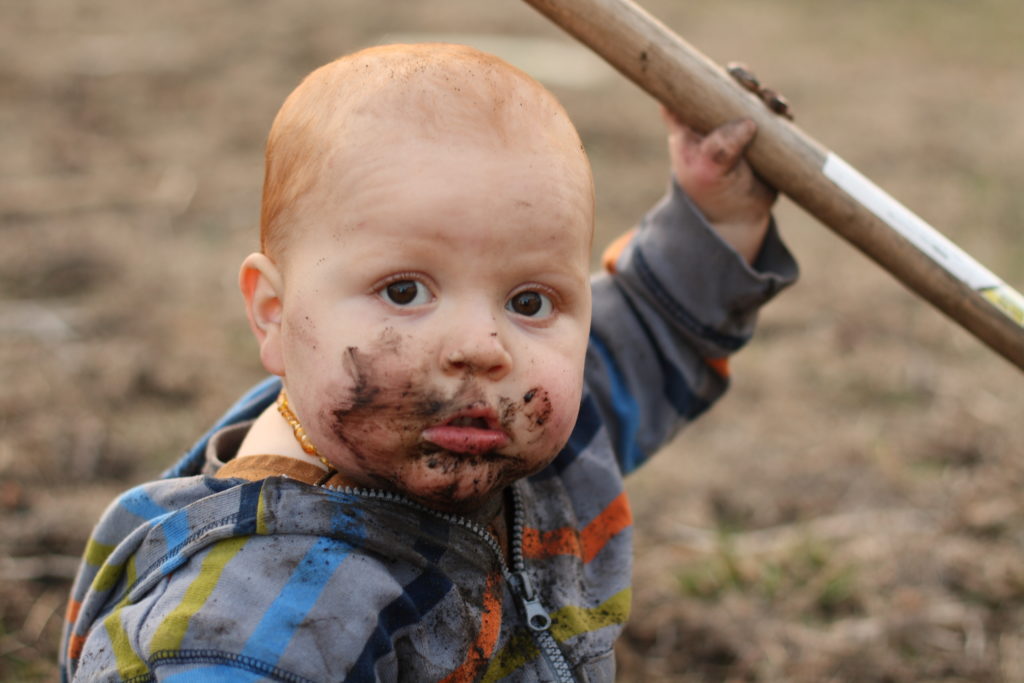 But hair in my children's eyes?  While it seems to happen around here on a daily basis, I can't stand it!
I waited forever for Little Sally to grow hair.  It took her nearly 3 years, but she got the job done!  Now getting that hair done has become a daily chore.  It's been hard for me to figure out when and where to fix here hair…until now.  Enter the handy dandy hair tote!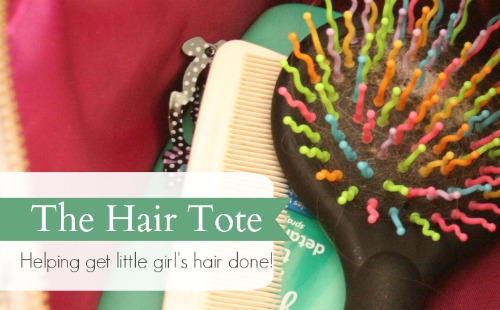 Sally knows that her morning chores include bringing her hair tote to me so I can get hair done for the day.  She finds me wherever I am and brings me the supplies I need.  When we are done, she takes her hair tote back to her room where she places it her drawer until another hair emergency arises.
It's a very simple thing, but it's helping me get this little job done.  No more hair in the eyes!  Everything I need is right there and she can find me wherever I am.
Things to include in your Hair Tote:
If your little girl is anything like mine, don't plan on cramming all her hair accessories in the tote.  Just a few very functional, every day bows, barrettes and headbands will do!
And for your reading pleasure, I've included my super cheap detangler spray recipe.  Although, it is way too easy to call it a "recipe" at all!
DIY Detangler Spray
Fill a spray bottle 1/4 full of conditioner.  Fill the remainder of the bottle with water.  Shake well before using.
If you want to buy your detangling spray, we've used Johnson's Buddies No More Tangles with good results ("free" with our latest hospital adventure – I think I could have done without the spray and skipped the hospital stay!).  However, I suggest you make your own at home for pennies instead of coughing up the $7 for the spray!
Our Hair Tote Tour:
The actual tote was something we picked up at a white elephant Christmas exchange last year, but it was perfect for our purposes.  It has 3 pockets so we could sort our hair essentials easily.
Pocket 1:  comb, detangling hair brush, detangling spray

Pocket 2:  headbands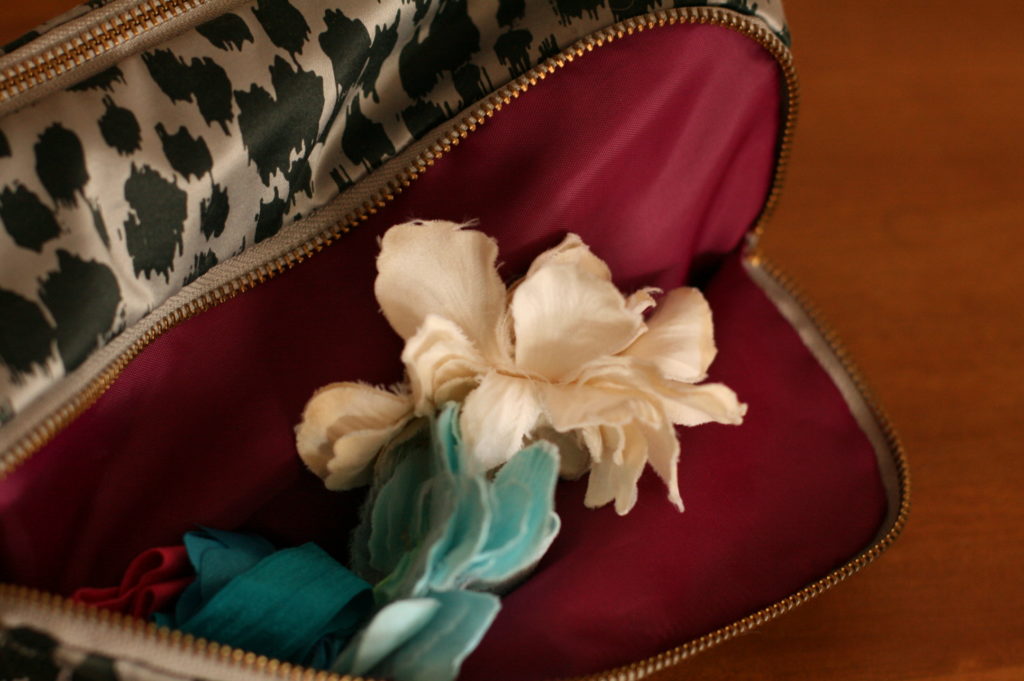 Pocket 3:  Ponytails and hair bows
Now that you've got your hair tote, let's do some hair, and rid ourselves of our large family ratty-haired children!
Behold a very undramatic before and after!  Apparently, little Sally does not understand that she should look sad and forlorn in her "before" picture and happy in her "after."  I guess that is what happens when your model is free!
Just know, that as her mama, I feel so much better with that hair pulled back!
Maybe now all those strangers I see on the streets won't feel pity for the mother with four little ducklings trailing along behind.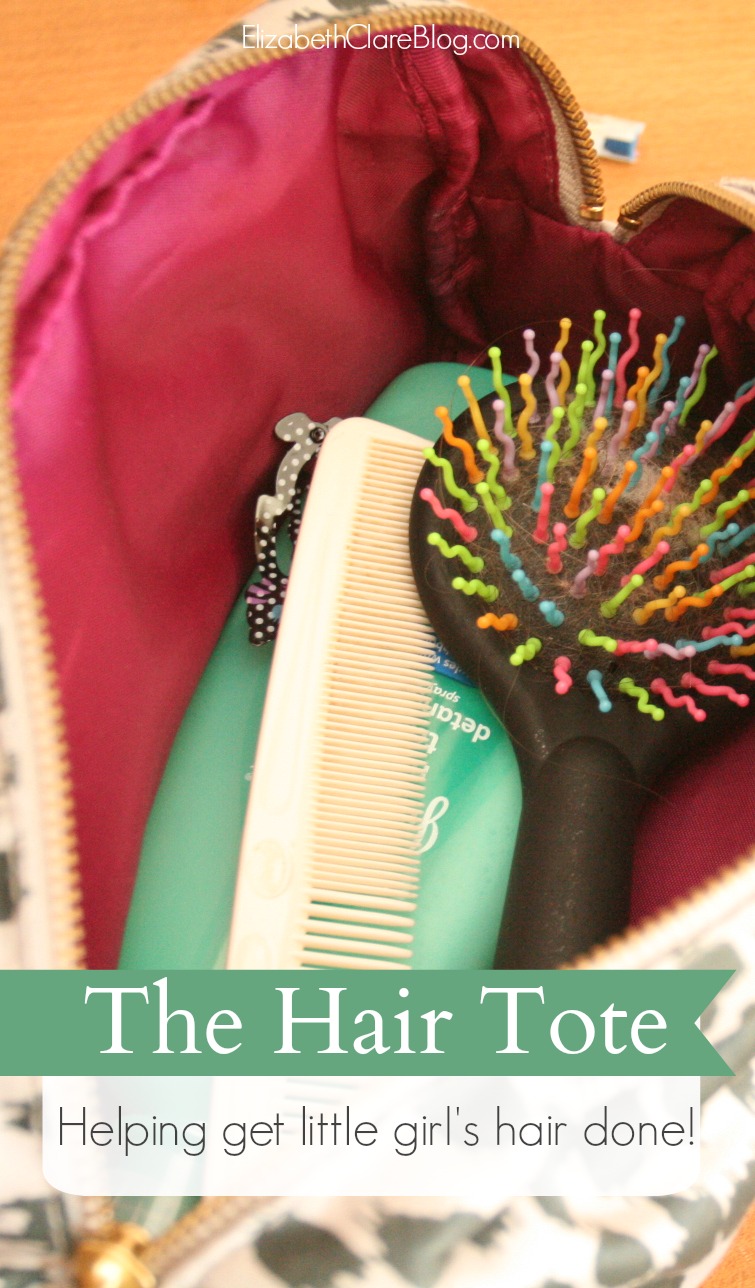 You'll also enjoy:
The Cheapskate's Guide to Stitch Fix