Hey all!  I'm popping in quick today with my newest homeschool habit – the book basket.  I can't claim a book basket as my own creative invention and it is certainly nothing new, but implementing one in our own home has helped our little family solve the problem of reading more of the titles on our over-stuffed bookshelves.
Business Schtuff…
Before we get to the book basket, I also have some have business items to share with you.  First up, the giveaway winner is Lucy M.  Congratulations, Lucy!  I've already sent you an email so you can claim your prize!
Secondly, some of you are aware that our family is undergoing some tough times medically right now.  One of our children is quite sick and spent 12 days in PICU and the hospital in January.  He was even flown to a bigger hospital because our regional hospital didn't feel like they were helping to resolve his case.  We are so happy to be back home with a solid plan for treatment, but he has a long road of recovery/treatment ahead of him.  Please pray for his healing and for our family.
What does this mean for the blog?  I will definitely be less present than before, but will try to post when I can (I already have several finished posts in queue).  I've enjoyed connecting with many of you and enjoy writing and photographing our homeschool, family, and faith.  I think blogging will be a good outlet for me during this tough time, though the time I will have to devote to it will be sparse!
Ordering.  I closed the Etsy shop down while in the PICU, but it is back and running again.  There are still copies of the 2017 Weekly Catholic Planner around, but they are definitely limited.  There are no more clear cover planners left, but there are several black covers.
I will not be ordering or binding more, so now is your chance to get one while they last!
On to the post!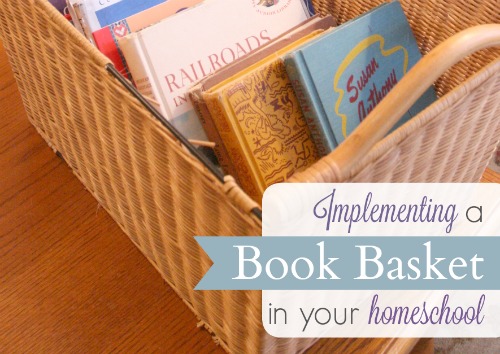 The problem with too many books…
I love books!  What homeschooler doesn't?  While I love visiting the library and bringing home an insane amount of titles for my children to peruse, I enjoy even more having good books on our own shelves.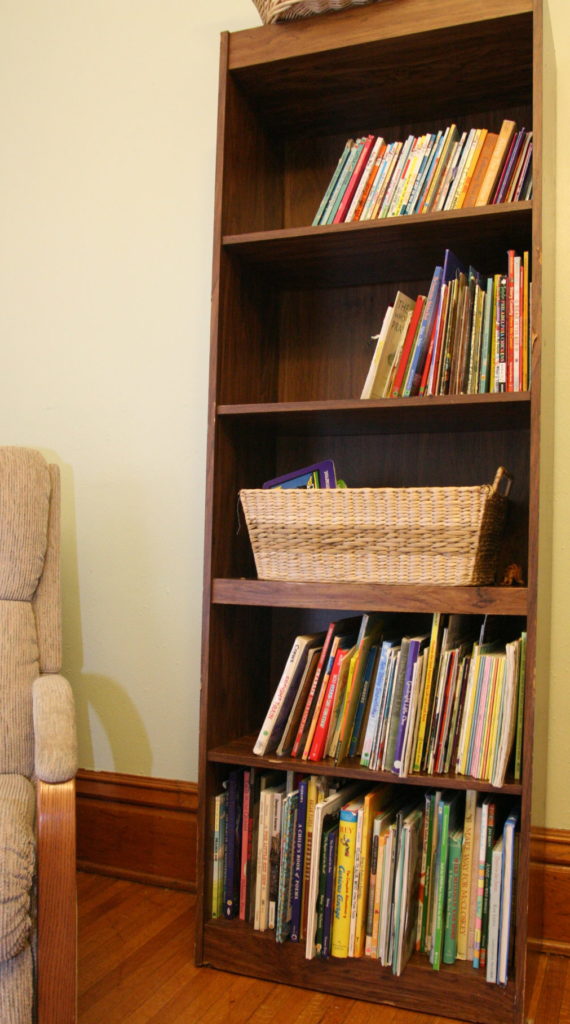 7 short years ago, our children's book collection fit on one very small bookshelf.  Now our collection spans 5 bookshelves that spill into a couple baskets placed on children's nightstands.  I've found many of our family's favorite titles at local thrift stores, garage sales, and library book sales.  I suggest books to family members when they need a gift idea.  And I occasionally splurge on a brand new read from Amazon for Christmas and birthday gifts .
As our bookshelves grew…and grew…and grew, I noticed that many titles got lost on our packed shelves (especially those picture book paperbacks!).  We seemed to be reading the same books over and over again and not using our whole collection.
Enter the book basket.
After our family celebrated Epiphany, I decided it was time to rework the Christmas book basket with things from our own shelves.  I quickly thumbed through the picture book titles on our shelves chose several winter themed books since it was the middle of January and others that hadn't been read for awhile.  I then went to our "science" and "history" shelves and grabbed a few more.  Finally, I put our latest family read aloud in the book basket.  We'll fill the remainder of the basket when we make our next trip to the library.
Choosing Books for our book basket:
(I'm hoping to follow this general guideline every time I refresh the book basket.)
3-5 board books (if you have a toddler or baby)
5 picture books
Books that fit the season/holiday/feast days/etc.
Science book
History book
Read aloud book
It all took me less than 5 minutes, but it has expanded our reading horizons already.  We are enjoying titles that have been collecting dust for some time.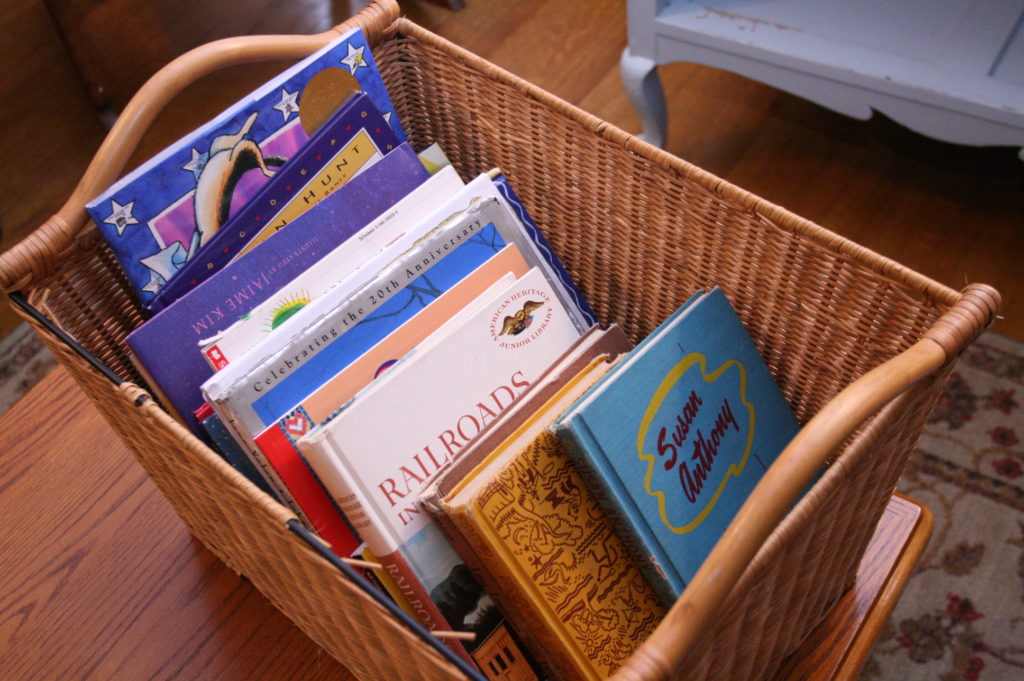 Combining library books with our own
I've held back from making a book basket until now because we already had a library book basket.  I didn't like mixing our own books with the library's or the idea having two separate baskets.  I thought combining titles would result in lost library books and fines, but I didn't want to take time sorting books into the appropriate basket at the end of read aloud time either.
Despite my hesitation, mixing them is exactly what I ended up doing.  My plan is to sort through the book basket before each trip to the library.  I'll pull out the library books and put them in our library bag and replace our own books with new ones from our shelves.  I'm hoping that doing this every couple of weeks (our normal interval between library visits) will keep the book basket fresh and intriguing for the kids.
If you followed along last year, you know I picked out liturgically appropriate books at the beginning of every month to add to our feast table book basket.  Sometimes the feast table book basket was ignored.  I'll be throwing the liturgically appropriate books in with our book basket as well.
Do you use a book basket?  What tips do you have for me?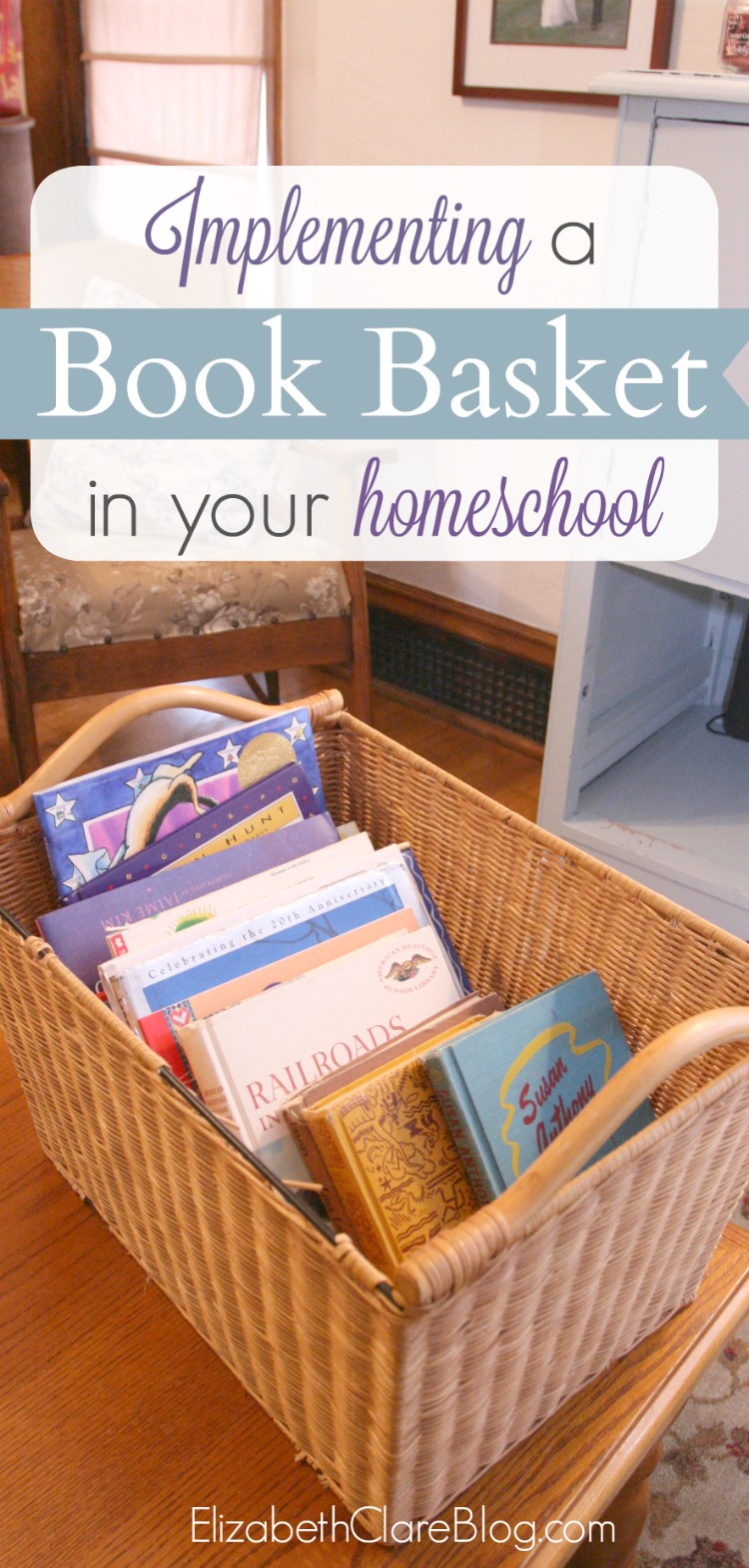 You may also enjoy:
Must Reads for Young Catholics
1o Must Do's with Your {Catholic} Preschooler