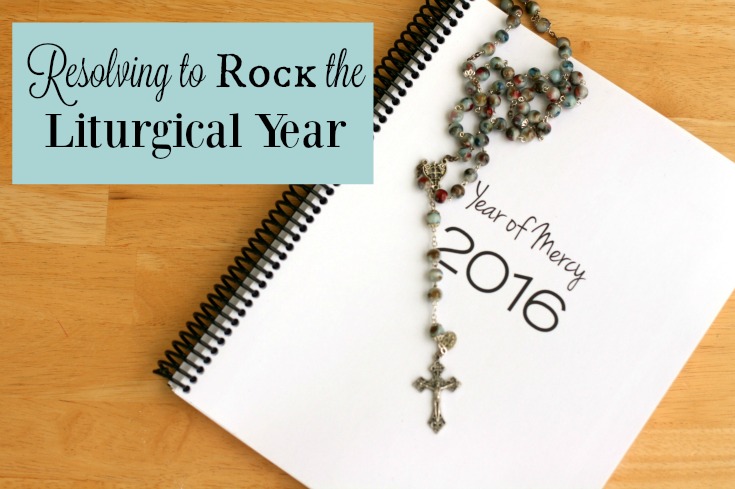 Christmas day is over, and while we are still celebrating the season of Christmas in our home, we are busy preparing to turn the leaf into the new year!
I'm not one for traditional new year's resolutions, but there is something about this time of year that lends itself to objective assessment of our lives.  I love to take some time at the end of December to step back and sketch out some dreams and goals for the coming year.
Before converting to Catholicism, I remember reading Elizabeth Foss's blog and being intrigued by her family's living of the liturgical year.  At the time, I thought it was a little over the top, but upon conversion, I saw how beautiful it really was!
Catechizing our children well is more than celebrating feast days in meaningful ways, but the liturgical year does go a long way toward instilling the faith in their little hearts.
I've always had good intentions to live the liturgical year, but this year, I am going to make it happen!  We already observe a few feast days in our Catholic home, but I really want to expand upon those few traditions.  I won't be overwhelming myself by doing to much though.
Plans to live the Liturgical Year:
1.Set up a feast table at the beginning of every month.
Have you seen this beautiful (yet simple!) feast table at Wildflowers and Marbles?  I fell in love with it and am trying to find where I can make this work in our home.  Between our peg dolls and ample book collection, I hope to be able to make this happen in our home!
2.  Choose 1-2 feasts to celebrate with food, art, and story every month.
So as not to overwhelm myself, I plan to choose just one or two feasts to celebrate in simple ways.  I'll also make mention of feast days as they occur and talk about them (or the saint celebrated) with my children.
3. Read the Sunday Mass readings on Saturday evening as a family.
While we often read the Mass readings on Sunday morning, there are some days it doesn't happen in the rush to get to Mass at 8:30 a.m ( I realize that isn't super early for some of you folks!).  I'm hoping to make this a regular weekly occurrence!
4. Pray the Papal Prayer Intentions
This is something I've never done as I've never had a tool to help me know what the intentions were.  I've got my tool this year, so I'm hoping to make it happen!  (Keep reading to see my new favorite tool!)
What I'm using to get me to my goal:
So how will I know what are the Mass readings, the feast days, and papal prayer intentions and how will I balance all of that with my already full life?  I will be using one of the best Christmas presents I've ever received!
During December, I asked my husband to help me create something for my Etsy shop that was something I have been personally wanting needing ever since joining the church.  Using Excel and his computer skills we were able to create the planner of my dreams!  I do love me a good planner and this is a GREAT one!
What is in my planner:
Monthly Planning Pages:
Previous and Next Month at a glance
Feast days and national holidays
Monthly dedications or devotions
Papal prayer intentions
Goals, Tasks, and Note pages behind each monthly spread
Weekly Planning pages:
Current month at a glance
Sunday Mass readings
Weekly task list
Daily time slots for appointments
Daily space for notes and tasks
Daily space for menu planning (breakfast, lunch, and dinner)
Feast days and national holidays
Are you as excited about this planner as I am?  Well, you are in luck!  It is now available in several different formats in my Etsy shop!
You can get the planner in 4 different ways:
Physical planner (bound with black spiral) with monthly and weekly planning pages!
Physical planner (bound with black spiral) with just monthly planning pages!
Digital planner with monthly and weekly planning pages!
Digital planner with just monthly planning pages!
I've made these planners as affordable as I can, because I believe EVERY Catholic mother should have one!  I've used a planner for years, but am so excited to have a CATHOLIC planner to help instill the faith in my children!
Get one!
Get one for your friend!
Get one for your family!
AND let others know about it too!
Here is to a fabulous new year filled with abundant Catholic life!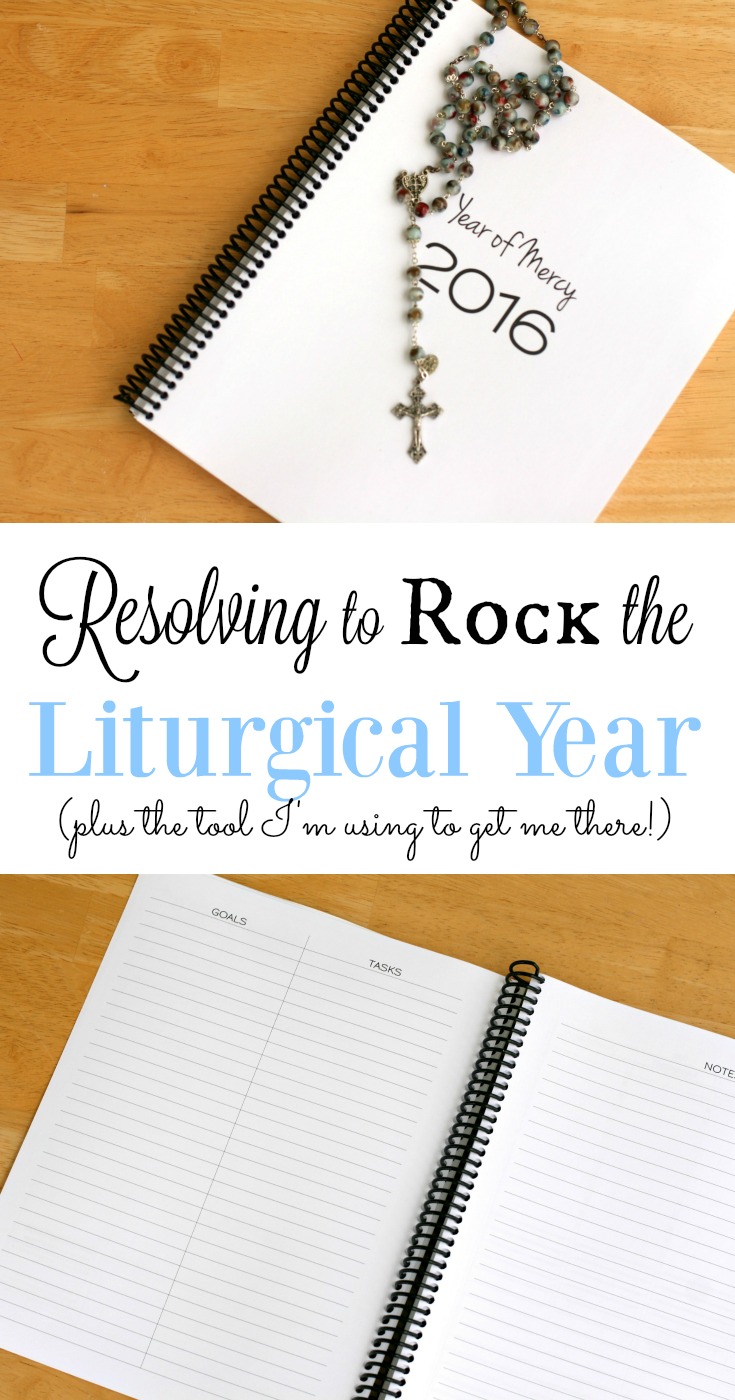 (Update:  I made this a reality!  Here is our feast table.   And here is a post highlighting how we use it.)
Follow me on Pinterest and Facebook for more inspiration!